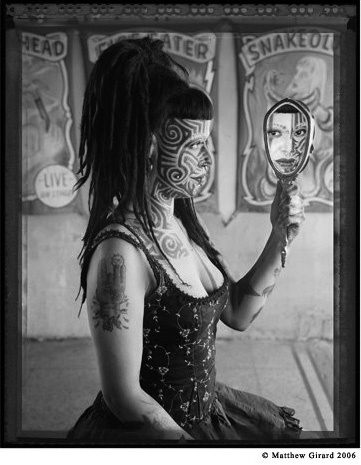 Habitable Sculpture model by Philip Johnson at the Kreeger Museum through July 31.
'Philip Johnson: Architecture as Art'
Through July 31 at the Kreeger Museum (2401 Foxhall Rd. NW, D.C.). Museum Hours: Docent guided tours Tuesday through Friday at 10:30 a.m. and 1:30 p.m. Reservations required. Saturday Hours 10 a.m. – 4 p.m. Optional guided tours 10:30 a.m., noon, and again at 2 p.m. If you want to walk around unattended you have to come on Saturdays. Suggested donations $8 per person, $5 for seniors and students. For further information, see www.keegermuseum.org, or call 202-338-3552.
At first blush, one would assume this show to be a review of Philip Johnson's life and architectural work. What you will find here upon arrival is a review of Johnson's late career sculptural works and architecture. It's a fuzzy distinction he's made with many of these pieces.
Sadly these works aren't placed in context to Philip Johnson's oeuvre. Seeing as how Johnson passed away in January 2005 at the ripe old age of 98, it would seem there was time for more perspective on Johnson's career and influence in the art and architecture fields here in the U.S. It's no small influence to be sure.
As a bit of background, in 1930 Johnson founded the Architecture and Design department within the Modern Museum of Art in New York. After meeting Ludwig Mies van der Rohe and touring Europe, Johnson helped stage the seminal show "International Style: Architecture Since 1922" at MoMA in 1932. After World War II, Johnson abandoned his history, philosophy and journalism backgrounds and entered the field of architecture.
As evidence of Johnson's lifelong flirtation with cutting-edge design, he built his own residence in New Canaan, Conn. What was to become one of the most famous structures ever built, the "Glass House" is now part of the National Trust for Historic Preservation. (See www.philipjohnsonglasshouse.org.) Note that plans to see this structure need to be made well in advance. Regular tour tickets for his former Connecticut home are sold out through 2008. They can still manage to squeeze you in this year if you go for one of the $500 or $1,000 dollar tickets … that's per person.
Stodgy ol' Washington has never been much on style or design. When the subject turns to architecture, Washington comes off as positively stilted, with local tastes running towards crusty Colonial and fake Greco-Roman marble structures. And that doesn't even start to mention the entire neighborhoods slathered in beige vinyl siding. You'd be hard pressed to call this area architecturally adventurous, yet the occasional name architect has wandered through from time to time.
At least a couple of Frank Lloyd Wright buildings exist. Frank Gehry tried to add on to the Corcoran Museum. Philip Johnson in part designed Tycon Towers 1 (2 and 3 planned, but never built) at 8000 Towers Crescent Drive in the Tysons Corner area. Colloquially referred to as "The Shopping Bag Building" due to its two handle-like arches extending above the roof line. The 17-story structure was completed in 1986.
The other widely known Johnson structure around town is the Kreeger Museum itself.
Originally the residence of GEICO Insurance president, and then chairman, David Lloyd Kreeger and his wife Carmen, the structure was completed in 1967 and remained their residence until opening as a museum in 1994. The residence was designed around a repeating domed cubic module. The curved tops and symmetrical hard geometry of the modules feel like something designed in the 1970s, and again speak to Johnson's cutting-edge nature. Looking around you, note the rich use of materials. Reportedly costing $1.9 million to build in the 1960s it certainly must have been a "spare no expense" structure.
Hardly a case of lawyer turned corporate magnate buying taste, the Kreegers were a key part of the local arts scene. David served as president of the National Symphony Orchestra, founded the Washington Opera, served on the boards of Arena Stage, Dumbarton Oaks, the National Gallery, as well as president and chairman of the Corcoran Gallery of Art for nearly 20 years. Other than that, he was an accomplished amateur violinist and an impressionist and modern art collector.
The Philip Johnson show, located in the two basement exhibition halls, includes numerous models of late career structures. However the real focus here is on Johnson's sculptures that may or may not have lead to architecture as we think of it today. Johnson, at a certain level, made no distinction between his pure sculpture and buildings with sculptural influences.
In the supporting film, Johnson takes a playful yet straight-faced whack at I. M. Pei, stating that a lone pyramid is a boring and silly structure. Stopping to chuckle at his own wit, he goes on to say that a bunch of pyramidal forms is quite entertaining. Holding up a model of Chainlink Garden Pavilion, he states that a jumble of pyramids placed together look like an iceberg or glacier — and they do.
* Note: For architecture groupies, there will be a panel discussion at the Kreeger, Tuesday, May 6, at 6:30 p.m. (Doors open at 6.) The topic of conversation will be Philip Johnson and his role and influence in 20th century architecture and beyond. The panel will include the curator for this show, Hilary Lewis, as well as Alan Ritchie, the Principal of Philip Johnson/Alan Ritchie Architects, and the former Washington Post Architecture critic Benjamin Forgey. Tickets for the lecture are $12 and are free for members. For reservations, call 202-338-3552.