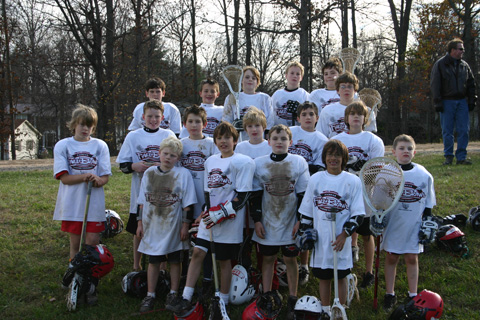 F.C. Youth Lax's Girls U11s Notch First Win; Boys U11s Remain Undefeated

On Saturday, the Girls U11 team of the Falls Church Youth Lacrosse League traveled to Fort Hunt where they exploded offensively against a perennial powerhouse program, winning 18-0.
Ten players scored goals, with Samie Boryan and Madie Hof leading the way with three goals each. The team was also in action on Sunday, hosting undefeated Springfield. Madie Hof scored both goals in a 5-2 defeat for the home team, while goalie Claire Tourkin had several nice saves.
On Saturday, April 5, the Boys U11s hosted the Prince William No. 2 team and won 5-1. Eriksen Johansen led all scorers with three goals, Brandon Ward tallied two and Myles Cobb assisted on one of the goals. Sean Fitzgerald led the team with six ground balls, followed closely by Andrew Trauth with five.
The defense, anchored by goalie Dan Dusenberry, continued to play very well, holding Prince William to only one goal. The U11s' record now stands at 3-0.
The U13 boys hosted a very strong Spotsylvania team and while Falls Church lost, 7-1, they exhibited improved play. Patrick Trauth tallied the lone goal and Keenan Glahn, substituting for the injured Nathaniel Schwarz, played inspired goal stopping numerous shots.
On Saturday, the Girls U13 team also traveled to Fort Hunt, where they were defeated 9-6. Still, they had their most impressive offensive output to date, as six girls scored — Emma Washa, Ellen Francis, Victoria Nnaji, Kaelin Seitz, Haley Zullo and Emily Rosenburg. On Sunday, the U13 girls hosted Springfield in what was an even more impressive outing, though again it resulted in a narrow loss. In the first half, they were up 3-1, but Springfield edged back into the game and eventually tied it up 3-3. During the second half, it continued to be a close game, tied at seven, but then Springfield ended up scoring a pair of goals and won the game 9-7. Nnaji tallied three goals, while Julia Western, Rosenberg, Zullo and Caroline Metzmeier tallied one each.
This coming weekend, the boys are on the road, while the girls will host games at George Mason High School's Moore Cadillac Stadium on Sunday afternoon starting at 1 p.m.
Possible caption –
Go in or pass? — Jacob Litton, Boys U11 Midfielder, keeps possession of the ball under the watchful eye of the Prince William goalie.