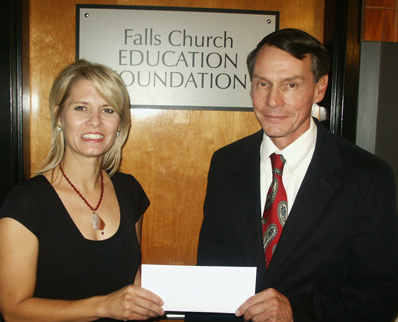 THE THOMAS JEFFERSON ELEMENTARY SCHOOL TEAM C (Division 1) came in first place at the regional Odyssey of the Mind Tournament. The team will now compete at the State Tournament on Saturday, April 5 in Sterling, Virginia. The team includes (from l to r on the stairs) Carter May, Justin Trainor, Holden Saberhagen, and Neil Johnston, and (from l to r in front) Vicky-Marie Addo-Ashong, Carolyn Worley, Annie Ferguson and Coach Melissa Dana. (Photo: Jim Ferguson)
A Bird-Banding Good Time
The Fairfax Master Naturalists are holding a meeting tonight, on Thursday, April 3 from 7:30 – 9 p.m. at Oakton High School (2900 Sutton Rd., Vienna). The topic of the public will be local birds and bird-banding programs. For more information, contact Karen Monroe at FMNvolunteer@cox.net or visit www.virginiamasternaturalist.org/fairfax.html.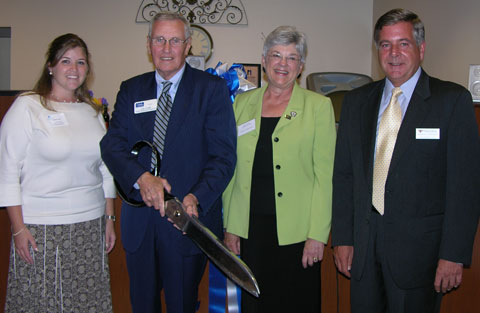 Forever Young TV Luncheon
On Monday, April 7, the Forever Young TV show will be holding a luncheon at 12:30 p.m. at Fuddrucker's Restaurant (4300 Backlick Rd., Annandale), featuring a live presentation by featured guests who have appeared on the show. A 10 percent senior discount is being offered for lunch. Forever Young TV features topics of interest to seniors in Falls Church and Fairfax County. For more information, call 703-655-4205 or visit www.foreveryoungtv.org.
Falls Church Resident Runs in Boston Marathon
Gary Callaghan from Falls Church will be running in the 112th Boston Marathon on Monday, April 21 to save lives through the 19th annual Dana-Farber Marathon Challenge (DFMC). Along with DFMC teammates, Callaghan will run the marathon to raise $4.5 million for cancer research, funding the Claudia Adams Barr Program in Innovative Basic Cancer Research at Dana-Farber Cancer Institute in Boston. Since the inception of the DFMC in 1989, runners have raised over $34 million for the Barr Program. For more information, visit www.dfmarathon.kintera.org or contact the DFMC office at 617-632-1970.
It Takes Two to Learn to Tango
Anyone looking to add to their exotic dance repertoire, look no further. On Thursday, April 10 from 7:30 – 10:30 p.m., Tutto Bene Restaurant (501 N. Randolph St., Arlington) will be holding an Argentine Tango Supper and Dance Club. Those interested will learn to dance the tango, watch a dance demonstration, and listen to live Argentine Music with Tango Reo.
Charlotte's Web Comes to Life
Mount Vernon Children's Theater is opening the musical "Charlotte's Web" on Friday night for two weekends only. Performances are on April 4 and 5 at 7:30 p.m., April 6 at 3 p.m., April 12 at 2 and 7:30 p.m. and April 13 at 3 p.m. at Carl Sandburg Middle School auditorium (8428 Fort Hunt Rd., Alexandria), with $10 tickets for adults and $8 tickets for senior/children. Tickets may be purchased online at www.mvcct.org or at the door on the day of the performance. The Mount Vernon Community Children's Theater is celebrating its 27th season with the performance, which features 49 children from 17 different schools and areas spanning from Mt. Vernon to Arlington and Springfield. For more information, please visit www.mvcct.org or call 703-360-0686.
FC Resident Earns Liberty League Award
The Liberty League announced its weekly women's track & field awards, with Connor Ahlborn, a freshman at Rensselaer Polytechnic Institute of Falls Church being named the Liberty League Rookie Performer of the Week. Ahlborn finished in the top four in all four events in which she competed, including second in the shotput and javelin, and fourth in the discus and hammer throw. Ahlborn, who graduated from the Peddie School, has earned three Rookie of the Week honors this season, two of which coming during the indoor season. In the Liberty League
Championships, she helped her team to second place by finishing second in the shot put and third in the weight throw.
George C. Marshall Prom Boutique
George C. Marshall High School is in the midst of organizing a Prom Boutique to offer "new-to-you" dresses to students this prom season. The school is collecting clean, gently worn formal dresses and welcomes donations from the community. If you have anything to donate, please contact Ms. Cindy Blakeley at Cindy.Blakeley@fcps.edu or Ms. Hillary Vincent at Hillary.Vincent@fcps.edu at Marshall High School, or call 703-714-5541. Donations will be accepted through April 30.
Whole Foods and Arlington Artists Partner Up
On Wednesday, April 9, the Clarendon Whole Foods Store (2700 Wilson Blvd., Arlington) is partnering up with the Arlington Artists Alliance, with five percent of all sales at the Whole Foods going to the Arlington Artists Alliance. The Arlington Artists Alliance is dedicated to bringing art to the Arlington County Schools through scholarship and donation, and with the help of Whole Foods, all proceeds will be directly benefiting arts programs in Arlington County Schools. For more information, visit www.arlingtonartistsalliance.org or contact Deborah Taylor at debbieLtaylor@comcast.net.
Arlington Local Becomes Market America Coordinator
Arlington resident Hong Wang has advanced to Coordinators as an Independent Distributor for Market America, a product brokerage and Internet marketing company. Wang has been moving up the ranks within Market America's UnFranchise(r) System due to his application of Market America's business strategies, while demonstrating great sales success and leadership ability. More information is available at www.marketamerica.com,
Gallery5 Turns Three Years Old
Gallery5 Art Studio is turning three years old on Friday, April 4, and wants to celebrate accordingly by throwing a First Friday party, with tickets only $5. From 7 p.m. – 2 a.m., Gallery5 will be celebrating their third birthday by battling RVA Magazine (who also happens to be turning three) in a mural competition, including local favorites Jim Callahan, Oura and Adam Juresko. Along with great art, there will be live music from Fight the Big Bull, Prabir and cabaret sister act Vermillion Lies. The G5 Fire Performers will be outside spinning, spitting and twirling fire as well. There will be late night DJ sets and a silent auction as well. For more information, visit www.gallery5arts.org.
Levine School of Music Promotes Local Resident
The Levine School of Music, one of the nation's leading nonprofit community music schools, recently appointed Rafael Manalac to be its new Chief Financial Officer. Manalac most recently served as Vice President of Finance for the Food and Drug Law Institute. He has worked over 20 years in the fields of finance and accounting, including positions at the National Food Processors Association and Ficon Corporation. He attended the University of Santo Thomas in the Philippines, where he obtained a Bachelor of Science Degree in commerce, with a major in accounting.
Free ADHD Support Group
On Tuesday, April 8, there will be a free ADHD Support Group for spouses or partners of people with ADHD from 7:30 – 9 p.m. at the offices of Annette Spector (115 Rowell Ct., Falls Church). Interested parties must RSVP to spector@DER-Online.com in order to attend. These meetings are held the second Tuesday of each month.