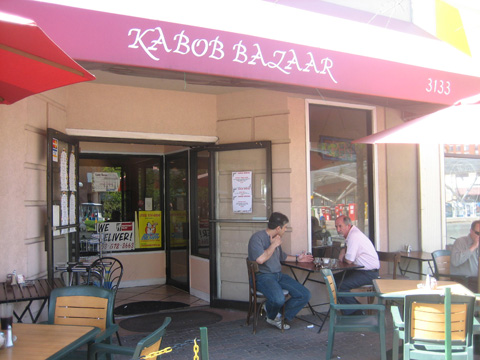 Courtside Thai in Old Town Fairfax sets the bar high for its surrounding international cuisine competitors.

While an I'm admitted newbie to the Thai food scene, I find it hard to believe that my naivete in regards to this particular menu selection was the reason for its lasting impression, one that made me want more.
I was greeted by an inviting outdoor seating section of well-kept patio space, complete with a stone birdbath, and greenery that I can imagine filled with blossoms come springtime. Weather permitting, this could have been a treat, but the wind coaxed me indoors. Monet-inspired landscapes on canvas decked the walls in coordination with the cherry wood tables, whose tops displayed similar floral scenes. Fresh lilies dressed up each table with the help of the romantic candlelight emitted from the intriguingly obscure looking glass-blown votive holders.
A selection of seafood is delivered fresh every Friday to this Old Town hot spot. My server was extremely informative about which fish was most popular this season, and immediately sold me on the Hoi Ob mussels ($6.95) as an appetizer. Straight from Prince Edward's Island, these mussels arrived steamed in Thai lemongrass, white onion and basil leaves. Served with small pitting forks and a lemon pepper dip, Courtside Thai successfully reinvented the dish with an absolutely irresistible flavor compared to a traditional, American presentation with the usual melted butter.
The Calamari Salad ($6.95) arrived shortly after the mussel shells were cleared. Strips of this delicacy atop sliced cherry tomatoes, lemon chili peppers, onions and shallots were covered in a spicy Thai dressing. With a rating of just one out of three chili peppers to guide this dish's spice factor, I'd still advise anyone to keep some water nearby for this one. Though, don't let its subtle burn deter you from trying this dish out. The flavors of lemon and spice here were quite unique and rewarding.
My lack of Thai experience prompted me to do my homework before I dined, so I went with the popular Thai curry-based favorite Gaeng Masaman Chicken ($10.95). Stir-fry style chunks of white-meat chicken were served in a deep bowl of Thai peanuts floating in chili curry seasoned coconut milk with pieces of potatoes and onion peels. Most dishes, this one included, come with a side of white rice. The rice tasted especially good when drenched in the coconut milk and curry spice.
If I wasn't completely stuffed, I would have tried the Mango Sticky Rice ($5.95) for dessert, but I am merely using this as an excuse to return in order to do some serious investigative reporting into the actual sweetness of this dish. Another good reason for my revisit will be Courtside Thai's fully stocked bar, whose menu includes a list of about 10 specialty martinis — including a chocolate one I have my eye on — as well as a selection of white and red wines. Martinis and other mixed drinks will run you anywhere from around seven dollars and up, but if they're anything like the food, there shouldn't be any complaints.
As much as I would have liked to keep this place my own little secret, I feel others need to know where they too can get amazing Thai food in Old Town. It's a place where the service is always on top of things without hovering, the seafood's fresh every Friday, and the extensive menu offers a built-in excuse to come back and try something new.
Courtside Thai
3981 Chain Bridge Rd., Fairfax, VA
703-934-8880
Lunch: Mon. – Sat.: 11 – 3 p.m.; Dinner: Mon. – Sat. 5 – 10 p.m.