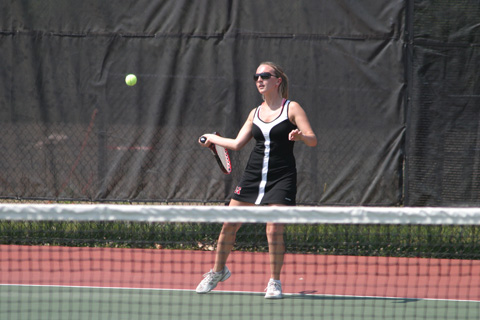 After four consecutive years of winning the Virginia state title, it was a reasonable expectation that the George Mason High School boys varsity tennis team would be favored to repeat as Bull Run District champions. But no one thought they'd be handed the crown before the season even started.
However, the Bull Run's lone other tennis program, Clarke County, did not field enough players for a varsity team this season, leaving the Mustangs as the de facto District Champs before their first match.
With an automatic berth in the Region B tournament already secured, the Mustangs are using a different strategy under new head coach Matt Sowers. Through the team's first three matches, Mason's players have taken notes on their teammates performances, breaking down their matches into components to be analyzed later in practice.
"You try to simulate every possible situation so that when game time approaches there will be no surprises," Sowers says, noting he adopted the approach from New England Patriots Head Coach Bill Belichik. "The goal is to take what we learn from each individual game, not the overall match score, and recreate those situations in practice each week."
The emphasis on experience could prove a savvy approach considering the Mustangs will sport a youthful roster this season, with only one senior and only one returning member of last season's top six players, sophomore Tim Goetz. Goetz inherits the spot at the top of Mason's tennis ladder this season.
Joining Goetz in the Mustangs' top tier will be junior Brian Sham, sophomore Thomas Burnett, Chris An, Johnny Vroom and Carlos Clark. The group has had a successful start to the season, prevailing against Park View (9-0) and Washington-Lee (7-2). In the latter match, the varsity gave way to the JV for doubles play, after all six varsity singles players won their matches.
Mason's lone loss on the season came at the hands of J.E.B. Stuart, whose No. 1 player, Justin Shane, is the top-ranked player for his age group in the state, and ranked 32nd nationally.
The Mustang varsity next faces Freedom High School at home April 2 at 4:30 p.m., one of several AA squads Mason will face this season. Despite squaring off against schools with larger student bodies, the most challenging part of the Mason boys schedule may be the matches the don't play. With no district championship to compete in, the Mustangs will have a two-week layoff between their final match on April 28 at home against Briar Woods and the regional tournament.
"I do not view the two week time off as a negative," Sowers said. "Our players will continue to practice situations and improve on their game strategy while players continue to challenge one another."