MEMBERS OF THE REGIONAL champion George Mason High School Robotics Team came before the Falls Church City Council Monday night to explain how they achieved a slot in the mid-April national championships in Atlanta, Georgia. Led by spokesperson Will Walton, the team members answered extensive questions from the Council, and mentioned they're looking for financial support from the public to help cover the costs of their travel to the nationals. (News-Press photo)
McLean Mustangs Girls Travel Soccer
The McLean Mustangs, a Division 1 Old Dominion Soccer League girls soccer team for players under 13, has three roster spots open for the spring season. Interested players should contact Tom Matecki at tmatecki@verizon.net or 703-241-1572.
Literary Council Reading Festival
On Saturday, March 29, the Literary Council of Northern Virginia will host its second annual Reading: A Family Affair, a free event sponsored by the Verizon Foundation designed to promote reading to families in Northern Virginia. Each child who attends the event will receive a free book while supplies last. The reading festival will take place at the James Lee Community Center (2855 Annandale Rd., Falls Church) from 9:30 a.m. until 3 p.m. Scheduled performers include professional storytellers Hazeline Harris, Diane Macklin and Candace Wolf, magician Joe Romano, musicians Bill Wellington and Rocknoceros, and special guest Clifford the Big Red Dog. For more information, visit www.lcnv.org.
PFLAG Lecture and Book Signing
PFLAG (Parents, Familes and Friends of Lesbian, Gays and Transgender) is holding a free lecture and book signing by Wayne Besen, author of "Anything But Straight," on Sunday, March 30. The lecture, themed "You Can't Pray Away The Gay," will be taking place at Temple Rodef Shalom (2100 Westmoreland St., Falls Church) from 2 – 4 p.m. The lecture is free and open to the public. For more information, call 703-319-0424 as space is limited, or visit www.pflagdc.org.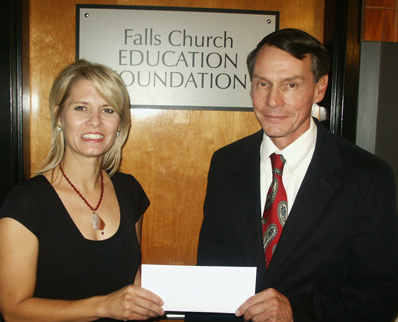 Free Mental Health Symposium
National mental health non-profit group NARSAD, in conjunction with the Washington Psychiatric Society and the Uniformed Services Branch of the American Psychiatric Association, is hosting a free mental health symposium at George Washington University's Lisner Auditorium (730 21st St., NW, Washington, D.C.) from 9 a.m. – 5 p.m. In the morning session, the focus will be on post-traumatic stress disorder, while the afternoon session will focus on bipolar disorder, schizophrenia and childhood disorders. The event is free but reservations are recommended. For reservations or more information, contact Trish Veatch at 703-535-1577 or at tveatch@narsad.org/
Vienna Arts Society Raffle and Fundraiser
The Vienna Arts Society has been holding their Third Annual Ticket to Art fundraiser throughout March. Tickets for the raffle are $125 each, with each ticket guaranteeing that the holder will leave the raffle with an unique piece of art in hand. The raffle will take place on Saturday, March 29 at 6 p.m at the Vienna Art Center (115 Pleasant St. NW, Vienna). Those that buy a ticket are asked to be there during the drawing to claim their piece. For more information, contact the Vienna Arts Society Art Center at 703-319-3971.
Woodley Pool Spring Plant Sale
Woodley Pool (7421 Camp Alger Ave., Falls Church) is once again holding its Spring Plant Sale from now until April 21. Orders will be ready for pickup at the pool on Saturday, May 3. All plants are raised by a local nursery and are guaranteed top quality. Call 703-641-0729 to request an order form and remember to order an extra hanging basket or two for a great Mother's Day gift.
Repressed III Closing Reception
In conjunction with the Southern Graphics Council, Gallery5 (200 W. Marshall St., Richmond) is holding a closing reception for Repressed III on Friday, March 28 from 6 – 10 p.m. Oklahoma artist Marwin Begaye and Wisconsin artist John Hitchcock are slated for a multi-media print action team during the night, interspersed with live music from Thundersnow and The Amazing Hancock Brothers. For more information, call 804-644-0005.
Ringling Bros. Headed to D.C. and Virginia
Ringling Bros. and Barnum & Bailey are bringing their show to an arena near you. On Monday, March 24, the Ringling elephants conducted their famous annual march through Washington, signifying the show's arrival. The show will be at the Verizon Center (601 F St., NW, Washington, D.C.) from Thursday, March 27 through Sunday, March 30, with shows in the morning and night. The circus then moves to George Mason's Patriot Center (4400 University Dr., Fairfax) from Wednesday, April 2 through Sunday, April 13. Tickets can be purchased through Ticketmaster, with prices ranging from $14 – 28. For more details, visit www.ringling.com
Providence District Environmental Fair
Providence District Supervisor Linda Q. Smyth is hosting the Ninth Annual Providence District Environmental Fair on Saturday, March 29 from 9 a.m. – noon at Fairhill Elementary School (3001 Chichester Ln., Fairfax). The focus of the event will be on global climate change and the effect of it on residents of Fairfax County. Free activities at the event include bicycle repairs sponsored by Bikes@Vienna, residential green construction sponsored by the Virginia Sustainable Building Network, and native seedlings order forms from the Northern Virginia Soil and Water Conservation District. For more information, contact Kambiz Agazi at 703-324-1788, TTY 711 or by visiting www.fairfaxcounty.gov/living/environment/coolcounties/
Rotary Club Environmental Speech
The Falls Church Rotary Club will welcome Kathy Allan on Thursday, March 27 for a dinner meeting at the Harvest Moon Restaurant (7260 Arlington Blvd., Falls Church). Allan will speak about the City of Falls Church Environmental Services, including Earth Watch. Dinner cots $10 and visitors are welcome.
NOVA Toastmaster Moves on in Competition
On Wednesday, March 19, the NOVA Toastmasters International Club held its International speech and evaluation contests at Falls Church High School. Ismael Dieppa won both the speech and evaluation contests and will now move on to compete at the Area 15 level on Saturday, March 29 at the United Baptist Church (7100 Columbia Pike, Annandale) at 8:30 a.m., where winners from other clubs will also compete.
Church Begins "The Well" Program
Mount Olivet United Methodist Church (1500 N. Glebe Rd., Arlington) is beginning a new program in April called "The Well," a contemporary worship that weaves Jesus' story with modern times. Each Sunday in April at 5:30 p.m., there will be contemplative praise music led by a worship band, along with thematic preaching and opportunities for questions about God and faith. For more information, contact Pastor Brad at bmcmullen@mtolivet-umc.org or 703-527-3934.
Local HS Grads Reach Div II Elite Eight
On Tuesday, March 18, the Division II Augusta State Jaguars beat Clayton State in the championship game of the 2008 NCAA South Atlantic Regional Tournament, sending them to the Elite Eight for the first time in school history. The Jaguars are led by several NOVA graduates, including Daniel Dixon from George C. Marshall High School, Steve Smith from Edison High School and Tye Beal of Wakefield High School. The team is coached by W.T. Woodson alum Dip Metress, whose brother Brian coaches at Lake Braddock High School.