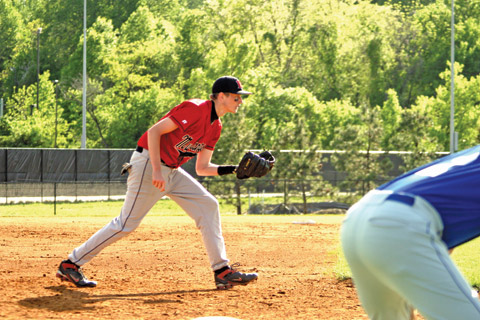 Straub, Stable of Sophomore Hurlers Will Toe Rubber for Mason in 2008
A year after the graduation of key contributors Byron Mendenhall, Jimmy Piscopo and Matt Dorr, a new cast of characters looks to pick up the baton and lead the George Mason High School varsity baseball team into the 2008 season.
Inheriting Mendenhall's former role at the top of the Mason pitching rotation will be senior Mike Straub. He'll be joined in the rotation by three sophomores, Brian Lubnow, Tyler Roth and lefty Quinn Casteel. While the fresh-faced sophs will see their fair share of innings, according to head coach Adam Amerine, the senior Straub, a 6-foot-5 right-hander, will toe the rubber for the Mustangs' toughest matchups. There are more than a few games of that variety on Mason's 2008 schedule. The Mustangs are already scheduled to lock horns with perennial AAA juggernauts Robinson and Oakton (the reigning Northern Region Champions), and open their regular season March 12 with the first part of a home and home series against AA Dulles District champs Broad Run. Results of the season-opener were not available at press time.
In between the Broad Run games Mason will participate in a spring break tournament in Bradenton Beach, Fla. beginning March 17. While the Mustangs will get to enjoy a warmer climate, Amerine said the time will definitely be considered "spring training" and not "spring break."
"We need to get our young talent up to varsity speed. Going to Florida and playing for a week straight will get everyone on the same page and working towards our team goals," Amerine said. "It will be a bonus to be out of the soft, squishy infields of Northern Virginia and in the warm sun, but trust me, the kids may come back from Florida needing a vacation and hating me."
Part of the reason Amerine is pushing his team to start the season on the right foot is the prospect of a particularly tough year in the Bull Run District. Strasburg returns this season as the reigning Class A state champions, Rappahannock advanced to the Region B tournament last year and Madison County is set to enjoy an influx of talented youngsters that claimed the district's JV crown for the Mountaineers each of the past two seasons. Furthermore, Amerine points out that Manassas Park boasts two of the district's top arms in Nate Hoffa and southpaw Gipper Breeden.
At the plate, the Mustangs will again utilize a "small ball" approach to offense, manufacturing runs through plate discipline, bunting and aggressive baserunning more often than waiting for a key extra-base hit. Heading that attack will be senior Alex Prewitt, who will bat leadoff for the Mustangs.