'Lida Moser – A Retrospective'

Friday, March 14 through April 5, at Fraser Gallery (7700 Wisconsin Ave., Suite E, Bethesda, Md.). Gallery Hours: Tuesday through Saturday 11:30 a.m. – 6 p.m., or by appointment. Call 301-718-9651 or see www.thefrasergallery.com for more information. Opening Reception Friday, March 14 from 6 to 9 p.m. Saturday, March 15 Lida Moser will discuss her work and screen two documentaries about her life and work.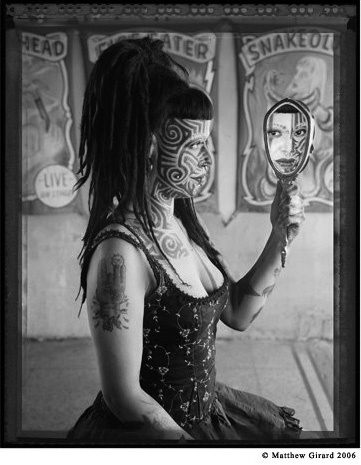 While her interest in shooting photos has waned, at 87 and counting Lida Moser is still full of life. Her time and energies are now taken up with maintaining and servicing her lifetime body of work. Born and raised in New York City, she has resided in Rockville, Md. Since 1997.
Moser worked for the Army during World War II. After the war she noticed the need for photographers and decided that's what she wanted to do. Although a tad hard to comprehend now, she reports that many people didn't have cameras and needed portraits. Ultimately she wound up working for Vogue, Bazaar, Look and other magazines. On a trip to D.C. to transfer the rights on some of her photos, she decided the D.C. area was were she wanted to live, and moved here.
In reviewing Moser's work, I was repeatedly reminded of Lillian Baseman's photographs. While both did some of their best work in the same time and general area they didn't personally know each other.
Moser tells of a time after World War II when there were no photography schools. Photographers banded together and helped each other learn their craft. In the 1960s, some of the struggling photographers began to teach photography to make ends meet. Moser wrote several photo books, but had no interest in teaching per se. She felt that the camera was a magic key to everything in her life, and she wanted to be out there shooting photos.
She became proficient at special effects with color photography and did many covers for paperback books at a time when virtually all paperback covers were illustrated. This show will concentrate on her black and white work.
While these are essentially all straight photographs, they are anything but snapshots. Here we see a highly educated eye that simultaneously works on the abstract and representational levels.
Moser's work often depicts motion and displays an unusually strong depth of field. Some of her best works include foreground objects that go hopelessly out of focus yet retain all the information we really need. A photo of two Tennessee girls standing beside the road includes the interior car door and window frame. Another shot out the front window of a bus shows a motion blurred man crossing the street before the bus. Both photos would be greatly diminished were they shot in a more typical fashion.
Likely to her detriment, Moser never shot fashion work, but was asked to shoot a fashion portfolio for a young head strong aspiring model named Judy. Moser agreed, as long as she could shoot it on a truck loading dock. During the shoot the two ladies encountered a band of irrepressible, and equally headstrong boys. Not quite being able to shake them off, Moser used them to her advantage and made a wonderful series of shots with Judy posing while the boys mocked her poses. No doubt it wasn't exactly what Judy had in mind, but since Moser was doing the work as a favor she didn't have much choice but to go along with it. Moser recalls that images from the series sold to several magazines, and Judy went on to model … then setting her sights on marrying a millionaire, did that as well.
Moser turned out high quality work that no doubt should be better remembered than it has been so far. Hopefully these two documentaries will help rectify that. In any event, the opening event and artist talk the following day promise to be quite a treat.
'NEW — Marie Ringwald'
Through April 5 at Gallery Neptune (4901 Cordell Ave., Bethesda, Md.). Gallery Hours: Wednesday through Saturday, noon – 7 p.m., or by appointment. Call 301-718-0809, or see www.galleryneptune.com for more information.
Open for Bethesda Art Walk Friday, March 14, 6 – 9 p.m. Artists Talk event will be held April 5 at 5 p.m. Note: Gallery will be closed March 26 through 29.
Ringwald taught at the Corcoran School of Art and Design for 27 years. Having left academia for the studio, she now concentrates full time on her own art work.
Ringwald's current works could best be described as architectonic assemblages. At times encompassing the full structure(s), at other times offering snippets both literal and abstract. Her vernacular ad hoc structures are hardly the icy hard-edged forms you'd expect from a fan of minimalism. These are more akin to the High Touch school of thought. Here we find textural materials assembled in a hand-hewn fashion that invites adjectives such as quaint, warm, friendly and inviting.
While the full and partial structures are quite nice, her most captivating works seem to be the nearly total abstract assemblages made up of these irregularly hewn materials. These works remind one of Chinese jigsaw puzzles. The interlocking irregular materials captivate the mind and eye. To be sure it's entertaining and accessible work.
Artist Opportunities
Falls Church Arts entry form deadline for the big Spring show fast approaches. Get your dues paid up and forms in by Sunday, March 16. For complete details and forms, see www.fallschurcharts.org.
Arts Council @ Grace
This annual show at Greater Reston Arts Center traditionally gets heavy weight judges to select the work to be shown. This time entries will be judged by Ragan Cole-Cunningham, Director of Exhibitions and Education at the Contemporary Art Center of Virginia (CAC) in Virginia Beach. Cole-Cunningham received her MFA from CalArts, and served on the staff at MOCA in Los Angeles. Should be another one of those judges that draws out some of the best work in the area. The "must be able to get it in the door" size limitation assures the "scale it up" folks won't be shut out.
The postmark deadline for submissions Friday, March 28 and the cash prize package totals $2,000.
Additional Note: The submission deadline for solo show proposals at GRACE is June 15. See their website for complete details and submission forms: www.restonarts.org/exhibitions/Exhibit-Opps.htm, or call 703-471.9242
Trawick Prize 2008
Lastly, but far from least … Bethesda Arts and Entertainment District's annual Trawick Prize once again offers a $14,000 prize package. Artists over the age of 18 and residents of Maryland, Virginia or D.C. are eligible. Any two or three dimensional work 96 inches or smaller is acceptable. For complete details and entry form, see www.bethesda.org/arts/trawick.htm. The delivery deadline for submission form and image photos/CD April 11.