WELCOMING A NEW retail tenant to the nearly-completed Spectrum mixed-use project at 444 W. Broad, the Waterford Company's Chris Ciliberti (left) greets Jamil T. Myrie, executive vice president of For Eyes. The eyeglass store will relocate from the 200 block of West Broad to its new digs in three months. (News-Press photo)
Kid's Cooking Camps and Easter Dinner
Kids ages 8 to 16 are invited to attend Kid's Cooking Camps sponsored by Entrée Vous (2200 N. Westmoreland St., Arlington) on the week of March 17. On each day, kids can make dinner either at 11 a.m. or 3 p.m. for $50, with meals feeding 4-6 people. In about two hours, the kids will put together dinner while being provided drinks, snacks and supervision. For more information, call Entrée Vous to register at 703-532-1515. An Easter dinner is also available for purchase at $39.99.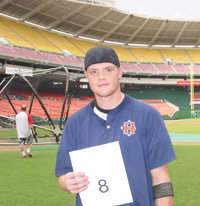 Falls Church High School Mulch Sale
Volunteer parents from Falls Church High School are holding a mulch sale to raise funds for providing the graduating seniors a safe, alcohol-free, drug-free all-night graduation celebration. Bags of 3-cu ft. of mulch are $5, with $2 of every bag being tax deductible. The order deadline is Monday, March 24, with the mulch delivery/pickup scheduled for Saturday, March 29. An order form is available at www.pintoblue.com/angc2008.htm. For more information, contact Lynn at lksforte1@aol.com or call 703-298-8458.
Fairfax County Citizen of the Year
The Fairfax County Federation of Citizens Associations and The Washington Post named John Horejsi, founder of Social Action Linking Together (2007), the 2007 Fairfax County Citizen of the Year. Horejsi founded SALT in 1983 to influence public policy for individuals and families disenfranchised by economic and social standing; the organization now has over 1,000 social justice volunteers. He helped the passage of Virginia's Earned Income Tax Credit and the creation of the Homeless Intervention Program. Former Fairfax County Supervisors Elaine McConnell, Joan DuBois and Dana Kauffman will be recognized with Special Gratitude Awards. The award winners were at the 57th Anuual Awards Banquet on Sunday, March 9 at the Crowne Plaza Hotel (1960 Chain Bridge Rd., Tysons Corner).
Capitol Steps for McLean Graduation Celebration
The Capitol Steps' annual performance at McLean High School is occurring on Sunday, April 13 at 4 p.m., with proceeds from tickets going to benefit the Class of 2008's All Night Graduation Party. Tickets are on sale now, and the fundraiser will help provide graduating seniors a safe, alcohol and drug free graduation night to remember. Tickets are $30. To order tickets, please e-mail angp08cs@yahoo.com.

Police Department Offers Rape Aggression Defense Course
The City of Falls Church Police Department is offering a free Rape Aggression Defesnse program of realistic self-defense tactics and techniques for women ages 12 and older. Classes will take place at St. James School (830 W. Broad St., Falls Church) and are offered in four, three-hour sessions on Tuesdays, April 8 and 15 and Thursdays, April 10 and 17 from 6 – 9 p.m. The Rape Aggression Defense is a comprehensive, women-only course that addresses awareness, prevention, risk reduction, risk avoidance and the basics of hands-on self-defense training. Nationally certified instructors from the City Police Department teach the course. Participants are required to attend all four sessions. For more information and to register, e-mail jcarter@fallschurchva.gov or ksdempsey@verizon.net.
Super Giant Opens in Falls Church
Giant Food will open its latest "Super Giant" prototype store on Friday, March 14 at 7235 Arlington Blvd. in Falls Church. The new Giant will feature a massive produce section with baskets of flowers overflowing, along with a cheese shop highlighting over 200 varieties of cheese. Grand opening activities will take place throughout the day, including entertainment, food sampling, prizes and face-painting activities for children. Proceeds from a three-day hot dog and soda sidewalk sale will be donated to the Falls Church Community Service Food Bank, an organization that provides emergency food assistance to low-income individuals and families in the Falls Church area. The store will be open from 6 a.m. – 11 p.m. Monday – Saturday, and 6 a.m. – 10 p.m. on Sunday.

Deadline for Virginia Arts Commission
The Virginia Commission of the Arts (223 Governor St., Richmond) announced a 5 p.m., April 1 deadline for the Commission's Local Government Challenge Grants and 2009-2010 Performing Artist Tour Directory. The Local Government Challenge Grants are intended to encourage local governments to support the arts, where the Commission will match up to $5,000 tax money given by independent town, city and county governments to arts organizations and jurisdictions. The Performing Arts Touring Directory is intended to support Virginia performing artists and ensembles as well as increase opportunities for Virginians to experience high quality performing arts events statewide. For more information, contact the Virginia Commission of the Arts at arts@arts.virginia.gov or 804-225-3132.
Curves' GMU Art Show
Curves of Falls Church is having an art exhibit featuring works from George Mason High School art students this month, with the art on display for the club members throughout the month. In conjunction with the art show, Curves is also reaching out to high school females to encourage fitness and health. To encourage the young women to start healthy habits, Curves is offering deep discounts until the end of June for young women between the ages of 15 and 18. For more information, call Curves at 703-556-0140.
International Speech Competition for Toastmasters Club
The NOVA Toastmasters Club is holding their International Speech and evaluation competition on Wednesday, March 19 at Falls Church High School (7521 Jaguar Trail, Arlington Blvd., Falls Church) at 7:15 p.m. Participants will present speeches while evaluation contests will be held on the speeches to be made by the model speaker. The event will provide audiences to know how to organize logical thought and present it self-assuredly. Winners from different clubs will compete in area level competitions, followed by Division and District competitions.
McLean Symphony Tribute to American Composers
For the fourth year, the McLean Symphony Conductor Dingwall Fleary will lead young pianists in the renowned Carol Ann Barry Piano Studio and an orchestra of professional and high school musicians in a tribute to American composers Robert Vandall, Daniel Alexander and Anna Asche. Special guest composer Asche will be honored. The event will take place on Saturday, March 15 at 2 p.m. and 5 p.m. at the Word of Life Church (5225 Backlick Rd., Springfield). Free and open to the public. For more information, contact Nancy Prescott at 703-310-4384.
Red Cross' March Mania
The Arlington County Chapter of the American Red Cross held March Mania, its largest fundraiser of the year on Saturday, March 8 at the Thomas Jefferson Community Center (3501 S. 2nd St., Arlington). Held from 8 a.m. – 6 p.m., the main event was a double elimination basketball tournament with 16 teams. Besides the tournament, there was basketball shooting competitions, a silent auction, an exhibition game by the NOVA United Senior Women's Basketball Association, moon bounces and face painting for the kids. There was also a blood drive from 8 a.m. – noon on the day of March Mania.
Alexandria Resident Wins High Tech Competition
Jay Matthews of Alexandria was among a team of students at Davis & Elkins College to be awarded a First Place prize of $1,000 from the West Virginia High Technology Consortium Foundation for the Fall 2007 Global Grid Exchange Higher-Ed Student Project Competition. Matthews is majoring in Computer Science and Math and is the son of Herbert and Dawn Matthews.