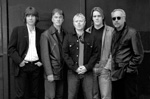 In a time before now, a time before iTunes and MySpace, there was Napster. The music file exchange program allowed the tech savvy to swap songs across the nation, and in turn popularized a handful of independent bands for whom the file sharing network offered unprecedented exposure.
Chief among those was Pete Francis and his bandmates in Dispatch, a group that never signed a major label deal and still managed to sell out Madison Square Garden.
In a way, the Dispatch served as the success story that made this rapidly expanding independent music era possible. They showed that if you have a passionate core fan base, as well as the means to cheaply distribute your music en masse, your success really just relies on your level of talent.
"I think it's pretty cool how independent artists can now enter the whole scene," Francis says. "This is something that Dispatch struggled with, but you had to go through certain steps to get to that higher level. You have to meet up with a lawyer, you make your demos, you shop that around and try to get major labels on board. Now I think there's a more direct path to get to the listener.
"Napster … got the ball rolling in that the listener started saying, 'Look, I want to get these songs from these artists.'"
Now, as a solo artist, after Dispatch officially disbanded, Pete Francis is still enjoying the next generation of indie artist advantages — the aforementioned iTunes and MySpace — as he continues to self produce new music. On his MySpace page he has posted various "fun wastes of time," including a feature where fans can submit their own versions of Francis's songs.
"I always thought the journal thing was pretty boring," Francis says. "I didn't want to write what most bands do. 'I woke up. I had some breakfast. I walked down the street.'"
Most fans will settle for a few of Francis's new tunes, set to appear on new album "Iron Sea and the Cavalry," which releases March 18. The album, Francis's fourth solo effort released on his own Scrapper Records label, is more fluid than his previous work, according to Francis.
"Sometimes before [this album] the music felt sort of blockish. Here's the chorus, here's the verse, that's it," he says. "On this album, it flows a lot better."
Such is certainly true of the organic-feeling finale, "Heavenly Boat," as it winds its way to its chorus-filled conclusion. That tune is bracketed by the album's upbeat opening number, "Shooting Star and the Ambulance," the windows-down, winding-road rocker backed up by your own tappings on the steering wheel.
Working as a solo artist has brought both boons and burdens to his songwriting, Francis says, noting that while he has more freedom, he also has more responsibility.
"With a band it's more of a fight to do things the way you'd like. [Your bandmates] might say, 'Why don't you change this lyric?' and you do, but then two nights later you're playing the song and you're like 'Why did I change that? I liked that lyric,'" Francis says. "But also, as a solo artist, there's more weight for me to carry. You can't relax because you're only playing bass on a song."
For that reason, Francis is entertaining the notion of starting up a new band, but in the meantime Francis brings his solo act to 9:30 Club on March 11 for a CD Release Show. Tickets are $15.
• For more on Pete Francis, visit www.petefrancis.com or www.myspace.com/petefrancis.