Roger Brown, William Christenberry, and local works from the WPA Art File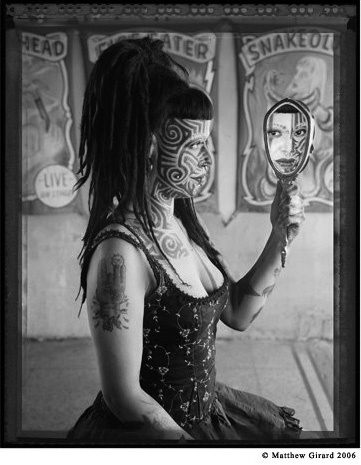 Roger Brown, William Christenberry, and local works from the WPA Art File
Through March 22, May 11, and March 23 respectively. At American University's Katzen Arts Center (4400 Massachusetts Ave., D.C.). Museum Hours: Tuesday through Sunday 11 a.m. – 4 p.m. Underground parking Free on evenings and weekends. For further information, call 202-885-1300, or see www.american.edu/academic.depts/cas/katzen/museum.
Context is a funny thing. It can color and flavor things in unexpected ways. The current offerings at Katzen Arts Center feature the art of southerners, or those that had their roots in the South.
Roger Brown, who was mostly a Chicago artist, grew up in Alabama. Both he and Christenberry are hard to pigeonhole regarding style and medium, but Brown's work is a little more uniform than Christenberry's. Brown's work almost has a sense of southern regionalism about it. It's a little too polished to be classified as such, but the sensibility is there. Then you turn the corner and find a pop art-like explosion of color in one image, artifacts he collected over his lifetime and then images of high rise apartment buildings and sculptures thereof. But more than anything, the image of that most irritable Senator form North Carolina remains in the mind after viewing Brown's work.
The black and white image titled "Fear No Evil" depicts Jesse Helms with hands covering his eyes, ears, and mouth. Thus assuring that the poor Senator wouldn't be offended by any outside stimulus. For those who somehow managed to dodge this bit of Washington grandstanding … Helms essentially declared all out war on the arts when saw some homo-erotic photos by Robert Mapelthorpe. He then attempted to strip every arts organization from rural symphonies to Public Broadcasting of its National Endowment for the Arts funding. If ever there were a poster boy for uneducated Philistines it would be this chap. Regardless of sexual orientation, this guy was universally hated by artists of all stripes, and as such, images of this sort still pack a visceral punch.
William Christenberry's work is shown on the floor above Brown's work. Now that the Helms piece got your attention, check out Christenberry's Ku Klux Klan room. Here we find a profusion of KKK dolls and drawings of Klan members in hooded robes. Displayed in a curving and narrowing space not unlike the hoods worn by KKK members, the end of the space is filled with the neon light of a white cross. What seems curious and quirky at first becomes more and more menacing as the space pinches down on you. There you find hooded portraits of Bubbas too brave to show their faces. Followed by drawings collaged with gun and ammunition advertisements. It all seems so much nonsense until they come after you in the middle of the night … and a holographic image in deep red portrays just that, as a Klansman literally seems to reach out of the image for the viewer.
All in all, it's difficult to escape the notion of menacing closed-mindedness of southern conservatism. When you then view Christenberry's drawings of gourds in a tree they seems like metaphors for lynchings.
For those who bemoan the artist confined by his own work and style, it should be noted that Christneberry's work includes photography, drawings, paintings and sculptures.
Washington Project for the Arts Image Auction
Set to be auctioned off on Friday — the required $250 tickets are already sold out — the images from Washington Project for the Arts members are an excellent cross section of what the top tier of Washington artists are up to these days.
With no shortage of nice work, I liked Rob Tarbell's "Aerial Rider" image done with smoke on paper. A circus performer leaps though a ring of fire, as his horse does the same below. It's a complex yet simple and entertaining image. David Henderson's "Man o' War 3" depicts a jelly fish in what seems like basalt, but is actually glass and carbon fibers in resin and pigments. The two masses are conjoined by the most tenuous of spindly connections and seems in immanent danger of snapping in two.
'Scott Hutchison, Carolyn Rogers, Elzbieta Sikorska'
Through March 29 at Arts Club of Washington (5017 I St. NW, D.C.). Opening Reception this Friday, March 7 from 6:30 – 9 p.m., with Gallery Talk at 7 p.m.
Arlington Resident, and artist in residence at Arlington Arts Center, Scott Hutchison shows his multi-imaged self portraiture with videos. The work is often humorous, sometimes alarming, but always entertaining. Rodgers shows her Platinum and Palladium prints (aren't many of these folks around these days) of the Washington area. Sikorska provides nature-based drawings.
The Arts Club of Washington is housed in the historic Monroe building, residence for James Monroe and his wife from 1814 until September of 1817. Having been inaugurated as President in March of 1817, this house remained the President's home until repairs were completed on the White House in September 1817. All due to those soccer hooligan Britishers tearing the place up when they came for their little visit.
No doubt this is the toniest art venue in town. It's essentially an urban country club for artists and arts supporters. They have regular hours, but host dinners and lunches that no doubt will hamper your efforts to get in to see the art after opening night … if you can get in at all. It's a wonder they let us riff raff in the door to begin with. For further information, call 202-331-7282, or see www.artsclubofwashington.org.
'No Art Left Behind; Art Work of George Mason High School Students'
Through the end of March at Curves of Falls Church (240 W. Broad St.). Opening reception this Friday, March 7, from 7 – 8:30 p.m.
As always, men wishing to see the work after the opening reception will have to do so by appointment. For more information, please call Curves at 703-536-0140.
'Erotica 2008'
Through April 8 at MOCA DC Gallery(1054 31st St. NW, D.C.). Opening reception this Friday, March 7 from 6 – 9 p.m. … and possibly later.
The show runs through April 8, but the lion's share of the wildness occurs on opening night. This is the fourth year for this event and currently the only erotic art show in the metro area. As with all open-call shows you never know what you'll get until you see it. However this one promises to offend basically everyone, as some artist is sure to think something is erotic that you don't. Not that this is exactly news to anyone, just that here you have to deal with it. It's an interesting evening to be sure, but certainly not everyone's cup of tea. For more information, call 202-342-6230 or see www.mocadc.org.
Artists' Note: This gallery usually takes submissions for shows right up until the morning of opening day.