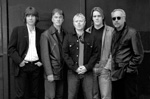 You could attribute the recent success of John Vesely, better known by his performance name of Secondhand Serenade, to his raw and honest compositions, his impassioned vocals or his teen idol-worthy looks. Any and all of those complimentary reasons are accurate and all are deserved. To do so, however, would discount much of the hard work Vesely invested in his career from the outset and one of the two main reasons he now sits on the verge of stardom.
The truth is, Vesely's success has come as much from his diligence with a mouse and keyboard as it has from his musical talents. As Vesely began his career as a solo act, he logged hundreds of hours on MySpace, trawling for fans on the pages of successful bands with a similar sound. Rather than blindly attempting to add every "friend" he could, he instead sent requests only to the 50 most recent posters in each band's comment section.
"The reason I targeted the top 50 most recent posters was because they were active," Vesely says, who didn't want his music to fall on the deaf ears of a "bot" — a program that simulates human activity on MySpace. "If these people cared enough to post on the page, then they were probably more likely to visit my page and buy an album or buy merchandise."
The strategy paid immediate dividends. Vesely put his debut album, Awake, up on his page and set up a PayPal account to sell it online. Of course, getting people to sample your album is one thing, you still have to have the talent to sell them on it. So, now insert those aforementioned compliments about the straight-from-the-diary lyrics, emotive voice and the face you'd find on a poster in the bedroom of a teenage girl. The result of that combination of strategy and songwriting was life-changing.
After a few months, Secondhand Serenade became the No. 1 unsigned artist on MySpace and became the only unsigned artist at the time to crack the Top 100 Alternative Album charts on iTunes. He continued to exploit the Internet resources available to him by releasing several demos to Yahoo! Launch. There he claimed the No. 1 spot on their adult alternative station, topping bands like Nickelback and Evanescence.
After going the independent route with Awake, Vesley signed on with Glassnote Records and took yet another giant step forward. With sophomore album A Twist In My Story just hitting stores on Feb. 19, he has already appeared on "Late Night with Conan O'Brien," and the lead single, "Fall For You," debuted on MTV's "TRL."
"I'm on a ride," Vesely says. "I don't know where I am half of the time. I wanted to make this record for me, because I wanted to have a professionally made album before I die. Now, everyday is a new surprise."
When Vesley first took the name Secondhand Serenade — a reference to the fact that he sings his "firsthand" serenades to his wife of five years before recording them — he did so to differentiate himself from the traditional image of the singer-songwriter.
"All of my life I had been writing rock songs and if I ever got together with a band I thought it would sound more appropriate than just my name," Vesely says. "You can do more with that persona [Secondhand Serenade] and I wanted to keep my options open."
The foresight paid off, as Twist further delves into the darker parts of love, aided by producers Danny Lohner and Butch Walker. The album features a range of tracks that span far beyond standard singer-songwriter territory, with synths, strings and self-harmonies ensnaring listeners — starting with Vesely's wife. Of course, she doesn't always love the result.
"It's not so much that she doesn't like the song, it's that sometimes she doesn't like the content," Vesely admits. "I really lay it out to people, so they know what's going on in my life … and her life. Sometimes she says 'Why can't you just write a nice f—ing song about me?
"I've got a realistic standpoint to [writing] and a lot of times, life is pain. A lot of people try to sugarcoat it for some reason, but I don't mind that."
Vesely's fans owe his wife a great debt of gratitude, seeing as how it was she who inspired him to first swap his bass for an acoustic guitar.
"I wanted to show off for her, and I couldn't really show off on the bass," Vesely admits.
Now, thanks to MySpace and some hard work, Vesely is showing off to quite a few more people.
• Secondhand Serenade plays Jammin' Java Feb. 25. Tickets are $13 in advance and $15 at the door. The show begins at 6:30 p.m. For more on Secondhand Serenade, visit www.myspace.com/secondhandserenade.