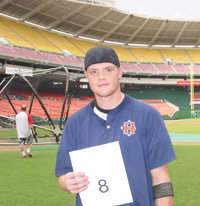 THE MARSHALL LADY STATESMEN pose for a picture during "Think Pink" week, which was from Feb. 8-17. Sponsored by the Women's Basketball Coaches Association, all of the Northern Virginia women's basketball teams were encouraged to wear pink uniforms to raise breast cancer awareness. Coach Noel Klippenstein wanted to participate in the movement to "unite against a common opponent." Pictured are members of the 2007-08 basketball team.
Temple Rodef Shalom Interactive Workshops
On Sunday, Feb. 24, Temple Rodef Shalom (2100 Westmoreland St., Falls Church) is hosting Creation Care 101, interactive workshops on energy and the environment, from 2 – 5 p.m. Participants will explore steps that they can take in their own faith communities to move toward a sustainable future. Free and open to all. For more information, e-mail Allison@gwipl.org or call 202-885-8654.

Chili Festival Fundraiser
Want to get involved with a good cause, but don't know how to do it? Crossman United Methodist Church (384 N. Washington St., Falls Church) is hosting a Chili Festival on Saturday, Feb. 23 from 5 – 8 p.m. to support a Mississippi Gulf Coast rebuilding project. In addition to the free chili, there will be a Dessert Cook-Off contest, live music and a silent auction fundraiser. For more information, call 703-532-4026.
Mulch Sale to Support GMHS Mustang Athletics
The George Mason High School Athletic Boosters have begun their 15th annual mulch sale, with orders accepted through Mar. 31. Three cubic ft. bags of shredded hardwood mulch are $5 per bag; with an order of 25 or more bags, the price drops to $4.50 a bag. Delivery is free within Falls Church on the delivery date of Saturday, Apr. 5. Pay by check to GMABA, mail to Linda Hamill (1002 Poplar Dr., Falls Church) with your address, phone and e-mail. For more information, email hamfam@cox.net.
Northern Virginia Teens Try to Starve Hunger
This weekend, from Friday, Feb. 22 – Saturday, Feb. 23, more than 150 local youngsters from churches across Northern Virginia will be participating in the annual World Vision 30 Hour Famine, hosted this year by Friendship United Methodist (3527 Gallows Rd., Falls Church). Students ask for sponsor donations as they fast for 30 hours in an effort to experience real hunger, all the while participating in activities to help them understand life in a developing country. The students are planning to make sandwiches for So Other Might Eat in Washington, D.C., volunteering at Rising Hope Mission Church in Alexandria and assisting with the Happy Hats project at Holy Trinity Lutheran. For anyone interested in participating or sponsoring a participant, contact Jim Harrington at 703-409-9350. More info is available at www.30hourfamine.com.
Spay Day USA
The Animal Welfare League of Arlington (the League) will participate in Spay Day USA on Wednesday, Feb. 27 and Friday, Feb. 29 by spaying and neutering up to 50 local cats and dogs for $25 each. Any low-income pet owner registering in advance receives a spay or neuter surgery for his or her pet at a reduced price, plus reduced fees on distemper and rabies vaccinations and a free microchip. The surgeries will take place at the National Capital Spay and Neuter Center (1001 L St. SE, Washington, D.C.) and are subsidized by the League. For more information, visit www.awla.org/spay-day-usa.shtml or call 703-931-9241. To register your pet, email spayday@awla.org.
Music for Lent: Mass and Reflections
The Master Singers of Virginia, led by artistic director Erik Reid Jones, presents a program of choral works by Anton Bruckner and Francis Poulenc on Sunday, Feb. 24 at 4 p.m. The program will take place at Saint Luke Catholic Church (7001 Georgetown Pike, McLean). Tickets for $20 for adults and $12 for students and seniors. For more information, visit www.msva.org or call 703-655-7809.
Nominate Fairfax County Volunteers for Service Awards
Volunteer Fairfax is calling for individuals, nonprofits and businesses to nominate volunteers who have provided outstanding service to the Fairfax community in 2007 for a Fairfax County Volunteer Service Award. The award program, established in 1993, honors individuals, groups and organizations that have provided volunteer services through a broad range of activities and programs. This year's Fairfax County Volunteer Service Awards breakfast ceremony will be held on Thursday, Apr. 24 at the Hilton McLean Tyson's Corner (7920 Jones Branch Dr., McLean), and the deadline for nominations is Friday, Feb. 22. For more information, visit www.volunteerfairfx.org or contact Erin Caplin at Volunteer Fairfax at 703-246-3470.
Volunteer Fairfax Spring Symposium
Volunteers managers, particularly those new to their position, have an opportunity to learn from Volunteer Fairfax and their Spring Symposium offered on Thursday, Feb. 21 at their headquarters (10530 Page Ave., Fairfax). The Symposium offers three sessions from Volunteer Fairfax's Nonprofit Training Series, including a session on rewarding volunteers, an open dialogue on the baby boomer population and their volunteer involvement and a session teaching participants how to work with volunteers, especially the difficult ones. The Spring Symposium begins at 9 a.m., where each session lasts two hours, with a 30-minute break in between each session. The fee for each session is $35 for premium members, $45 for basic members or $90 for all three sessions. For more information, visit www.volunteerfairfax.org or contact Emily Gibbs at egibbs@volunteerfairax.org
Survivors of Clergy Abuse Support Group
On Wednesday, Feb. 27 at 7 p.m., there will be a monthly peer support group for survivors of clergy abuse and others affected by the abuse in the conference room of the Tysons-Pimmit Hills Regional Library (7684 Leesburg Pike, Falls Church). The group meets on the last Wednesday of each month and is sponsored by the Voice of the Faithful-Northern Virginia affiliate. The meeting is free and confidential, with no registration required. For more information, contact Ellen Radday at 703-539-6128.
Keegan Theatre's "The Hostage" Premiere
On Thursday, Feb. 21, Keegan Theatre will premiere Brendan Behan's "The Hostage" as part of its 10th Anniversary season. The play, described as a "truly comic approach to both life and art," will run until Saturday, Mar. 29 at the Church Street Theater (1742 Church St. NW, Washington, D.C.), with performances on Thursday, Friday and Saturday evenings at 8 p.m. and Sunday matinees at 2 p.m. Tickets are $30 for general admission, with senior, student and group rate discounts available. For more information, visit www.keegantheatre.com.


Falls Church Resident Plays Lacrosse for Lynchburg
Scott Lemen (Falls Church/George Mason) has earned a spot on the 2008 Lynchburg College Men's Lacrosse Team, which has been ranked third nationally by the "Face-Off Yearbook" pre-season poll for Division III teams. The team is coached by 12-year coach Steve Koudelka. Lemen is a sophomore defender who appeared in eight games last season, majoring in history and minoring in coaching. The Hornets open their season this Saturday, Feb. 23, traveling to top-ranked Salisbury University, with face-off scheduled at noon.
McLean Mustangs Girls Travel Soccer Tryouts
The McLean Mustangs, a U13 Girls Travel soccer team, will be holding tryouts for the spring season and are looking for players. Any girl born before Aug. 1, 1995 is eligible for the team. The team plays in Division 1 of ODSL. Interested players should contact Tom Matecki at tmatecki@verizon.net.
Fulcrum Hires Senior VP of Branch Office Development
Fulcrum Holdings, LLC., an investment-advisory firm located in Reston, announced on Friday, Feb. 15 that Gary D. Nolen was hired as Senior Vice-President for Branch Office Development. He will head the firm's recruitment campaign, while also focusing on training Financial Advisors on expanding their business and firming up their client relationships. Mr. Nolen taught financial planning and investments at the University of Notre Dame's Center for Continuing Education, and has over 25 years of experience in the financial management and training fields. For more information, visit www.fulcrumsecurities.com.
Kennedy Center Internship for Falls Church Resident
The Kennedy Center recently announced that local Falls Church resident Zalfa Hamedaldean, a 2004 graduate of George Mason University currently pursuing a Masters in Tourism Administration at George Washington University, has been selected for their winter internship program. From January through May, Hamedaldean will serve as the Special Effects Intern in the Development Department. The Development Department is responsible for coordinating and planning over 2,000 events each year. Hamedaldean is interested in event planning as a career path, and hopes to develop her own event management company in due time.