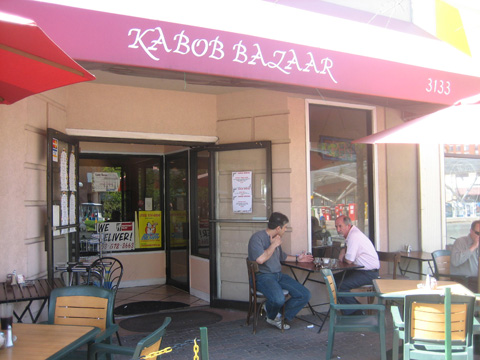 One of the first things you see when you walk into Chevy's Mexican Restaurant is "El Machino," the fifth item on the "Fresh Mex Pledge." Every 53 seconds, tortillas come fresh off "El Machino," adding to the authenticity of Chevy's.
And this is what the appeal of Chevy's Mexican Restaurant is all about. Located across the street from the Pentagon City Mall (1201 S. Hayes St., Arlington), Chevy's strives to bring the authentic tastes of Mexico straight to Virginia.
Between the first step of the Fresh Mex Pledge ("We blend fresh salsa every hour"), to the always fresh tortilla chips, Chevy's hopes to entice their visitors to return over and over again.
On my visit on a busy Saturday night, Chevy's was playing host to a massive party, with an a la carte buffet set up in the far corner of the restaurant. While these were certainly unusual circumstances for a restaurant spotlight, this highlighted one of the great things about Chevy's. Despite playing host to nearly 100 guests in a large party, the service was quick and always attentive. The minute I had finished my first glass of water, the waitress was rushing to our table with a pitcher in hand — the service was much appreciated, given the spicy food. The food came out quicker-than-expected, especially given the amount of people in the restaurant.
At first, when greeted and sitting down, customers at Chevy's are treated to their always-fresh chips and salsa, both of which tasted incredibly authentic. The salsa, a mix of charred tomatoes, onions and spicy jalapenos, has just enough kick to satisfy even the most spice-loving mouth. The chips come out fresh and hot, serving as a perfect appetizer on their own, even if one would not want to sample one of Chevy's many fine appetizer choices.
For an appetizer we ordered the Grilled Steak Quesadilla ($9.95), featuring marinated strip steak and Cheddar cheese melted between triangles of flour tortillas. The quesadilla triangles, eight altogether, came prepared with guacamole, sour cream and pico de gallo for dipping.
Just as we finished off the appetizer, two waiters bring out the entrees of the night – samplings of Grilled Chicken Fajitas ($13.95) and Grilled Steak Fajitas.($14.95). All of the fajitas offered at Chevy's come with a choice of homemade beans (refried or black), Mexican rice, fresh guacamole, sour cream, pico de gallo and sweet corn tomalito. The steak, the same as the steak featured in the steak quesadillas, tastes even better when mixed with an elaborate mix of the Mexican rice, black beans and a hint of guacamole. Chevy's spares no expense with any of its meats, and the chicken fajitas come grilled over a mix of onions and tomatoes.
Other popular choices from the menu include a variety of "Classic Fresh Mex Combos." Among them: Enchiladas, Tacos, Chile Relleno, Crispy Flautas (salsa chicken, rolled with peppers and cheese into small flutes) and the Chimichanga. Larger combination platters are available to satisfy larger groups, or merely those with larger appetites.
For dessert, Chevy's offers its self-named "Chevy's Flan" ($3.50), a unique Mexican dessert whose roots trace back to Spain. The flan is a creamy vanilla custard in a sweet caramel sauce, sure to delight the taste buds of any patron.
Chevy's, located in four different locations in Virginia, is an absolute delight for those looking for the authentic Mexican feel.
Chevy's Mexican Restaurant
1201 S. Hayes St.
Arlington, VA 22202
Phone: (703) 413-8700
Hours: