U.S. REP. JIM MORAN, whose 8th District of Virginia includes the City of Falls Church, came before the F.C. City Council Monday night to provide an overview of what's going on in Washington, his legislative priorities, and to listen to City officials' requests for federal support. To his immediate right are City Manager Wyatt Shields and City Attorney Roy Thorpe. Moran said the City's request for help with sub pumps and opening storm water drains "don't make for flashy photo ops, they are what makes communities work and keep us healthy." (Photo: News-Press)
Show Some Love for Kellie Brown
Gallery 5 (200 W. Marshall St., Richmond) is hosting a benefit for Kellie Brown, a former VCU student who was forced to drop out with less than three semesters left after incurring nearly $40,000 worth of hospital bills from an emergency appendectomy. Roberto Curtis, arts and entertainment editor for the Commonwealth Times, took it upon himself to organize a charity benefit for his longtime friend to help out with her medical plight. The evening will feature two live bands, two dance troupes, a silent auction and a used clothing sale, with all proceeds going to benefit Brown. The benefit will be held on Friday, Feb. 15 from 7 p.m. – midnight, with tickets priced at $10. Ages 18+. For more information, contact Roberto Curtis at bossaberto@yahoo.com.
Arlington Fury Soccer Tryouts
The Arlington Fury U-15 Girls Soccer Team, playing in ODSL Division 2, is actively seeking dedicated players born on or after August 1, 1992. They emphasize skill development, teamwork, responsibility and enjoyment of the game. The Fury will be holding tryout sessions at Washington-Lee High School Stadium (1300 N. Quincy St., Arlington), from 5 – 6:30 p.m. on Wednesday, Feb. 20 and Wednesday, Feb. 27. Please contact Team Manager Dennis O'Rourke to arrange a tryout session at arlingtonfury@gmail.com.
Lutheran Church Valentine's Dance
The Lutheran Church of the Redeemer (1545 Chain Bridge Rd., McLean) invites all to a Valentine's Day Dance on Friday, Feb. 15 from 7:30 – 10 p.m. Dancers will be treated to big band music and Valentine's Day decorations around the church. Cost of attendance, including food and beverages, is $35 per person in advance or $40 at the door. For more information, call 703-356-3346.
Benefit Concert for Heart Project
Ensemble Gaudior, a chamber-music ensemble based in Northern Virginia, presents "Lenten Meditations" on Saturday, Feb. 16 at 7 p.m. at the Falls Church Historic Church (115 E. Fairfax St., Falls Church). The event is a benefit for the Children's Heart Project run by Samaritan's Purse, a non-denominational evangelical Christian organization. Free admission. A freewill offering will be received, with 100 percent of the proceeds going towards the Children's Heart Project. For more information, visit ensemblegaudior.com or call 703-395-2899 for complimentary reserved seating.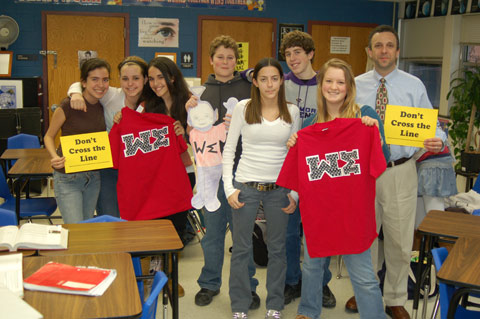 Matrix Basketball Tryouts
Arlington Matrix Basketball will hold tryouts for its girls' spring AAU teams starting Sunday, February 24 and continuing through the first week of March. The Matrix AAU program is planning to field two teams in Grades 4, 5, 6, 7 and 8. Teams are generally formed by a player's current grade and tryouts are open to any Falls Church players or other girls interested in playing for Matrix. For details about the Matrix program, tryout details and other questions, visit the Matrix website at www.arlingtonmatrix.net or contact Jim Butler via e-mail at JimButler@ArlingtonMatrix.net.
Marshall Lacrosse Seeks Assistant Coach
George C. Marshall High School (7731 Leesburg Pike, Falls Church) is seeking an assistant boys' lacrosse coach. For anyone interested, send a resume to joe.swarm@fcps.edu, fax it to 703-714-5490, or call Joe Swarm at 703-714-5412.
Seussical, the Musical
The Chalice Theater, in collaboration with The Keegan Theater, presents Seussical, the Musical, by Lynn Aherns and Stephen Flaherty. Performances are held at the Unitarian Universalist Church of Arlington (4444 Arlington Blvd., Arlington). Dates of performances are: Fridays, Feb. 15, 22, 29 at 7:30 p.m., Saturday, Feb. 16 at 7:30 p.m., Saturday, Feb. 23 and Mar. 1 at 3:00 and 7:30 p.m. and Sundays, Feb. 17 and 24 at 3 p.m. Tickets are $20 for adults, $15 for students and seniors, with discounts for groups of 10 or more. For ticket reservations, call 703-892-0202.
The Dominion Brass Plays at Truro Church
On Sunday, Feb. 17 at 4 p.m., Truro Church's (10520 Main St., Fairfax) Concert Series will host The Dominion Brass in a performance benefiting CrossLink International. The Dominion Brass will be performing a mix of secular and sacred music. CrossLink International is a non-profit ministry providing medicines and medical equipment to clinics, mission hospitals, medical mission teams in the United States and to more than 120 Third World Countries. For more information, call Truro Church at 703-273-1300 or CrossLink International at 703-534-5465.
Arlington Lions Club Citrus Sale
The Northwest Arlington Lions Club will be holding a citrus sale on Thursday, Feb. 21 through Saturday, Feb. 23 between 8 a.m. – 5 p.m. at the Overlee Pool lower parking lot (6030 Lee Highway, Arlington). There will be many varities of fresh Florida citrus, including grapefruit, pineapple, oranges and honey tangerines. There will also be pure Vermont maple syrup. The proceeds will go towards various charitable projects in Arlington.
Falls Church Strikers Girls Soccer Tryouts
The Falls Church based U-12 Strikers, a WAGS team, have one roster spot available for the spring season. The Strikers were undefeated in league play last fall and are defending bracket Champions of the Virginia tournament. Interested players should contact Coach Eric Farnsworth at 703-448-0453 for tryout information.
Falls Church Premier AC Soccer Tryouts
The Falls Church based Premier AC, a non-profit club providing travel soccer opportunities for families in Falls Church and surrounding communities, seeks committed players with great attitudes to join its U9 boys for the spring NCSL season. The team philosophy stresses fundamentals, ball-skills and developing a life-long love for soccer. Interested players should contact team manager Andy Simons at simonsclan@yahoo.com, or check the club website at www.premierac.org.
Arlington Buddhist General Program Classes
Prospective Buddhists need to look no further than the General Program classes designed for beginners, being held in Arlington. Taught by American Buddhist nun Gen Kelsang Varahi, the meetings will last 90 minutes and will include introductory lectures and meditations, with a focus on Buddha's teachings about "Universal Compassion." Open to all, contribution of $12 requested. Held 7 – 8:30 p.m. at the Griffin Center (Ste 5, 3800 Fairfax Dr., Arlington), on Monday, Feb. 18 and 25. For more information, go to www.meditation-dc.org, or call 202-986-2257.
John Kerry's Hybrid SUV on Sale
The chance to own a car driven by a former Presidential candidate is closer than you would think. Koons Ford (1051 E. Broad St., Falls Church) is currently selling Sen. John Kerry's (D-Mass.) 2006 Ford Escape hybrid for around $26,000. Kerry decided to trade in his two-year-old hybrid for a brand new Chevy Tahoe Hybrid, winner of the 2008 Green Car of the Year award. For more information on Kerry's old ride, call 703-241-7340.
Huge Success for Washington Capitals' Blood Drive
The Washington Capitals and the American Red Cross collected 353 productive units of blood at their blood drive at Kettler Capitals Iceplex (627 N. Glebe Rd., Arlington) on Saturday, Feb. 9. This was the largest of the Capitals' annual blood drives and one of the largest in the region according to the American Red Cross. One blood donation can save up to three lives, so the blood collected on Saturday could help more than 1,000 local patients. For more information about upcoming drives, call 1-800-GIVE-LIFE, or visit www.my-redcross.org.
124th Recruit Firefighter Graduation
On Friday, Feb. 15 at 7 p.m., recruit firefighters from the Fairfax County Fire and Rescue Department will celebrate with a graduation ceremony at the Fairfax County Government Center Auditorium (12000 Government Center Parkway, Fairfax). Since September 2007, the 23 recruit firefighters have been training in a 21-week course. Upon graduation, they will officially become professional firefighters and EMTs. Gregory B. Cade, Assistant Administrator, Federal Emergency Management Agency's (FEMA), Fire Administrator, United States Fire Administration (USFA) will be the keynote speaker. For more information, contact 703-246-3801.