As Ovechkin's Monster Season Continues, Two Other Picks From the First Round of the 2004 Are Helping Resurrect the Caps Blue Line and The Team's Chances in the Southeast Division.
Since the Washington Capitals selected Alexander Ovechkin with the first pick in the 2004 draft, the sensational Russian's list of achievements has been flat out astonishing: He has amassed 270 points in just over two and a half seasons, scoring 52 goals in his rookie year and claiming the Calder Trophy for the league's top newcomer. He has earned two All-Star game appearances and a spot on the Russian national team at the 2006 Turin Olympics. On the ice, he's scored from every position imaginable, including from his back.
The returns on Ovechkin were immediate. But for all of the accolades, the points, the highlight-reel goals and the status as one of the league's brightest stars, there has been one thing that Ovechkin hasn't been able to do since joining Washington — pry the Capitals out of their two-year residency in the cellar of the Southeast Division.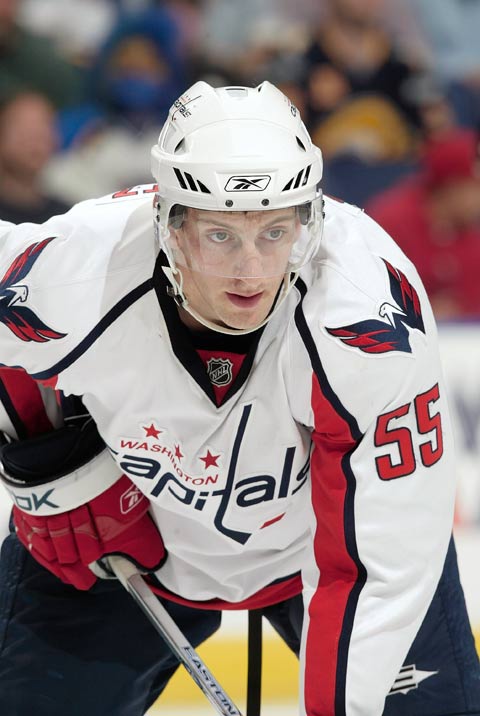 This season the Caps are finally back in the hunt for the division crown and a playoff berth. While Ovechkin is in the midst of another monstrous season — he leads the NHL with 45 goals and 72 points through Feb. 5 — the credit for Washington's ascent belongs also to the Capitals' blue liners, including two other first round picks from the 2004 draft class. It's those picks that turned that day in Raleigh from a mere momentous occasion into a flat out bonanza of future talent.
Twenty-six picks after acquiring Ovechkin — using the first of two first-rounders obtained from the fire sale of stars like Jaromir Jagr, Sergei Gonchar, Peter Bondra and Robert Lang — Washington selected 6-foot-6 defenseman Jeff Schultz. With the 29th pick, the Caps tabbed Mike Green, a shifty-skating blueliner that impressed Washington's scouts with his positive attitude while playing with a struggling team.
"We liked them a lot," Capitals General Manager George McPhee says of Schultz and Green. "Those are the kind of picks that can really put an organization over the top."
Both Schultz and Green have shown marked improvement as the Caps have surged forward since the start of December, planting themselves squarely in the playoff fray following a horrific start. Schultz's rating of plus-3 leads all active Caps defensemen — Brian Pothier (plus-5) has been sidelined since Jan. 3 with a concussion. Green meanwhile has blossomed into one of the league's top back-end threats. Through Feb. 5, his 14 goals are tops among NHL defensemen.
The progress by Green and Schultz, along with the off-season acquisition of veteran Tom Poti and the consistently solid play of Shaone Morrisonn, has shored up a blue line that had been the club's bane since the start of the post-lockout rebuilding process.
Over the course of the Caps' previous two campaigns, Washington allowed more shots on goal than any other NHL team, giving up an average of 33.3 shots per game last year and 35.1 the year prior. Last season, Green, Pothier, Steve Eminger and Ben Clymer — all defensemen who played in more than 65 games — finished with plus/minus ratings of -10 or worse. All of those numbers accumulated despite Head Coach Glen Hanlon's defense-first approach.
The start of this season bore no better news for Washington. After a 3-0 start, the Caps skidded to a 3-14-1 mark over their next 18 games, culminating in Hanlon's firing on Nov. 22. The woes of the rest of the team were visible in the play of both Green and Schultz as well, with Green sporting a rating of minus-eight and Schultz recording just one point in the season's first 21 games.
That's when the in-season renaissance began.
With the induction of new head coach Bruce Boudreau, the Caps began a new chapter that has seen the team climb back into contention after being all-but entombed by their slow start.
At the center of that rejuvenation were the Caps' three first rounders from 2004.
Ovechkin, who has exploded for 32 of his 45 goals since the coaching change, continued to display the same sterling skill set, and Green and Schultz began to show signs of the potential that earned them their prominent draft status.
Prior to Boudreau's arrival in Washington, Green put up three goals and four assists to pair with a minus-8 rating in 21 games. In the first 10 games under Boudreau, Green scored five goals and added two assists, sporting a mark of plus-8 over that span. Meanwhile, Schultz has recorded 13 points while filling his role as a stay-at-home defenseman.
"Each year you want to do a little more out there and put a little bit of pressure on yourself. At the start, I put too much pressure on myself and tried to do a little bit too much. So, I laid off on that and just got to a part of my game where I was comfortable and tried to build up from there," Schultz says of his own improvement.
The maturation process has played a large role, as has the youngsters' comfort level under Boudreau.
Boudreau coached both young defensemen when he headed the Caps' AHL affiliate, the Hershey Bears. In 2006, he led the Bears to the Calder Cup with Green on the roster. After taking over for Hanlon in Washington, one of his first orders of business was to coax Green into being more active offensively.
"Oh yeah, big time," Green says, when asked if the coaching change has played a role in his increased productivity. "We have a good relationship where I understand what is expected out of me and the way I should play. But he definitely gave me a lot more free range to kind of do some things that in the past I wasn't able to do. I mean, it's worked out."
And then some.
With a little more slack in his leash, Green increased his tendency to jump into the offensive attack, more frequently utilizing his speed and deft stickhandling to carve past defenders and create chances for both his teammates and himself.
"I love it. I love jumping up. I love getting in the play," Green says. "As long as I'm not leading the rush and getting caught, I'll jump up as much as I can. It's hard to keep me back."
Even Caps' netminder Olaf Kolzig, who has born the brunt of the young defense corps' learning curve by way of staring down odd-man rushes and the aforementioned astronomical shot totals, acknowledges feeling a twinge of excitement, rather than trepidation, when Green jumps into the offensive fray.
"It's special to see," says Kolzig before rattling off a list of Green-crafted, highlight-reel goals, including game-winners in overtime against Montreal and the New York Rangers. "He brings that extra bit of offense from the back end that we haven't had here since Sergei Gonchar. It's surprising how much offense you can create when you've got a guy like that."
Not only has Green established himself as an offensive spark plug for the Capitals, but the team has shown an improved defense — even with Boudreau's emphasis on a more open and fluid offense. Through Feb. 5, the Capitals have allowed the eighth fewest shots on goal league-wide, yielding only an average 27.4 a game.
While Green has supplied much of the flash and flair from the blue line, Schultz has been the steady, heady type, credited by his teammates for playing sound, smart hockey. At 6-foot-6 and 215 lbs., Schultz could be an imposing adversary in the corners, though the lack of any discernible mean streak keeps Kolzig referring to him as a "gentle giant."
"If he can just pick up his intensity a little bit or get a little bit of meanness in him, he could be a force, because he has what it takes between the ears to be a defenseman in this league," Kolzig says.
Even if he hasn't been playing like the Incredible Hulk to date, his Mr. Fantastic-like reach has disrupted passing lanes and repeatedly slowed the oncoming rush. This season, he's also been a contributor in the opponent's zone, recently setting up Alex Ovechkin's fourth, and game-winning, goal against Montreal on Jan. 31. And during one stretch in December, Schultz tallied goals in three consecutive games against the Thrashers, Devils and Rangers — while his parents watched no less.
"It worked out really well," says Schultz about his parents' timely trip to the District. Schultz, who grew up in Calgary idolizing heavy-shooting defenseman Al MacInnis, has five goals on the season, a fact that has left some scratching their heads.
"You see him shoot everyday in practice and you think, 'How does he have five goals?'" Kolzig jabs.
Nevertheless, while he may not be as integral to the Caps' offense as Green — or that other 2004 first round pick — the Caps are 11-0-1 when Schultz records a point.
While both Green and Schultz have significantly stepped up their contributions this season, what most excites the Capitals is that the pair's achievements to this point are just the tip of the iceberg. Having watched both Green and Schultz at two levels now, Boudreau believes both will continue to blossom given more time in the NHL.
"They've raised their level of play as the level of competition has been raised," Boudreau says. "Guys that have potential to grow as players can do that. Sometimes you see guys in the American League that are just great, but that's as good as they're ever going to get. These are two guys that have just started to touch on how good they are."
With Ovechkin now under contract — for the next three Presidential terms — it's Green's turn for the front office's attention. To date, the sides have not discussed a deal, though Green hopes that will soon change. Given the All-Star-caliber numbers he's put up thus far, it's unlikely the front office will let him enter the off-season as an unrestricted free agent.
As great as the Caps' defensive improvement has been this year, the best days may lay ahead for Washington's back line. Both Schultz and Green are under the age of 24 — Green is 23 and Schultz turns 22 Feb. 25 — and waiting in the wings are Sami Lepisto (2 G, 20 A and a plus-21 rating at Hershey) and 2008 No. 1 draft pick Karl Alzner (7 G, 22 A, plus-27 with the WHL's Calgary Hitmen). Should they follow in the footsteps of Green and Schultz, what used to be the Caps' biggest deficiency could become their greatest strength.
"You have to have good defense," McPhee says. "Scoring can come and go, but if you have a good defense, you'll be in every game."
With the No. 1 overall pick in hand in 2004, most figured the draft — and the impending acquisition of Ovechkin — would springboard the Caps' rebuilding process. Little did anyone know that the true agents of change would be snapped up more than 25 picks later.
"We thought we did really well," McPhee says, reflecting on that day nearly four years ago. "Sometimes you go in with a plan and nail it, and sometimes you go in with a plan and things just don't fall your way … When we walked out of the draft, one of our scouts turned to me and said 'I really think we nailed it.' The rest of us thought he was right."
Now they know he was.
---