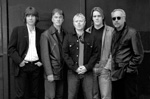 When actor Jeff Daniels moved away from the Hollywood community in 1986, many feared that returning home to his Michigan roots would mark the end of his film career. When he founded the Purple Rose Theater Company in 1991, critics claimed that a small-town production company featuring new American plays from Midwestern playwrights couldn't succeed. And when he took the stage for a 2001 fundraiser, armed with just a guitar and a previously undisclosed talent, people thought he was just another actor pretending to be a musician.
So far, the doubters are 0 for 3.
"They thought by marching me out on stage with a guitar, maybe we could raise a little money for the theater," Daniels says of his first performance. Although he had no intentions of pursuing music any further than fundraising, the rousing success of the shows had people talking — and after working through some initial jitters, Daniels found that he had a true passion for performing folk music.
"It was difficult at first, because [performing] is very different than being on stage as an actor," says Daniels. "With music, there is no filter, no character or script to hide behind. It's very naked. After a while though, it becomes another creative challenge. The playwright in me is helping with the storytelling, the actor is helping with the timing and interaction with the audience, and the director is gauging the show and changing the set based on the audience reaction."
Ever the stage performer, Daniels relies on his years of experience to engage the crowd, and his ability to improvise to give each show a life of its own.
"While there is a general idea, a basic set list, the majority of the show is dictated by the crowd. Some nights they want to hear stories, some nights there is a lot of interaction, and some nights the crowd just wants to listen and not interact at all."
His music is influenced by folk music storytellers such as Steve Goodman, Utah Phillips, and Christine Lavine. In fact, Lavine's encouragement ultimately persuaded Daniels to pursue his music beyond the occasional fundraiser.
Like his folk singing compatriots, Daniels' songs are rooted in the tradition of storytelling. His topics range from humorous accounts of road rage, to the trials of being a lifelong Tigers fan, to sentimental songs about his grandfather. Each is written and performed with sincerity and candor.
"I'm not trying to write hits," Daniels acknowledges, "but I want to be honest and connect with the audience." This honesty includes admitting the fact that he is another Hollywood actor trying his hand at music, as evidenced by the song "If William Shatner Can, I Can Too."
"I'm not trying to hide the fact that I'm Jeff Daniels the actor," he says. "We acknowledge the elephant in the room and have fun with it. I like to peel back the curtain and give people an insight as to what it's like to live in Hollywood, or be shot by Clint Eastwood."
While Daniels openly acknowledges that he is an actor, his skill on the guitar proves that he is more than merely pretending to be a musician. "I want people to see that I'm serious about this and that I'm not trying to fake it," he says.
Although Daniels has been playing the guitar for more than 30 years, he is constantly striving for improvement through hours of practice, instructional DVDs, or even a personal lesson from acclaimed blues guitarist Keb' Mo'. Daniels even went so far as to make the pilgrimage to Clarksdale, Miss. to visit the legendary Crossroads. While he didn't meet the devil, it did inspire a song — "Forgive Me, Robert Johnson."
That song and more should be on display, Saturday, Feb. 2, when Jeff Daniels brings his humor and sincerity to The Barns at Wolf Trap. Showtime is 9:30 p.m. and tickets are $25.
• For more on Jeff Daniels, visit www.jeffdaniels.com. Tickets can be purchased online www.wolftrap.org or at the Wolf Trap ticket office.