Catherine Day: 'The Fabric of Memory'
Through February 8, in the Waddell Art Gallery (Waddell Building) at Northern Virginia Community College, Loudoun Campus (1000 Harry Flood Byrd Hwy. (Rt. 7), Sterling, Va.). Gallery Hours: Monday through Friday 9 a.m. – 7 p.m. For further information, call 703-450-2627, or see www.nvcc.edu/Loudon/ArtGallery.
McLean art photographer Catherine Day rarely shows in this area, but has run through area art galleries like Sherman en route to Atlanta since her show with the McLean Project for the Arts last July … and with good reason. We may not be New York, but we know cool art when we see it.
It's good work that has taken an innovative twist of late, and vaulted her into that heady, elusive and much-coveted territory known as "edgy."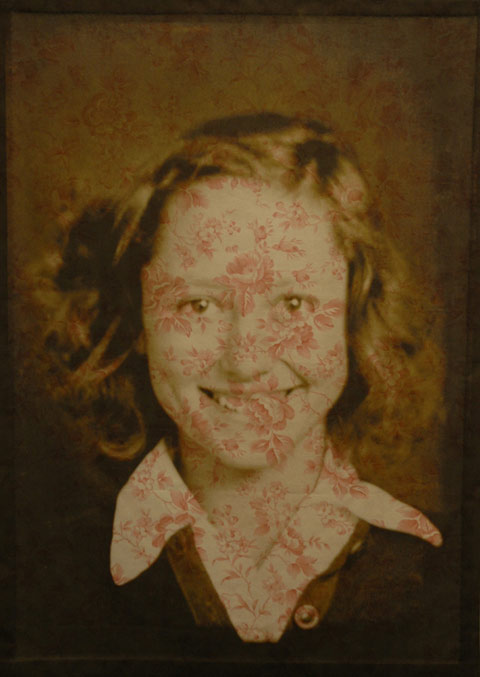 You work your whole life in relative obscurity, turn a corner and find a party just for you in full swing. It's wacky the way this all works sometimes. Mind you, Day has laid a broad spectrum base in drawing, painting, sculpture and pottery before she ever took off as a photographer. It's a classic example of a notion I talk about frequently. Whether it's architecture, design, drawing, painting or photography, it all basically comes from the same place. Cross pollination only makes you stronger.
The current show at NVCC features many pieces from the MPA show reviewed here on July 12. We'll concentrate on the new work this time. The July 12 review can still be read online in the News-Press archives (Ed. Note: Use the search feature in the top right and type in "Catherine Day.")
Day began her foray into digital printing on fabric with a traditionalist's adherence to black and white imagery. Working off old, unprinted work she shot at grave yards, the work focused mainly on grave markers and the stuff left around them.
There are a few new black and white images here. Most notably the four part series titled "Ewell's Funeral." Here we see a decidedly cinematic series of lower legs standing in a cemetery. It's exactly the sort of snippet assemblage that makes up what we refer to as memory. It's all highly personal — not always obviously relevant, but it all goes into the mix and put together makes up a memory of one particular event. This one feels like a child's eye view of something they don't quite understand and is mashing it together to try and make sense of things going on around them. The blurry presentation comes via the multi-layered diaphanous fabric printing and certainly adds enormously to this image, and its sense of confusion.
The main departure of late is a wholly unexpected turn towards color in Day's work. Here we find a series of fairly large-scale portraits printed from a 1940s photo of her mother in her youth. It's a fairly innocuous, even generic photo. It has a certain unidentifiable timelessness to it that could pass for most of the 20th century. At least in its original state.
Here, Day has taken her mother's image and presented it repeatedly, utilizing different fabrics and printing techniques, thus imbuing each image with a unique spin all it's own. It's a perfect display of the notion that we each see the world through our own unique filter. Looking at exactly the same person, we all see something different in the person before us.
"Carolyn, blue, yellow" is printed with an alternating blue and yellow dot pattern within the image. It has a Pop art feel to it that seems to reference both John Baldessari and Roy Lichtenstein without aping either one. This is awfully difficult territory to traverse without falling into either of those sand traps.
"Carolyn, sky blue" offers a blue-toned image of her mother with a screen of what seems to be a night sky full of stars. The sense of limitless youthful opportunity and boundless zest for life overwhelms this image. You can help but be uplifted by it.
"Carolyn, dusty rose" shows her mother in a deep red tone inlayed with a damask-like pink rose-patterned fabric. Here we feel the terrible weight of tradition and stereotypical sexual roles and expectations. Combined with the youthful smile of her mother's visage, we have a sense of how tradition tends to beat the youthful vigor out of us as we go through life. Where blue sky seems boundless, this one seems heavily weighted and more fated that hopeful.
The series is comprised of seven images, but in some ways "Carolyn, pink roses" is the best. Here the pink rose fabric pattern and overall deep red coloration is fairly irrelevant. More than anything, what stands out here is the three-dimension effect that the multi-layered printing has given the image. Here, we see not a two-dimensional image like every last photograph ever printed has, but rather a three-dimensional portrait that has form and shape. That actually moves as your relationship to the various layers changes. This is so hard to do it's almost impossible to accomplish without special viewers or filtered 3-D glasses. This sort of three-dimensional effect is really the rarest of rare in straightforward imagery.
We're absolutely awash in a daily flood of photography. To the point that we ignore photography's short comings and take its two-dimensional presentation as three dimensions since we know that the objects portrayed are in fact three dimensional.
The last time I saw a portrait that had this sort of life was a painting at the Frick Museum by Rembrandt. That was so real it absolutely blew photography out of the water. Done with layers of paint and glazing, it's a more traditional notion of what Day is up to here. We give this one two thumbs up, and can't wait to see where the next six months take her work. Bravo!
Falls Church Art Assault on Dupont Circle
"Wise Guys." Through March 28 at Georgetown Optician Gallery, Dupont Circle (1710 Connecticut Ave. NW, D.C.). Gallery Hours : Monday through Saturday 11 a.m. to 6 p.m. Opening Reception is part of the Dupont Circle Galleries First Friday Art Walk, Friday, Feb. 1, 6 p.m. – 10 p.m. For more information, call 202-939-1444.
This show marks the return of the old Irvine Contemporary gallery space to its artistic past. The main optical shop show room, the examination room and the back room will be all art and nothing but art.
This nearly-all-Falls-Church art show features the photographic work of Shaun van Steyn, the Neo-Geo abstract paintings of Donna Byrne, watercolor paintings by Bill Able and Conté figure drawings by myself, Kevin Mellema. Also shown will be a large crushed egg shell piece from Gallerie Brigitte of Reston.
Around the corner and down the block you'll find the oil and mixed media abstract paintings of Joyce McCarten through February 23 at Studio Gallery (2108 R St. NW, D.C.). Gallery Hours: Wednesday and Thursday 1 – 7 p.m., Friday 1 – 8 p.m., Saturday 1- 6 p.m. Galleries of Dupont Circle First Friday Art Walk Friday, Feb. 1, from 6 – 8 p.m., as well as an Artist Reception Saturday, Feb. 9 from 5 – 7 p.m.
For more information, visit www.studiogallerydc.com.


First Friday in Falls Church
Falls Church Arts opens its year long series of shows and performances titles "da Vinci Passport" at Art and Frame (111 Park Ave., Falls Church). The opening reception is Friday, Feb. 1 from 6 – 8 p.m. This show runs through March 22. Normal gallery hours are Monday through Saturday, 10 a.m. – 6 p.m. For further information, call 703-534-4202, or see www.FallsChurchArts.org.