A LOTTERY TO SELECT 23 households to fill affordable dwellings units in the City of Falls Church was held at the Community Center on Jan. 15. Among the winners are those shown here. They'll fill eight condos units at The Spectrum and 15 apartments at Pearson Square. It was the largest lottery for affordable dwelling units ever held in Falls Church. Vice Mayor Lindy Hockenberry and Council member Hal Lippman were on hand to witness and celebrate with the winners. (Courtesy photo)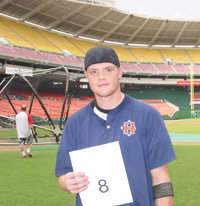 Relay for Life Kickoff
The annual "Relay for Life" fundraising drive of the American Cancer Society comes to the city of Falls Church later this spring, but the festivities begin this weekend with the Relay for Life Kickoff Event, happening on Saturday, Jan. 26 from 2:30 – 4 p.m. at the George Mason High School (7124 Leesburg Pike, Falls Church) Mustang Café. The main event, similar to events nationwide, will be an all-night rally held at the George Mason High School football stadium on Saturday, May 31. Community members form teams, camp out, and participate in a relay marathon that night to benefit the American Cancer Society. The kickoff event, sponsored by the GMHS Student Council, will give a chance for everyone to learn what Relay for Life is all about. For more information, visit www.relayforlife.org or call 703-241-9494.
Winter Arts Expo
The New Winter Exhibition at McLean Project for the Arts (1234 Ingleside Ave., McLean) will run Jan. 24 – Feb. 23 with an opening reception on Jan, 24 from 7 – 9 p.m. Featured are works by Francie Hester, Kathy Snow Stratton, Betsy Damos, David Carlson, Lynda Ray, Carol Brown Goldberg, Carey Kessler and Naomi Chung. Free and open to the public. For more information, call 703-790-1953or visit www.mpaart.org.
Metropolitan Wind Symphony Auditions
The Metropolitan Wind Symphony is holding auditions for wind, brass or percussion players in grades 9-12. The auditions will take place at the Levine School of Music (1125 N. Patrick Henry Drive, Arlington) – Virginia Campus on Saturday, Jan. 26 from 2 – 5 p.m. or on Tuesday, Jan. 29 from 7 – 9 p.m. Interested musicians are asked to prepare two pieces of contrasting styles, and will be required to play two octave scales, including four sharps or flats. For more information, call 702-237-5655.

Open Mike Poetry Reading
To continue their month-long celebration of poetry, the Falls Church Arts Gallery (111 Park Ave., Falls Church) is holding an "Open Mike Poetry Night" on Saturday, Jan. 26 from 7:30 – 9:00 p.m. Light refreshments will be served, open to the public. For more information, visit the Falls Church Arts website.
Books 'n Biz Networking Event
Barnes & Noble Tysons Corner (7851 L Tysons Corner Center, McLean) welcomes Best Selling/Award Winning Author Margie Warrell on Friday, Jan. 25 at 12 p.m. for the Books 'n Biz Networking Event. This event, Barnes & Nobles' first in 2008, will feature Warrell offering communication strategies to build trust, grow influence and improve bottom line performance. Warrell, an "associate life strategist" trained in the theories of Dr. Phil McGraw, has authored books such as "101 Great Ways To Improve Your Life," and her latest, "Find Your Courage". For more information, call 703-506-6756.
Dulin Preschool Open House
Dulin United Methodist Cooperative Preschool (513 E. Broad St., Falls Church) will host an Open House for interested families from 10 a.m. to noon on Wednesday, Jan. 30. The open house will feature an information session, tours, and a Q & A session. The preschool offers classes for two, three and four-year old children. For more information, visit www.dulinpreschool.org or e-mail dulinpreschool@gmail.com.
Potomac Crescent Waldorf School Open House
The Potomac Crescent Waldorf School (923 S. 23rd St., Arlington) is holding an Open House on Saturday, Jan. 26 from 10 a.m. – noon, with a snow date set on Saturday, Feb. 2. Potomac Crescent offers programs for Grades 1-3, Early Childhood (ages 2-6), Aftercare and Summer Camp. Children are welcome. For more information, call 703-624-1309 or visit www.potomaccrescentschool.org/index.html.
The Terrorist Watch
The International Spy Museum (800 F Street, NW, Washington, DC) has invited author Ronald Kessler for an author debriefing on Thursday, Jan. 24, from noon – 1 p.m. Kessler, who interviewed the directors of the FBI and CIA for his book, "The Terrorist Watch", will speak about his experiences with the government's attempt to thwart the war on terror. The event is free to the public.
Faith Community Forum on Homelessness
The Friends of the Falls Church Winter Shelter, Homestretch, and the Falls Church Community Service Council are sponsoring a free Faith Community Forum on Homelessness at Dulin United Methodist Church (513 E. Broad St. , Falls Church) on Saturday, Jan. 26 between 10 a.m. and noon. The event is designed to inform attendees on the new "Fairfax/Falls Church Plan to Prevent and End Homelessness" and what faith communities can do. For more information, or if you plan to attend, e-mail Rob Brosseau at fcshelter@gmail.com or call 571-218-5411.
Peer Support Group for Clergy Abuse
The Voice of the Faithful – Northern Virginia affiliate is co-sponsoring a monthly peer support group for survivors of clergy abuse and others affected by the abuse. This month, the group will be meeting on Wednesday, Jan. 30 at 7 p.m. in the conference room of the Tysons-Pimmit Hills Regional Library (7684 Leesburg Pike, Falls Church). Free and confidential, no registration required. For more information, contact Ellen Radday at 703-538-6128.
Habitat for Humanity Dedicates First Condominium Building
Habitat for Humanity of Northern Virginia is dedicating its first condominium building, Westbrook Forest (11328 Westbrook Mill La., Fairfax) to 12 first-time homeowning families at 3 p.m. on Saturday, Jan. 26. Approximately 60 corporate, nonprofit and faith based sponsors helped with the construction of the building and will send representatives to the dedication ceremony. Each family chosen to live in Westbrook Forest worked 500 hours on the building, and will be able to afford living costs through Habitat's no interest, no profit loans. For more information, visit www.habitatnova.org or call 703-521-9890, x100.
Marshall Hosts Series of One Acts
George C. Marshall High School (7731 Leesburg Pike, Falls Church) is hosting the Liberty District's One Act Play Competition on Saturday, Jan. 26, from 10 a.m. – 5 p.m. Seven high schools from the Liberty District will be performing, with Marshall slated to perform the student-written "Everything in Essence", an exploration of the introduction to cubism into the art world in 1915 starting at 4:15 p.m. Admission is free. The winner of the competition moves onto the Regional Competition on Saturday, Feb. 2. For more information, contact G.C. Marshall Activities at 703-714-5409.
Bishop Ireton Snags Wildcat Champion for Goalie Coach
Bishop Ireton recently announced the hiring of Meredith Philipp to their women's lacrosse coaching staff. Philipp, a graduate of Northwestern University in 2005, played goaltender while helping the Northwestern Wildcats win their first NCAA Championship during her undergraduate years. Philipp comes to Ireton to provide tutelage to their goalies, while also attending law school at The Catholic University in Washington, DC.
Fairfax Art League
The Fairfax Art League awarded member Mark Isaacs with its January's People's Choice Award for his oil painting "Danish Days II". The People's Choice awards are voted by visitors to each month's show opening reception. The January show, highlighting Artist of the Month Jackie Granzow, continues through Feb. 7 at Fairfax Old Town Hall (3999 University Dr., Fairfax). Gallery hours are Monday through Thursday, 10 a.m. – 2 p.m. For more information, visit www.fairfaxartleague.com or cal 703-273-2377.
Olsson's Winter Sale and Contest
Olsson's Bookstore is having a winter sale from Wednesday, Jan. 23 through Sunday, Jan. 27, with a 20% discount on everything in the store. Customers will be entered into a contest, with prizes ranging from two tickets to two upcoming shows at the 9:30 Club or at the Barns at Wolf Trap, a free pizza from Bebo Trattoria, or a pair of tickets to the next two upcoming productions at Round House Theater.
Meet New McLean Varsity Football Coach
On Thursday, Jan. 31 at 7 p.m., McLean High School (1633 Davidson Rd., McLean) will be introducing new Head Varsity Football Coach Jim Patrick to the Highlanders. After spending the past two seasons as offensive coordinator with Hyland High School, Coach Patrick accepted the head coaching position at McLean. Coffee and dessert will be provided. For more information, contact the McLean Football Parents Organization.