Bob Lazar, cutting the ribbon, Mayor of Purceville, Northern Virginia Regional Park Authority Board Member Su Webb and James Wiley, Town Councilman and former NVRPA Board Member of 30 years, celebrate a new train-themed playground along the W&OD Trail. (Photo: Paul McCray)
FC City Holiday Schedule
The holiday schedule for the City of Falls Church government offices and services in observance of Martin Luther King Jr. Day is as follows: Closed on Jan. 21 are City Hall, DMV Select Office, Mary Riley Styles Public Library, Schools and Senior Center. Open Jan. 21 is the Community Center. Closed Jan. 18 – 21 include the courts and sheriff's office. The GEORGE bus will run regular weekday service on Jan. 21. Refuse and Recycling will be collected according to normal schedules.
DC Blue Grass
The non-profit DC Bluegrass Union will present Jon Starling and his band Carolina Star on Saturday, Jan. 19 at 7 p.m. at the James Lee Community Center Theater (2855-A Annandale Rd., Falls Church). Doors open at 6:30 p.m. Tickets cost $15 for members & under 12, $20 for non-members. For more information and tickets, email derzon@verizon.net or call 703-916-0655.
Lutheran School Open House
Our Savior Lutheran School (825 South Taylor St., Arlington) will be holding an open house and tour of the kindergarten through 8th grade school facilities on Saturday, Jan. 19 from 10 a.m. – 2 p.m. For more information, call 703-892-4846 or visit www.osva.org.


School Philosophers
Parenting Playgroups (6161 Fuller Court, Alexandria) is hosting a panel discussion about preschool philosophies on Saturday, Jan. 19 from 1:15 – 3:15 p.m. to include representatives from local High-Scope, Montessori, Multiple Intelligence, Reggio Emilio and Waldorf-based preschools. Event is free.
Reservations are required. For more information, email rene@parentingplaygroups.com or call 703-922-0044.
Signing with Finesse
The Arlington Public Library (2100 Clarendon Blvd., Arlington) will host comedian, "Saturday Night Live" veteran and Essence magazine advice columnist Finesse Mitchell to discuss and sign his new book "Your Girlfriends Only Know So Much" on Sunday, Jan. 20 at 5:30 p.m.
Ergathon Fundraiser
The McLean High School Crew Club will be holding its Annual Fundraising Ergathon at Books-a Million (1451 Chain Bridge Rd., McLean) on Saturday, Jan. 19 from 9 a.m. – 6 p.m. rowing to raise money for their nationally recognized team.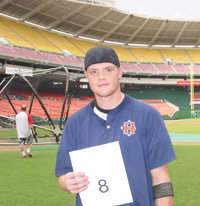 Engaging News
Mr. and Mrs. Federico Gonzales-Fernandez would like to announce the engagement of their daughter, Miranda to Graeton Tripp, son of Bruce and Mollie Tripp of Fairfax. Ms. Gonzales-Fernandez is a full-time student at the University of Texas in San Antonio and serves in the Army National Guard. Mr. Tripp graduated from the University of Texas San Antonio, with a Bachelor in Accounting in 2007 and is an auditor for Tesoro Oil. A February wedding is planned. Mr. Tripp was George Mason HS 2003 graduate.
Go Doggie
The Adventure Theatre (7300 MacArthur Blvd., Glen Echo, Md.) will be presenting "Go, Dog. Go!" with a preview show on Saturday, Jan. 19 at 1:30 p.m. The show will run through Feb. 24 on Saturdays and Sundays at 11 a.m. and 1:30 p.m. Reservations are required. For more information, call 301-634-22271.
Former GMHS Student Succeeds
Andrew Goetting has made the dean's list at the University of Arizona in Tucson. He is a junior in college and a 2005 graduate of GMHS. Andrew is currently double majoring in political science and psychology. When asked by the Obama campaign to intern for them in Tucson, he accepted. Andrew is a member of the U of A's Ultimate Frisbee team and is their treasurer.
Referee of the Year from Fairfax
The US Youth Soccer has announced the regional winners of the male and female Young Referee of the Year Award. The annual award honors those who have a strong work ethic, knowledge of the rules of the game and are positive role models. The Female Young Referee of the Year Regional Winners includes Cassandra Ferrari of Fairfax who currently holds a Grade 7 certification. In the summer of 2006, she was selected as the Top Female Camper at the Metro D.C./Virginia Youth Referee Development Academy.
Lions Club Meeting
The Falls Church Lions Club meeting will take place on Tuesday, Jan. 22 at La Cote D'Or Café (6876 Lee Highway, Falls Church) at 6:45 p.m. The speaker is Tim Seargant of Dominion Power. Open to the public. For more information, contact Lion Phil Loar at 703-698-0896.
Out of Africa
The Falls Church Rotary Club will present a talk by attorney Kwame Acquaah entitled "Out of Africa" at the Harvest Moon Restaurant (7260 Arlington Blvd., Falls Church) during their dinner meeting on Thursday, Jan. 17. at 6:30 p.m. The cost is $10. Visitors are welcome.


Soccer Tryouts Are Afoot
The Falls Church travel soccer club is looking for players to join their under 12 team. The team plays games at Larry Graves field complex and competes in the national capital soccer league.
Players born after August 1, 1995 are encouraged to try out. For more information, contact Diego Fernandez at fernandez6928@cox.net or visit www.etamz.com/fallschurchsoccer.com.
Art League Winner
The Fairfax Art League (3999 University Dr., Fairfax) has announced the winner of the January People's Choice Award. The award went to FAL member Mark Isaacs for "Danish Days II" an oil painting of a 400 year old farm house in St. Thomas. Gallery hours are Monday – Thursday 10 a.m. – 2 p.m. For more information, call 703-273-2377.
Nominate Volunteers
Volunteer Fairfax is asking all individuals, nonprofits and business to nominate volunteers who have provided outstanding service in 2007 to the Fairfax County community for a Volunteer Service Award. Deadline for nominations is February 22. For more information, visit www.volunteerfairfax.org.
Madeleine Albright Speaks In Vienna
Borders (8027 Leesburg Pke., Vienna) will be hosting Former Secretary of State Madeleine Albright on Saturday, Jan. 19 at 3 p.m. Albright will address foreign policy, how to avoid presidential pitfalls and implementing carefully made decisions. For more information, visit www.borders.com.
All Aboard the Silly Bus at Tree Top Kids
Tree Tops Kids (7505 Leesburg Pke., Falls Church) will be hosting "Silly Bus" an educational and fun acoustic set for children ages 4 -7 years old on Sunday, Jan. 20 at 2 p.m. For more information, visit www.treetopkids.com or call 703-356-0088.
UVA-Wise Dean's List Unveiled
The University of Virginia's College at Wise has announced students named to the 2007 Dean's List, Falls Church resident, Carolynn Therese McMahon and Spotsylvania resident, Jason Michael Lovett.
Students must earn a grade point average of 3.5 or higher on a 4.0 scale with no grades below "C-minus" and carry at least 12 credit hours.
Books 'n Biz Slated for Barnes and Noble
Barnes and Noble (7851 L, McLean) is holding a Books 'n Biz networking event on Friday, Jan. 25 at noon. Best selling/award winning author and certified executive coach Margie Warrell will share strategies to build trust, grow influence and improve bottom line performance. For more information, call 703-506-6756.