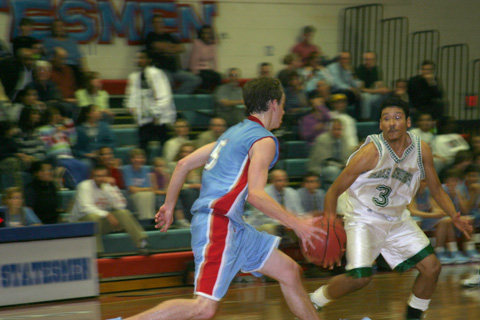 The Marshall High School Statesmen found themselves in an early deficit due to foul trouble and were never able to turn things around, eventually succumbing to a taller, hotter-shooting Thomas Jefferson High School squad Tuesday night by a score of 67-49.
Sophomore guard Stanley Watts and senior forward Daniel Blakely tied for the Marshall team lead in scoring with eight points each.
"We just didn't shoot the ball very well in the first half," Marshall Head Coach Bobby Forst said. "We put them on the line too much early and they made their free throws and we didn't make ours and [we] put ourselves in a hole, and then you're just trying to scramble to catch up."
Watts kept the Statesmen in it early, pouring in Marshall's first five points. The team picked up a series of fouls early, however, and grew visibly frustrated, even drawing a technical foul. The Colonials ended the first quarter with a 16-9 lead.
"The bottom line is that they were calling the fouls tonight in the paint and you've got to respect it," Forst said. "We just weren't smart enough to kind of play body position and instead we were reaching. I think we just got sort of flustered at some point during the game and started fouling."
The Colonials began to pound the Statesmen inside during the second quarter, as 6-foot-9 forward Spencer de Mars (game-high 20 points) and 6-foot-4 forward Mike Ross (10 points) controlled the paint. Jefferson rode their height advantage to a 33-16 halftime lead.
"Obviously, one thing that other teams have that we don't is that we're not the tallest team, but we try to make for that with some effort and double teaming the ball and things like that," Forst said. The Colonials boast four players 6-foot-3 or taller on their roster — the Statesmen have only one.
Marshall put together a comeback bid in the third quarter, pressuring Jefferson with a full court press and cutting the lead to 12 at 44-32. Watts had a chance to cut the lead down to nine, but his three-pointer rimmed out. Jefferson guard Will Riedel (11 points) then hit a three-pointer as the third quarter buzzer sounded, bringing the Colonials' lead to 47-32.
"I think that was the pivotal play right there," Forst said. "[If] we hit that, we're down to single digits going into the fourth quarter. Instead, they come down and they hit a three to put them up 15, and that's a six-point swing right there."
Blakely hit a pair of treys down the stretch in the fourth quarter, bringing the Statesmen to within 60-47, but Marshall would get no closer.
Marshall struggled in their previous game as well, losing 59-49 to Woodson High School on January 4.
Watts led the team in scoring with 18 points, while junior guard Nate Whittington added 11 of his own.
The Statesmen will next travel to Stone Bridge High School Friday night to take on the Bulldogs. Despite his team's recent losses, Forst is confident that his team will give a strong effort.
"We've got a group of guys that will fight and believe in each other, so I have no doubt that we'll continue to work to get better," Forst said. "That's really all we can do."