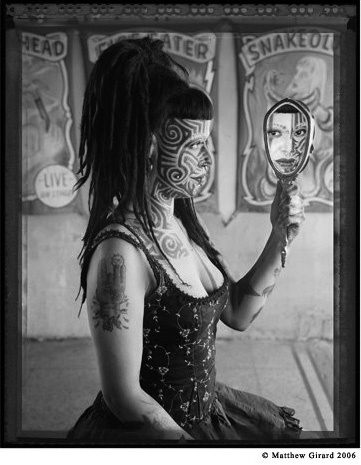 Jennifer Balkan, Michael Arcieri and Lee Dunsmore
Principle Gallery (208 King St, Alexandria, Va.) 703-739-9326 or see www.principlegallery.com.
Principle Gallery, at first blush, looks like the tiny source of non-threatening art you'd expect to find in Old Town Alexandria. Then again, it is almost literally in the shadow of the Torpedo Factory, so maybe we shouldn't be too surprised things aren't quite so. In fact, some of the staff there is right in the thick of things on the local cutting edge art scene.
You won't find the in-your-face, spiked-hair shock value variety of art here. It's all fairly serious and subtle stuff, but there is no shortage of psychological content. The offerings shown tend to revolve around a steady stable of artists with a rotational emphasis on a key few. Jennifer Balkan is currently one of those in the spotlight.
Balkan earned her bachelor of arts degree in behavioral neuroscience, backing that up with a Ph.D. in sociology. On top of all that, the girl knows how to paint! About as far away from prissy and vapid as you can get, all of Balkan's works are painted with a strong hand and have something to say.
"Rose, Bomb, and Justice" serves as a sort of modern day twist on the three graces motif. Each named for the tattoo she carries. Balkan has masterfully captured the subtleties of body language and expression, conveying the ideas of love, hate and justice. "Rose" seems warm, secure, centered and inviting, whereas "Bomb" seems to stand back on her heels just waiting to dump on you if you do her wrong, while simultaneously almost daring you to do so. "Justice," on the other hand, seems sturdy and unaffected. She'd deal with you fairly, particularly inclined to neither accept nor reject the viewer.
While the tattoos seem a little over the top, they are in fact what brings the piece up to date and make it interesting.
"Weatherlady II" and "Weatherlady III" are a pair of self portraits seated in front of what seem to be video display panels showing the sky. One sky is stormy, while the other features broken clouds and blue sky. The woman in the latter work has a clock on a plate in front of her as she adopts a fairly accusatory posture and gazes towards the viewer. The stormy sky painting shows her with an egg still in its shell, resting on a plate in front of her, as she gazes quizzically off the picture frame. Both seem to deal with global warming and the notions of "Will we survive it all?" and "Why have you let so much time go by?"
A pair of small paintings, titled "Lollipop No. 1 and 2," depict a doll and lollipop, which is where the innocence of these two paintings abruptly ends. The armless dolls are naked save for shoes in No. 1, and shoes and socks in No. 2. The lollipops are nailed and screwed to the wall respectively, each through the hard candy rather than the paper stick.
As psychological clues go, this all seems rather key and sets the tone and meaning to these pieces. It's such a violation of the candy that we can't get away from the notion that these dolls came to their armless state in an equally unpleasant manner. Curiously, "Lollipop No. 2" has combined cast shadows that form a jar-like shape on the wall. Since the shadows aren't, strictly speaking, playing by the rules of light, we have to think this is part of Balkan's commentary.
The Lollipop paintings are just vague enough that we can't say exactly what she means by it all, but there is a pretty clear range of options. One could take them at face value and say they are about lost innocence and childhood helplessness and vulnerability, and that they convey a sense of ruined children who are no longer able to be children. Just about all forms of child abuse would work here.
On the other hand, you could take the big picture and make the point that in many ways children, and the rearing there of, are the mortar than holds societies together. The current parental paranoia is in fact tearing neighborhoods and society apart. No matter how safe the neighborhood is, children no longer walk home from school, no longer play outdoors unattended, if they play outdoors at all. Outsiders who are friendly are seen as monsters. Those that aren't friendly are seen as monsters. In fact, everyone outside the household are seen as potential monsters … and those inside the household aren't above suspicion either … YIKES! Prudence is one thing, but we're well beyond the societal paranoia stage folks. Parents are now taking away their children's innocence as soon as possible in a perceived attempt to protect them.
Michael Arcieri has four photo-realistic paintings in the back room. My favorite is "Water Glass II," a monochromatic image of two origami paper swans, and a water glass about a third full. One paper swan rests on the table while the other sits on the rim of the drinking glass. The image is a wonderful metaphor for unrealized hopes, dreams and desires. The swan clearly wants to go swimming in the glass, but is far too large to fit inside it — never mind that such an activity would be fatal to a paper swan. As the old saying goes, sometimes God is most benevolent when our prayers go unanswered.
At times we wish life would take us in certain directions, and try as hard as we may, it doesn't work out. Later in life we reflect and realize we were very lucky it didn't work out.
Lee Dunsmore has an exquisite bronze sculpture here titled "Equilibrium." A vigorously modeled male figure resting back on his haunches, arms outstretched for balance. It could easily be a prisoner in solitary confinement, without benefit of chair, cot or clothes. It's a harsh, tough image. My first question was if it was a Rodin copy … which should tell you how high the quality is on this one.
Bronzes are terribly expensive to have cast, and as a result the price tags are accordingly high. Then again, try to buy a Rodin for $6,000.
Note: Photos of all pieces currently in the gallery (and then some) are available online. Click on "artists," then click on the artist of interest's name.