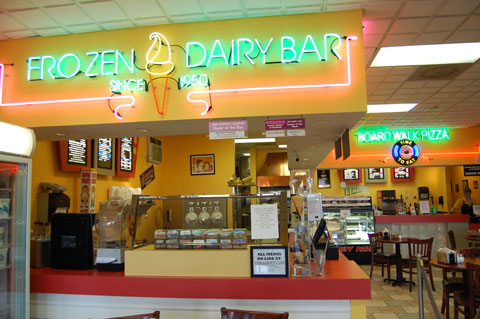 The Frozen Dairy Bar, a local culinary icon since 1950, wants you know that delicious frozen custard is not the only thing that it does, and does well. In addition to serving incredibly flavorful and creamy custard, they now offer a good variety of take-out staples, including calzones, pizza, hot dogs, sandwiches and more to satisfy your craving for something savory.
A little incongruous to the current weather and location, the Frozen Dairy Bar is boardwalk themed. The walls are a mild yellow with white wood accents, and you'll see pink, orange and yellow neon signs that just manage to stay on the right side of tacky. The music you'll hear is great, provided by a radio station on this newfangled internet I've been hearing so much about. While I was there I heard a selection of Beatles songs, including a great live version of "Julia," Bob Dylan and the Kinks. The only misstep was James Blunt's "You're Beautiful", although I am told this is a matter of opinion.
Because one might feel a little guilty eating an entire meal consisting of custard (which doesn't make sense to me personally), you'll probably start out with something a little more substantial. The sandwiches range in price from $5.25 to $7.25. A calzone with one type of meat will run you $6 and a small or large salad costs $6.25 or $8.95 respectively. There are also larger entrée items like a $10.99 Chicken Eggplant Parmesan or a $12.99 Shrimp Scampi. The soup of the day, the cream of mushroom soup in my case, was $2.95 and generously portioned and quite good.
The main stay of the Frozen Dairy Bars lunch menu is the pizza. Each slice is around $4 depending on what type you get. The meat lover's slice that I had was $4.20. A 12" or 16" pizza will run you $8.99 and $10.99 respectively. Along with whatever non-frozen dairy-related item you decide to get, you can also order a side of beach fries for $2.95 or cheese fries for $3.95.
Be careful not to fill up on all of that though because the clear focus of the Frozen Dairy Bar is the freshly made frozen custard. The sizes range of "mini" to "large" with prices ranging from $2.25 to $3.95. There is a wide variety of flavors with names like "Zebra Twist," "New York Super Fudge" and "Creamy Cherry Torte." Be sure to taste lots of free samples so you can make a truly informed decision. The Banana Crème Pie with Oreo chunks that I had was absolutely fantastic. It was creamy, of perfect consistency, not overly sweet and light enough that I could eat an entire serving without suffering for it.
If you still haven't had your fill you can grab a few dozen pints or quarts to take home with you for either $4.25 or $6.95. If you need something catered, birthday parties, awards ceremonies, business get-togethers, congressional hearings, etc. than it would be hard to go wrong with a custom made frozen custard cake. Next month The Frozen Dairy Bar will start delivering, which means you won't even have to get off your couch to get your pizza and custard. A visit to The Frozen Dairy bar is a great chance to soak up some local flavor and will certainly leave you full and happy.
Frozen Dairy Bar
6649 Arlington Blvd.
Falls Church, Va. 22042
703-534-4200
Sun-Thurs 11am-10pm
Fri-Sat 11am-11pm