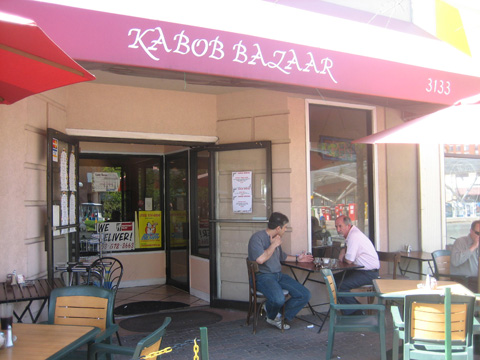 Orleans House, an Arlington dining staple for over five decades, will be closing its doors this coming January 15th, so if you haven't already I strongly, strongly, STRONGLY recommend you make a lunch or dinner reservation and get your butt over there before then. Located right across the street from the Rosslyn Metro stop, Orleans House is a luxurious and affordable eatery, boasting a ridiculously comprehensive salad bar and one of the best prime ribs this writer has ever eaten.
The exterior of Orleans House is made up in the style of a restaurant in the French Quarter of New Orleans with wood trim and balconies with ornate cast iron railings. The interior however is where the restaurant's charm truly shines. Most will sit in a huge two-story dining hall, in either leather booths or chairs, with comfortable lighting by stained glass lamps hanging from the ceiling, and decorations that perfectly walk the line between eccentricity and taste. High quality cuts of meat are showed off and prepared in the open for everyone to admire. It is to the restaurant's credit that they manage to make gigantic stone flower pots and a suit of armor look completely natural, in fact, I couldn't imagine decorations more fitting.
Orleans House is fairly popular among employees of Arlington business establishments for lunch, so if you plan to eat there it is best to make reservations. If you simply show up, as I did, you'll probably have to wait 10 to 20 minutes — but you'll find the wait well worth it, even if you're on deadline. Any waiting you might have to endure is made very comfortable with large wooden chairs with red velvet cushions and an ample supply of reading material.
Once you have the privilege of ordering food, which never takes long thanks to a fanatically loyal and dedicated wait staff — the waitress who served me had been working there for 43 years — I would recommend their locally famous prime rib ($16.95), the cost of which includes salad bar privileges. It may seem pricey, but I have eaten steaks at restaurants twice as expensive that didn't leave nearly the impression on me that this one did. It comes bathed in a centimeter of its own juices, is succulent, tender without being chewy, flavorful and pretty much any other positive adjective that I can think of that applies to steak.
Before that prime-rib arrives though you need to take full advantage of that salad bar ($7.75 on its own), which has everything for the salad bar aficionado. This is certainly the best salad bar for the price in the tri-state area. Along with all the standards, potato salad, pasta, tomatoes, etc., there are also peppers, cottage cheese, beets, a bunch of vegetables that I didn't recognize but were delicious, and too many other things to list here. The dressings for your salad are all house-made and are far, far better then anything you'll find in a squeeze bottle. One could easily have a full and satisfying meal using the salad bar alone.
If steak isn't your thing (crazy) they have a full array of entrées such as Crab Cakes ($14.95), New York sirloin ($20.95), hamburgers and cheeseburgers ($8.95 and $9.95) and an always changing daily special ($10.95). All entrées have the salad bar included. There is also a selection of deli-style sandwiches ($8.95-$11.95) and very above-average coffee.
Other amenities include three different rooms for private gatherings, one including a space for dancing and a bar. You have until January 15th to take advantage of all of this. The food isn't cheap — but it tastes about twice as expensive as it actually is — the interior is gorgeous, the location is as convenient as your nearest metro stop, what else can I say? Go! Go now before this eatery, and its well-deserved local accolades, are gone forever.
Orleans House
1213 Wilson Blvd., Arlington, Va., 22209
703-524-2929
Hours: Mon. – Fri.: 11 a.m. – 10 p.m.
Sat.: 4 – 11 p.m., Sun.: 4 -10 p.m.