FALLS CHURCH CHAMBER of Commerce directors gathered for a group photo following their annual meeting Tuesday at the Italian Café. Chair Gary LaPorta (center) will commence another year at his post on Jan. 1. The board is also showing off the new Chamber new logo, designed by Falls Church's Matt Smith of Smith-Gifford. Among the board's recent moves has been to drop the word, "Greater" from the beginning of its name. (Photo by Brenda Schrier).
FC Gov't Holiday Schedule
The City of Falls Church Government Offices Dec. and New Year's Holiday Schedule is as follows: Closed Dec. 24 – 25 & Dec. 31 – Jan. 1 – City Hall, Courts, DMV Select Office, Mary Riley Styles Public Library, Schools, Senior Office and Sheriff's Office. The Community Center will be closed Dec. 24-25, Open Dec. 31 from 8 a.m. – 5 p.m. and Closed on Jan. 1. The GEORGE Bus will not have service Dec. 25 and Jan. 1. Refuse, Recycling & Special Collections will not have pickups on Dec. 24- 25 or Dec. 31 – Jan.1. For more information about collections, call 703-248-5081 or visit www.fallschurchva.gov.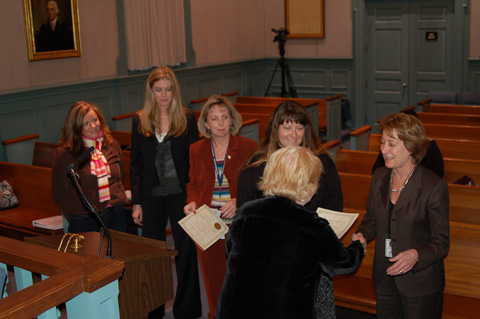 Lion, Witch & Wardrobe
Adventure Theatre (7300 MacArthur Blvd., Glen Echo Md.) brings back the Narnia story The Lion, the Witch and the Wardrobe from Friday, Dec. 21 – Sunday, Jan. 6. Performances on Saturdays and Sunday at 11 a.m. and 1:30 p.m., Friday evening performances are Dec. 21 and 28 at 7 p.m. and a sign language performance on Sunday, Jan. 6 at 1:30 p.m. For reservations and more information, visit www.adventuretheatre.org.
Vietnam Vet Meeting
Vietnam Veterans of America Inc. Chapter 227 will hold a chapter meeting on Thursday, Jan. 17 at Neighbor's Restaurant (262D Cedar Lane, Vienna) at 7:30 p.m. Grant Ichikawa will speak. The general public is invited to attend. For more information, contact J. Leonard Ignatowski at 703-255-0353.
Holiday Pet Tips
Local pet lodge Pets Are Inn offers pet advice for the holiday season such as hanging holiday ornaments should be kept out of pet's reach as ingestion can be very harmful, candles attract pets and should be kept on high shelves and away from happy tails, and remembering that many holiday plants are toxic to animals (ivy, holly, mistletoe, hibiscus, poinsettia, lilies and Christmas greens). For more tips, contact Barb Perrino of Pets Are Inn Alexandria at 703-780-7676.
The Manhattan Project
Amadeus Concerts presents The Manhattan Piano Trio in a concert titled "From Vienna to St. Petersburg" on Sunday, Feb. 3 at 4 p.m. at St. Luke Catholic Church (7001 Georgetown Pke., McLean) Admission costs $20 including post concert refreshments. Students under 17 are always free.
For more information, call 703-759-5334 or visit www.amadeusconcerts.com.
Piano and Cello
A piano/cello recital with Eric Himy and Emilio Conlon will take place at St. Luke Catholic Church (7001 Georgetown Pke., McLean) on Wed., Jan. 16. It is a free half hour program. For more information, call 703-956-0670 or visit www.musicinmclean.org.

Rotary Meeting
The Rotary Club will be holding its Annual Meeting and Election of Club Officers and Directors at its 6:30 p.m. dinner meeting on Thursday, Dec. 20 at the Harvest Moon Restaurant (7260 Arlington Blvd., Falls Church). The meeting cost is $10 and visitors are welcome.
Casino Night
The Vienna Chamber of Commerce will be holding their 15th Annual Casino Night and Taste of the Town on Saturday, March 1 at Westwood Country Club. The cost is $75 per person or $65 for groups of 10 or more. For more information, call 703-281-1333 or visit www.vtrcc.org.
Celebration of Giving
Volunteer Fairfax's Fifth Annual "A Celebration of Giving and Sharing" taught nearly 2,300 students the importance of giving. After students received backpacks donated to them they were asked to carry on the giving. Students created treats for senior citizens and collected stuffed animals for sick children. For more information, visit www.volunteerfairfax.org.
Engaging Event
Mr. and Mrs. Mickey G. Stuart of Independence Virginia proudly announce the engagement of their daughter, Elizabeth Ann, to Kenneth Lasso of Falls Church. Lasso is the son of David R. Lasso and the Honorable Karen A. Henenberg of Falls Church. The bride elect currently lives in Richmond. The prospective groom is a professional musician and doing graduate work at George Mason University. A July 2008 wedding is planned.
Vets Seeking New Recruits
The Veterans of Modern Warfare, a new veterans service organization dedicated to the country's most recent veterans is seeking members that have served the United States since August 2, 1990. Members do not need to have been mobilized or deployed to be eligible. For more information, visit www.modernveterans.com or call 1-888-445-9891.
Doris Justis Benefit Concert
Stacy's Coffee Parlor (709 W. Broad St., Falls Church) will host a concert benefiting Falls Church's sister city of Kokolopori on Saturday, Dec. 22 from 7:30 – 9:30 p.m. There will be an optional donation of $10.
DePaul Honors Dean's List Students
DePaul University recognized Dunn Loring, Va. student Colleen Maccutcheon for her academic achievement. Maccutcheon was named to the Dean's List for the 2007 Autumn Quarter.