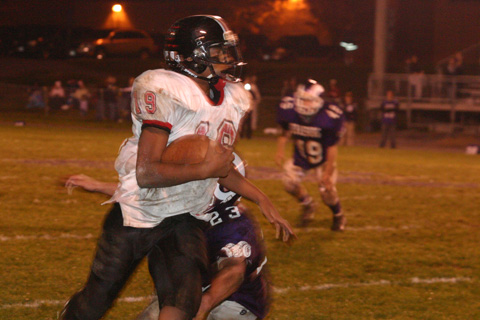 Three games into the 2007-08 season, the George Mason High School boys varsity basketball team is still searching for its first win. With injuries already an issue, the Mustangs dropped a pair of contests last week to Word of Life, 64-49, and Tuesday to Potomac Falls, 73-46.
It has not been the start the Mustangs had envisioned, with senior guard Alex Prewitt missing time from a nose injury and junior Joel Chandler out with a broken arm suffered during football season. Joining them on the bench is starting center Jordan Cheney, who has yet to recover from a dislocated knee cap suffered in Mason's season-opening loss to Loudoun County. Prior to the injury, Cheney had scored a team-high 16 points and 12 rebounds in the first half, but after his departure the Raiders ran rampant in the low post.
Though Prewitt has since returned to the lineup, the continued absence of Cheney and Chandler has left Mason's front line a little thin. Tuesday night, Potomac falls exploited that lack of depth, sending wave after wave of players to crash the boards, collect rebounds and capitalize with putbacks. The Mustangs' backcourt fared little better as Potomac Falls used a combination of high-energy defense — ranging from a 1-3-1 half court trap to a full court man-to-man press — to disrupt Mason's possessions. The tactics paid off in a runaway victory that was never in question beyond the first quarter.
"When a team is bigger and quicker than you it is a tough catchup," Mason Head Coach Chris Capannola said. "We didn't play with any desperation and that was really our only hope of staying with them. Our lack of fire right now is a concern to me. Any time there is a talent gap you need to make up for that with scrappiness and all out hustle and team play. We didn't do that and got beat bad because of it."
Seniors Jake Johnson and Mike Schwengel led the Mustangs in the scoring column with 12 and 11 points respectively against Potomac Falls. Schwengel led Mason with 15 points against Word of Life (5-1), though the Mustangs (0-3) couldn't contain Smokey Pratt, who paced Word of Life with 21 points. Mike Straub added 12 more points for Mason in the losing effort.
The Mustangs returned to the court on Wednesday night to take on Briar Woods in an away game. Results were not available at press time. Mason heads to local AAA opponent, J.E.B. Stuart High this Friday as part of a boys and girls varsity doubleheader against the Raiders. It is possible that Cheney could be ready to play against Stuart, with a return early next week targeted as a fall back.