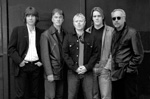 For Will Hoge, the road is his proving ground. That's why he spends 200+ days of the year on the road, testing out tunes and letting the crowd's cheers serve as a barometer for their success. It's a practice that has paid dividends to this point, earning Hoge a faithful following that he prizes above all else. Never mind if the notes cause critics to swoon or labels to come calling, it's the fans in the stands that drive Hoge to keep driving.
"[Playing on the road] there's none of the music business. It's just the music. Record labels will never be able to touch that," says Hoge, who had a brief dalliance with Atlantic Records a while back, before sticking with his current Indie label Rykodisc. "Just to plug in and play, that's the purest form of what we do. And if you can wow the people live, that's how you get people saying, 'Wow, you've gotta come see this guy play.'"
Statements like that have been shared by many who have seen Hoge play out, with his high-energy act leaving the singer dripping with sweat by the night's end. It's that on-stage image, as well as Hoge's penchant for penning tales of the everyman, that have some likening him to another profusely sweaty songwriter. However, the comparisons to Bruce Springsteen don't hold much sway with the Nashville native Hoge.
"I don't put a lot of credence in that, but it's humbling," Hoge says. "I want to have a career that compares to people who have been doing it for 35 years. Whether I sound like them, I don't really give a s—."
Not all critics buy into the Springsteen comparison either. In fact, some think Hoge's sound flat out stinks. But he takes these criticisms in stride too … even if he doesn't always just let the words roll off his back.
In late October, the Michigan Daily posted a review of Hoge's latest album, Draw the Curtains, that caused a bit of a stir. In the review, the Daily's Caitlin Cowan wrote: "It isn't the corny lyrics or pedestrian tunes that kill this album, it's the fact that Hoge seems to have no idea of who he is. He grasps at idiosyncracies of other singers instead of taking hold of his own, and the result is abysmal."
As a gag, Hoge sent roses to Cowan with complimentary tickets to his Michigan concert that night and a note that read: "Thanks doll. See you tonight. Love, Will." The rosy response, elicited a published letter from the Daily's music editor about the inappropriateness of Hoge's antics, followed by frenzied postings on the Daily's website by Hoge's fans urging the staff to lighten up.
"That was the meanest review of any record I've ever read. Not just mine," Hoge says. "But I laughed about it with my parents. When I sent her the flowers and invited her to the show, I just thought it was f—ing funny. You get bad reviews. And if they say they hated it, it's not because they didn't get it. It's because they hated it. But you can't just believe one [bad review]."
Particularly not when a thriving fan base feels otherwise.
Hoge will hope to stir up some more positive feelings when he plays The State Theatre in Falls Church this Saturday, Dec. 1. Doors open at 7 p.m.
• For more on Will Hoge, visit www.willhoge.com.