AT THE CITIZENS for a Better City (CBC) annual meeting Sunday, the Wayne and Jane Dexter Award for outstanding community service in Falls Church was presented to former Mayor and CBC president Brian O'Connor. Shown presenting the award is Sally Phillips. (News-Press Photo)
ABC Stores Closed
The Virginia Department of Beverage Control (ABC) stores will close on Thursday, Nov. 22, in observance of the Thanksgiving holiday. Stores will resume regular hours on Friday, Nov. 23.
Thanksgiving Pet Tips
Pets Are Inn in Alexandria offers Thanksgiving Safety Tips for your Pets including; discouraging your guests and family members from feeding your pets inappropriate snacks, securing your garage, keeping chocolate away from pets, remembering that turkey bones are very dangerous to your pets as they can become lodged in the esophagus or even puncture the stomach or intestine. For more information, call 703-780-7676.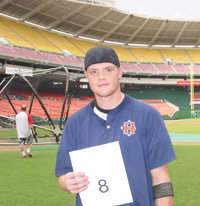 Civil War Thanksgiving
Travel back in time at a Civil War Thanksgiving Living History Reenactment at the Cherry Hill Farmhouse (312 Park Ave., Falls Church) on Saturday, Nov. 24 between 11 a.m. – 3 p.m. to see what an 1863 Thanksgiving was like in Falls Church circa 1863. Free admission. For more information, call 703-248-5171.
Gatehouse Shop Open
The Claude Moore Colonial Farm (6310 Georgetown Pke., McLean) announces the Museum Gatehouse Hop Holiday Open House on Tuesday, Nov. 27 from 5 – 8 p.m. Enjoy "a Bowl of Smoking Bishop" while you shop. For more information, visit www.1771.org.
Noblis Cares
The Northern Virginia Family Service named Noblis a winner of its 2007 Care (Companies as Responsible Employers) Award in recognition of the company's dedication to promoting a healthy work-life balance through company politics and benefits.
Crystal City Tastings
On Wednesday, Nov. 28 at 5 p.m. Olsson's Crystal City (2200 Crystal Dr., Arlington) will host Crystal City Tastings : Holiday Tastings Party. Sample food from local cookbook authors including, Sarah Hood Salomon, Sheila Kaufman, Amy Riolo, Anne Snape Parsons, Alexandra Greely and Eric Felton. Food also from Crystal City restaurants. Please bring a canned good or non-perishable which will be donated to a local food bank.
Monte Carlo Casino Night
The Tenth Annual Monte Carlo Night sponsored by the Northern Virginia Rotary Club took place in the Westwood Country Club in Vienna. Proceeds benefit the educational and humanitarian programs of the Northern Virginia Rotary Clubs. The McLean Rotary Club meets on Tuesdays at the Lutheran Church of the Redeemer.
Announcing Wedded Bliss
Long time residents of Falls Church Norma Goyonaga-Crespo and Manuel Goyonaga celebrated the wedding of their daughter Barbara America Goyonaga-Crespo May 12, 2007. Barbara, a George Mason High School '00 graduate and William and Mary '04 alumni, married United States Marine Corps Sergeant Michael Jay Vance of Iowa. Michael and Barbara have since relocated to Oahu Hawaii to enjoy paradise.
Fun with Friends
Enjoy humorous songs and stories about friendship presented by guitarist and storyteller, Marlena Thompson at Aladdin's Lamp (2499 N. Harrison St., Arlington) on Wednesday, Nov. 28 at 11 a.m. Appropriate for ages 2 ½ – 6. Admission is free.
Be Santa to a Senior
Now in its fourth year Home Instead Senior Care is bringing the holidays to our lonely senior community members. Now until Dec. 16 shoppers can select ornaments from the "Be a Santa to a Senior" tree on display at select Kmart, Kohl's and Giant locations. Each ornament comes with the name of a senior in need and their gift requests. For more information, visit www.santatoasenior.com.
Gavin Named Deputy Chief of Police
City of Falls Church Chief of Police Harry Reitze announced the appointment of Mary Gavin, effective Dec. 3, as Deputy Chief of Police. Gavin served the Arlington County Police Department for 21 years prior to joining the City of Falls Church. Since 2005 Gavin served as Commander of the Vice narcotics and Identification Unit which is responsible for conducting investigations involving narcotics, prostitution and gambling. Gavin joined the Arlington Department as a patrol officer in March 1986.

93rd Birthday Celebration!
Helen Siemaszko celebrated her 93rd birthday on Saturday, Nov. 24. Siemaszko moved to Falls Church in 1976. Laura Wilson, Siemaszko's granddaughter, grew up in Falls Church, attended McLean High School and went on to George Mason University. Siemaszko is a member of St. James Church, belongs to the Women of St. James and the Legion of Mary. She is an active member of the Arlington Seniors and attends the Thursday morning craft meetings. Siemaszko continues to crochet and needle point.
Cub Scouts for Food
Cub Scout Pack 657 took part in the National Capital Area Council, NCAC, Scouting for Food in which Boy Scout Troops and Cub Scout Packs across the Nation participate in collecting food for those in need just in time for Thanksgiving. Pack 657 collected over 2900 lbs. of non-perishable food for the Columbia Baptist Food Bank.
Pathway Homes Honored
Pathway Homes, a local non-profit, was honored on Thursday, Nov. 15 as the year's "Best Housing Organization" at the 2007 Governor's Housing Conference held in Roanoke. Virginia's Governor Tim Kaine was on hand and presented the award to Pathway Homes Board Chairperson Rev. Jennifer McKenzie.
George C. Marshall HS 45th Anniversary
George C. Marshall's is celebrating their 45th Anniversary, which is coming up on Thursday, Dec. 6. The alumni are planning a weeklong celebration from April 12 – 18, 2008 and are desperately seeking lost class members to inform them about the celebration. For more information and to receive news about upcoming activities, please visit the online alumni directory at www.fcps.edu/alumni.
Bull Run Festival of Lights
The Bull Run Festival of Lights (located just off of Interstate 66 in Centreville, on Rt. 29 (Lee Highway), just 3 miles from the historic Manassas Battlefield Park) is open weekly from 5 p.m. – 9:30 p.m., Wednesday, Nov. 21 – Monday, Jan. 7, 2008. For more than 11 years the Bull Run Festival of Lights at Bull Run Regional Park has drawn thousands of visitors to celebrate the winter holiday season.
Freeman House Book Signing
On Sunday, Dec. 2 from 1 – 5 p.m. local author, Jill Decker, will be at the Freeman House and Museum (131 Church St., NE, Vienna) signing copies of her new humorous book, Family Spirit. Admission is free. For more information, call 703-938-5187.
Storytime
Borders Tyson's Corner (8027 Leesburg Pke., Vienna) will be hosting A Hairy Storytime, which combines a mixture of jokes, seasonal stories and animal identifications on Tuesday, Nov. 27 at 11 a.m. Readings will include, Why Did the Chicken Cross the Road, Very Hairy Bear and Charlie at the Zoo. Craft activities will follow. For more information, call 703-556-7766.