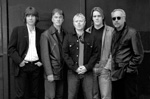 The name isn't an alias, it's latitude.
When he adopted his alternate handle, Mark Charles Heidinger, known also by Vandaveer, wasn't simply seeking an alluring nickname that would ensnare playbill-gazing pedestrians. He wanted freedom.
"I didn't want to get boxed into the singer-songwriter thing," Heidinger says, noting that solo acoustic acts inevitably get lumped into that genre. "Whether it's psychological or not, it gave me space. If I want to do an electro-pop album, I could do an electro-pop album. If I wanted to do a goth record, I could do that. It's like a choose your own adventure."
While he requisitioned Vandaveer, an old family surname, for future flexibility, his first LP, Grace & Speed, doesn't stray too far outside the singer-songwriter realm just yet.
Heidinger mainly sticks with his acoustic guitar on the LP. He captures the jingle-jangle of Bob Dylan's early years on the se la vie-themed album opener "However Many Takes It Takes." He bookends that with a Beatlesesque finale of "Roman Candle." In between he provides a tandem of grim tunes in "Marianne You've Done It Now" and "The Streets Is Full of Creeps." Lyrically, the former song bares a likeness to Elton John's "Candle In The Wind," that is, if Norma Jean had a run in with Jack the Ripper.
Heidinger doesn't concern himself with striking a proper contrast of his light and dark tunes, instead basing the appropriateness on his instinctive interest of a song. If he bores of it before he finishes its script, it's so long song. The carefulness of his craft pervades the entirety of his new album and even his short diary-like posts to fans on his website. It seems he's always searching for an interesting way to convey his thoughts, a consideration that stems from his appreciation of those taking the time to turn an ear his way.
"If you ask people to pay attention to you, you need to give them something engaging, a reason to return," Heidinger says.
Heidinger committed to his solo career about two summers ago, parting ways with his Kentucky-based rock ensemble, Aparitions. Unsurprisingly, he's subsequently enjoyed the freedom his solo career has brought.
"I miss the camaraderie, but in terms of songwriting and making records you can work patiently and work through your own ideas. You don't have to quickly come to a consensus," Heidinger says.
Recently he's returned from an unorthodox, but resourceful 20-date European tour. Rather than renting a van — and dealing with Europe's astronomical gas prices — Heidinger and his trusty guitar traveled by train, hoofing it from the station to the venue and back again. While the romantic nature of the trip fits well with Heidinger's artistic side, practicality demanded the train tactics.
"The wandering minstrel approach was inspired by the embarrassingly low total in my bank account," Heidinger concedes. "I didn't get to see too much of Europe though. Pretty much just the parts of towns between the stations and the venues."
Now back in the states, he'll resort to more conventional touring methods, starting this Sunday when he headlines a show at Arlington's IOTA Club and Cafe. Tickets are $10 and the show begins at 8:30 p.m.
• For more on Heidinger, visit www.vandaveer.net.