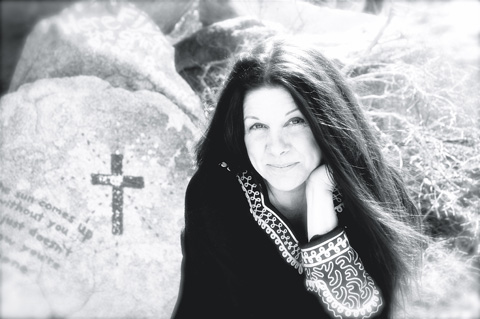 Johnette Napolitano loves to create. Yes, there's her best-known music with group Concrete Blonde, as well as her solo career and side projects. But when she's not crafting critically-acclaimed tunes, you'll usually find her out on the porch of her California desert home, working with clay or sculpting discarded materials like dog food cans and wine bottles into works of art. When the sun sets and the chilly desert air creeps in to replace it, she'll withdraw from the porch and spend the night making music.

"It never gets old," Napolitano says about her love of creation. "There wasn't anything there and now there is something."
Often times, Napolitano says, she'll be out painting on her porch when she'll be inspired to write a song. Even as the paint is still drying she'll be writing a song.
"Using my hands frees up my mind," Napolitano says. "I like having it flow."
Never short on inspiration, Napolitano believes that anyone could share in her near-constant artistic motivation, if they surround themselves with the proper circumstances.
"I think inspiration is always trying to get at us, but we're too distracted," she says. "How many cell phone calls do we take? How in demand are we? I'm living in the desert without a TV, so I don't feel like I have to absorb every damn thing. That leaves time to create."
It's an approach she has used to great success with her latest musical effort, Scarred, which debuted this past May. The album emphasizes Napolitano's characteristic, chilling howl of a voice in a variety of ways. There's the seemingly cynical opening track, "Amazing," where Napolitano ranges from softly-muttered musings at the song's outset to a soaring croon of a chorus. By contrast there's the spoken-word "Poem for the Native," a performance that blends synth sounds with the vibe of a smoky speakeasy from the 1920s.
Napolitano also acquits herself well with her interpretations of The Velvet Underground's "All Tomorrow's Parties," as well as the cover of Coldplay's "The Scientist" that she recorded with Danny Lohner (A Perfect Circle, Nine Inch Nails) for the "Underworld" soundtrack.
The remaining 10 tracks are all her own, however, collaborating with Will Crewdson who scripted most of the music from London while Napolitano penned her lyrics from her desert perch.
"Most of the time I'd just sort of sing along to the tracks while I was doing other things," Napolitano says. "Something would stick and before long I had three or four songs done."
At first, Napolitano was treating the songs as yet another side project, but as things began to progress she came to the realization that Scarred was going to be bigger than she had thought. It became her most widely-distributed solo project to date.
"I'm pretty lazy. So I was like 'Oh no, this is a real record now,'" Napolitano says.
And a real record means a real tour, one that swings through Vienna's Jammin' Java tonight (October 25). Napolitano's show kicks off at 8 p.m. Tickets are $18.
• For more on Johnette Napolitano, visit www.johnettenapolitano.com.