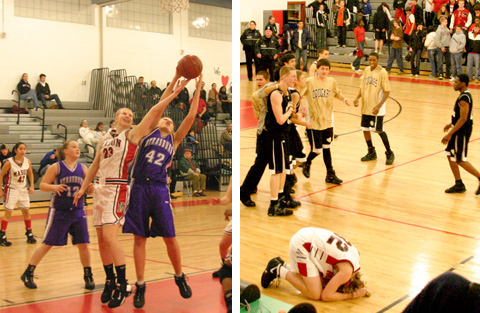 Before the hail and the rain came pouring down last Friday night, the George Mason High School varsity football team brought about their own storm, as Joel Chandler led his squad to a 42-6 bombardment of Rappahannock County on Mason's homecoming night.
Chandler, a junior, single-handedly torched the depleted Panther defense in the first half, running for touchdowns of nine and 24 yards in the first quarter alone. Chandler tacked on a 37-yard sprint in the second period to pace his squad.
As if that were not enough, he finished off his career day with a 40-yard score in the third quarter, totaling 162 yards on the ground and 64 yards receiving.
"Joel has been playing great," said coach Tom Horn. "As a junior, it's now his time to be a star player. He isn't playing perfect but he's playing hard, and on offense he's just a real big weapon [for us]"
Chandler has been one of the prominent sparks for the Mustangs throughout the entire season, both as a receiver out of the backfield and on the ground, using his size to explode through the holes and then his potent speed to outrun defenders.
Teammates Antoneo Folks and John Mann rounded out the rest of the scoring for Mason, as Folks dived over the Panther defensive line for a one-yard touchdown. Mann added a 35-yard scoring run in the third quarter. The backs finished with 67 and 89 yards respectively.
As a team, the Mustangs rounded out the day with a remarkable 334 yards rushing on just 30 carries. Sophomore Yates Jordan knocked through all six extra points he attempted on the night as well.
Rappahannock's lone score came in garbage time in the fourth quarter on a 26-yard run. However, the two-point conversion fell short to end the Panther's day.
On the defensive side of the ball, a Mustang defense that came into this game having yielded 40 points in two straight games effectively shut down the Panther defense throughout the rain-soaked game. However, they will need to step it up this Friday, when they take on Clarke County (5-2, 2-0).
Clarke and Mason are the two teams in the Bull-Run District, as Clarke comes into this game having knocked off Rappahannock and Manassas Park, as well as Region B rival Stonewall Jackson, one of the two teams to beat Mason (5-2, 2-0). Moreover, the Eagles played a one-score game with Riverheads.
"[Clarke's] results throughout the year have been consistent," Horn said. "They've been at the same level for seven games, not scoring a lot of points, but playing exceptional defense."
Horn's team looks to take sole possession of first place over the upstart Eagles this Friday at 7:30 p.m. at home, before they go on the road to battle Manassas Park the following week.