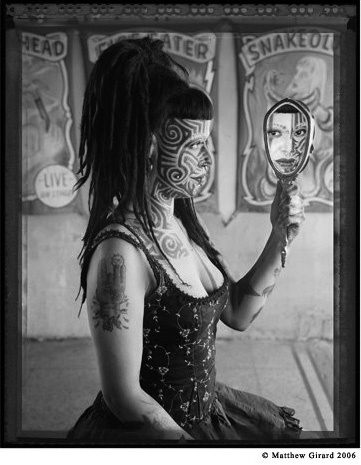 Fong Choo's 'Miniature Teapot Forms'
Through October 27 at Lee Arts Center (5722 Lee Highway, Arlington). 703-228-0560. Gallery Hours: Monday through Friday 9:30 a.m. – 10 p.m.; Saturday 9:30 – 6 p.m. www.arlingtonarts.org/leearts.htm.
Choo's diminutive, though seemingly still useful, teapots range from the fairly traditional, to whimsically twisted and deformed forms.
'This Land – Our Land'
Sculpture and drawings by Rosemary Luckett. Through November 4 at Touchstone Gallery (406 7th St. NW, DC). 202-347-2787. Gallery Hours: Wednesday though Friday 11 a.m. – 5 p.m.; Saturday and Sunday Noon – 5 p.m. www.touchstonegallery.com.
Receptions for this show are Friday, Oct. 12, from 6 – 8:30 p.m., and Sunday, Oct. 21, from 2 – 5 p.m.
Examples of Luckett's work have an Escher-esque sense of surrealism and playfulness to them.
NOTE: Luckett will be one of two jurors for the Touchstone Gallery's "art on the small side" holiday show. Delivered entries for this show are due Sunday, Dec. 9. See the website for complete details.
'Ballston Arts and Crafts Market'
The final Welburn Square arts market for this year will be Saturday, Oct. 13 from 10 a.m. – 4 p.m. The market is located at 9th and N. Stewart St., across from the Ballston Metro. The first 100 visitors get a goodie gift bag with discount coupons for local restaurants and businesses.
'Heada' State' political film cartoon event.
Sunday, Oct. 14 from 6:30 – 8:30 p.m. Arlington Cinema and Drafthouse (2903 Columbia Pike, Arlington). 571-312-5256. Included are live music, political speakers and, of course, the political cartoons. Suggested donation of $20. www.headastate.com
'Handmade Paper: Folding Screens and Art for the Wall'
October 13 through November 4. The art paper work of Amanda Degener and Ellen Kennedy will be on display at Glen Echo Park's Popcorn Gallery (7300 MacArthur Blvd., Glen Echo, Md.). 301-634-2222. www.glenechopark.org.
The opening reception is Sunday, Oct. 14, from 12:30 – 2:30 p.m.
Art paper shows of this sort never seem to disappoint. The medium is highly tactile, and when crafted from raw pulp, as handmade papers are, the work tends to be surprisingly innovative.
Falls Church Arts Benefit Art Auction
The auction begins at 6:45 p.m. on October 28th at Falls Church Art and Frame (111 Park Ave., Falls Church). 703-534-4202. Entrance tickets with bidding privileges are $40 each, or $75 for two. Advance ticket sales only. Reception is from 6-9 p.m.
The dozen items to be auctioned off are currently on display at Falls Church Art and Frame, open Mon. – Sat., 10 a.m. – 6 p.m.
'2007 A Toast to Ballston-Virginia Square'
A benefit dinner to support the Arlington Art Center and Ballston-VA Square Partnership. Monday, Oct. 15, 6 – 8 p.m. Tickets are $50 for Art Center members, and $65 for non-members. Call 703-528-3527, or see www.ballstonvasquare.org (menu listed).
Artist Opportunities
Open Call for 2008 Exhibition Proposals
Schlesinger Center Concert Hall and art gallery at the Alexandria campus of the Northern VA Community College is excepting exhibition proposals for the upcoming year. The deadline for submissions is 5 p.m., Friday, Dec. 7. Group or solo show proposals will be considered. For further information, contact Leslie White, Managing Director at 703-845-6229.
Shoot for the Torpedo!
The Target Gallery (in the Torpedo Factory, Alexandria, Va.). is currently accepting submissions for two upcoming shows featuring innovative works. The Kinetic Image will be a New Media show looking for that "goes beyond the traditional static two-dimensions" image. The show is searching for for video, time-based installation, animation, interactive design, robotics, virtual reality and kinetic sculptural works, or other such media. The deadline for this one is November 5. There is a $30 entry fee. For complete details see www.torpedofactory.org.
Also, The Five Senses is looking for art works requiring two or more senses from viewers. The deadline is December 10 and again there is a $30 entry fee. Complete details can again be found on the Torpedo Factory website.