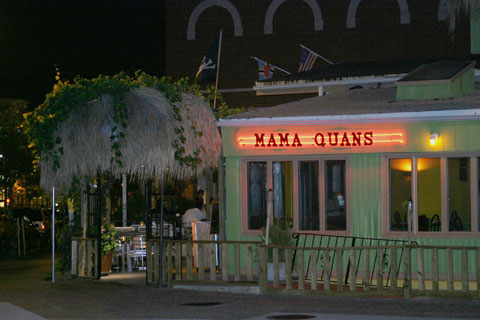 Big poodle skirts, roller skates and good food? The Jukebox Diner's vibe certainly calls for the first two elements of 50s fashion and the restaurant on Columbia Pike in Annandale certainly has the good food angle covered.
The good old days are back, as the 50's have returned in the form of breakfast, lunch and dinner at the Jukebox. The mid-century scenery speaks for itself, so let's jump straight to the grub.
The Fruited Belgian Waffle ($6.49) is topped with whipped cream and your choice of banana, strawberry, pecans, blueberry, apple, raisins or chocolate chips. It tastes as good as it looks on the menu, as does its counterparts the Fruit Pancake ($6.49) and the Fruited French Toast ($6.49) — Notice a pattern? What caught my interest was the Escalloped Apple of Raisin Pancake (also $6.49), the cakes stacked three high and putting of the distinct scent of cinnamon.
The eggs and omelettes could have had their own separate menu. Deciding quickly became the hardest endeavor of this visit. The Chicken Fajita Omelet ($8.99) was calling out to me. The Country Omelet ($7.99) — blended with onions, green peppers and ham — was beckoning as well and the El Paso Omelet ($8.99) — topped with ham, tomatoes, chili and cheddar cheese — was simply screaming my name. There was even the option of creating your own omelet. Talk about possibilities.
Closing my eyes and choosing whatever my finger landed on was my last resort, but a necessary exercise. I chose the Brocolli, Bacon and Cheese Omelet ($7.99). There were no regrets.
The lunch and dinner options were as varied and diverse as the breakfast ones, with the typical diner fare serving as the highlights — Foot Long Hotdogs ($5.09) with chili, cheddar and onions; Crab Cake Sandwiches ( $8.99) served on a bun with lettuce and tomato; Reubens ($6.99).
There is an assortment of subs. The classic Chicken Philly and Cheese Sub ($7.39) is sliced chicken, fried onions with fresh lettuce, tomato and honey mustard. Other choices includedthe Roast Beef-N-Provolone Cheese sub ($7.39) and the Veggie Sub ($6.99) among many others. The clubs are served with crisp bacon and are all under $9.
Nothing says American Diner like a big, juicy burger though. On that front, I recommend the Monster Burger ($8.99), which consisted of two patties topped with American and provolone cheese, lettuce, tomato and onion rings, and of course the Jukebox's Shroomburger ($7.29). It was a thick patty, grilled perfectly, with swiss cheese, sauteed mushrooms, bacon, lettuce and tomatoes.
What makes Jukebox different than its fellow classic diners is its Greek entrees. It offers the Gyro Dinner ($9.99), served on pita bread with fries and a Greek salad, as well as Chicken Souvlaki ($10.99) — fried boneless chicken marinated, grilled and served on pita bread with fries and a Greek salad. Greek Pita sandwiches are served as well, including the Open Face Chicken ($7.99), also known as Shish Tawook. This oddity adds a welcoming ethnic tone onto the 50s theme, making it more memorable. An Italian section of the menu gives another option if you prefer a different part of the Mediterranean.
We cannot forget the infamous desserts. Every delicacy is under $5 and ranges from Cheesecake to Black Mousse Cake with two untraditional desserts thrown into the post-meal mix: Baklava and Tiramisu.
There's something for everyone on the menu at the Jukebox Diner, but if you need another reason to make your way over and slip into a booth, just do it for old time's sake.
everything so grab the family and dine at this glorious restaurant, if not for me, then for old times' sake.
Jukebox Diner
7039 Columbia Pike, Annandale, VA 22003
703-916-8300
Hours: Mon. – Thurs.: 6:30 a.m. – Midnight
Fri. – Sun.: 6:30 a.m. – 2 a.m.