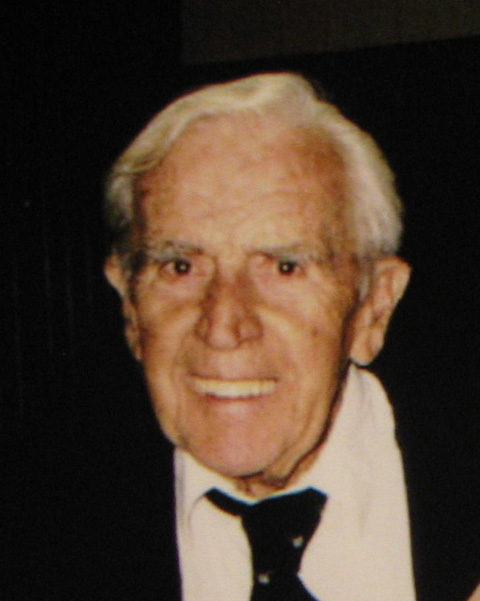 Julius Knox Singleton, age 88, died September 3, 2007 in Fairfax City after a month long illness. Called by his middle name, Knox was a well-known resident of Fairfax County since 1951, having lived in Springfield, Burke and Falls Church before moving to Vinson Hall Retirement Community in McLean in 1997.
Born in 1919 to a large family in Westminster, South Carolina, he graduated from Berea College in Kentucky and then served as a naval officer in World War II, specializing in radar. While in the Navy, he met and married a fellow officer, Marjorie Christensen, in 1945. After the war, the newly-weds came to Washington where Knox worked at the Navy Bureau of Aeronautics and later at the Federal Aviation Agency as a civilian electronics engineer.
Upon retiring from federal service in 1971, Mr. Singleton earned an MED in secondary mathematics from the University of Virginia and taught in Fairfax County high schools for six years. Knox taught mathematics at George C. Marshall High School from 1972– 1978, where he was the sponsor of the Math Team. He then completed graduate studies at George Mason University to become a licensed Professional Counselor with Board Certification in 1985. For the next ten years, he was a volunteer counselor specializing in work with older adults and their adult children.
Mr. Singleton served on the Fairfax Area Commission on Aging from 1981-1991 and took a leading role in initiating several special programs for older adults, including the peer-led Health Education Program and the Learning in Retirement Program at George Mason University and the Springfield Information and Counseling Center for Older Adults and their Families. To enlarge the continuing education opportunities for retirees, he organized the Lifetime Learning Institute of Northern Virginia under the sponsorship of Northern Virginia Community College in 1996 and served as its president for three years.
In addition, Mr. Singleton was a member and served on task groups in various organizations such as the United Senior Health Cooperative and the National Council on the Aging. He also served on the boards of directors of diverse non-profit organizations including the Center for Multicultural Human Services and the Northern Virginia Chapter of the Alzheimer's Association.
Mr. Singleton was recognized for his volunteer community leadership wherever he lived. He helped organize and served as the first president of both the Springfield Civic Association and the Springfield Swimming and Tennis Club; served as the president of both elementary and high school PTAs, promoted youth recreation programs and was a church school teacher. In 1984, he was named by the Fairfax Volunteer Agency as the Outstanding Volunteer of the Year, and the same year, at a White House reception, received a Presidential Commendation "in recognition of exemplary volunteer service in the finest American tradition." In 1999, he was awarded the Fairfax Area Commission Louis B. Wagner Lifetime Achievement Award before the County Board of Supervisors.
Known for his wide range of interests, Knox enjoyed traveling, international friendships, gardening, theater, and his extended family. He was an enthusiastic physical fitness advocate, playing golf until breaking a leg bone last year during pool volleyball. Both Mr. and Mrs. Singleton have been members of the Unitarian Church, most recently the Arlington congregation.
In addition to his wife, he is survived by a son, William A. Singleton and his wife Judith of Washington, D.C., a daughter, Antoinette Singleton O'Neil of Lexington, KY, two grandchildren, Kevin Singleton O'Neil of Princeton, N.J. and Kelly Ann Singleton O'Neil of Philadelphia, P.A. He is also survived by a cousin as well as numerous nieces and nephews including John Knox Singleto