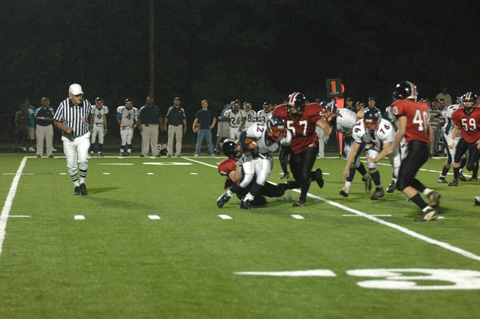 Zorn Turns Attention to D-IA Career at San Jose State
Click. Clack. Sounds now associated with the latest Under Armor commercials bore a different meaning for Ben Zorn. For the 2007 George Mason High School graduate, walking down the concreate walkway on a Friday night towards a brand new turf field beneath the shining lights and before a packed house became synonymous with his high school experience. It's no wonder that walk also serves as his favorite memory while playing at Mason.
"There's nothing like running out onto the field on a Friday night," Zorn said. "There are no cameras. You're not on TV, no money involved, you're just playing for the love of the game."
It was that love that has propelled Zorn's game to the next level, recently securing a spot on the San Jose State University football team as a lineman and a long-snapper. The accomplishment makes him the first player from George Mason High in over a decade to play at a Division 1-A football school. Michael Greene (UVA — '96) was the last person to do so.
At George Mason High School, Zorn starred on not only the football team, but on the basketball court and in the training room. He served on the staff with Coach Vicki Galliher for numerous years, tending to the injured athletes at the school. He will continue that education at SJSU, majoring in sports medicine.
"Early on you could see that Ben had a gift for working with and caring for injured athletes," said Galliher. "He was able to empathize with the athletes and give them the encouragement they needed to get through their injuries."
A winner of the Most Outstanding Technical Award for the Arlington Career Center sports medicine course, Zorn spent almost as much time in the training room treating injured players as he did on the gridiron, using his solid six-foot-plus build to plow through fellow Bull Run District athletes in the trenches.
"I decided to get into sports medicine because I love sports, plain and simple," commented Zorn. "I like helping people a lot and this really combined the two."
Zorn left an imprint on the Mason coaching staff and his teammates during his tenure at the school. Coming in as a ninth grader, head football coach Tom Horn described him as "kind, quiet and soft" when they first met him.
When asked to name a word to characterize Zorn, Horn immediately replied, "Authentic. He is the real deal. You get true effort, straight dealing from him."
As a senior, Zorn was named a First team All-District and All-Region guard, as well as a Second Team All-District linebacker and a Second Team All-State guard to round out his final season, in which he helped lead Mason to a perfect 5-0 district record.
Galliher's description characterizing Zorn was a student with a "heart of gold." Walking down the halls, students, faculty, coaches, even janitors remember at how helpful Zorn was.
Having made his mark at George Mason, his next challenge continues at SJSU. In addition to his extensive work in sports medicine, his making the team boosts him into an elite club of D-1A players to come out of Mason.
"I came here [San Jose State] because I had a great opportunity to do something huge," said Zorn. "Not many people even get the chance to consider this, so I'm very fortunate at the chance I've been given.
"My biggest goal right now would have to be to start. I'm at the bottom of the food chain once again and ultimately I want to work my way up to the top. Coach Horn once said that what you put in is what you get out, and I'm trying to live by that right now."
His tireless work ethic, praised by both Horn and Galliher will almost certainly help at SJSU. His new team, the Spartans, will battle powerhouse Hawaii on Friday, October 12 at 8 pm EST, televised nationally on ESPN.
"We were very fortunate to have Ben in our program and his impact will be felt for a very long time," said Horn. "Few will match his achievements, but all can strive for his level of commitment to success."