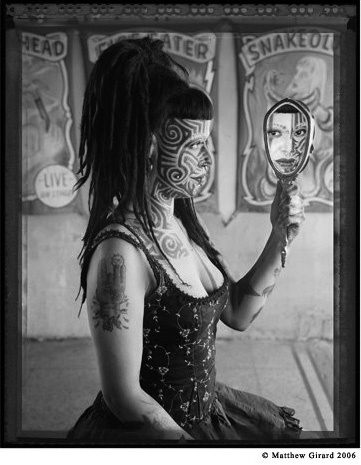 'In the Flesh'
Through October 13 at Target Gallery in the Torpedo Factory Art Center, 105 North Union St., Alexandria. Gallery hours: Wednesday through Sunday, Noon – 5 p.m. 703-838-4565 x 4. www.torpedofactory.org.
"In the Flesh," as you might surmise, is Target Gallery's dedicated figure show, which, oddly enough, has a scant half dozen pieces that have any substantive nudity in them. None of those are particularly explicit. As far as nudity goes, this one isn't going to raise many eyebrows.
American University art professor, and juror for this show, Tim Doud selected these 25 works from nearly 600 entries. With less than one half of one percent of those making the cut, we're clearly dealing with serious work here. Several of these pieces are psychologically tough to deal with.
John Manion's (Iowa City, Iowa) "Towards the Ideal" is a sculptural piece comprised of a worn antique porcelain-ized metal baby bath, with molded screaming baby, and filled with water just shy of the baby's mouth and nose. Coupled with the fact that the baby's head is proportionally that of an adult, this one is a bit a of a head scratcher. Virtually all the viewers respond with some sort of grimace. There is no clear message per se, but you know it's not great whatever it is.
Possibly even tougher to read is Michael Reedy's (Ann Arbor, Mich.) "Elephant Man." This luscious drawing done with charcoal, colored pencil, water color and stain looks like a centuries-old rendering in charcoal and graphite. It's certainly a nice technique. The subject will make you squirm though. A nude man lays curled up in the fetal position with a plastic Wal-Mart bag over his head. The happy face on the Wal-Mart bag seems a sort of wry statement of how this man who found life too painful to go on living is now happy in death. It's tough stuff to be sure.
Faint under-drawings hover all around "Elephant Man." Perusing them as best you can, you learn that this guy had a big nose and hated it, thinking himself ugly. A big nose leading to suicide seems a tad overwrought, and ridiculous. Then again, one might want to consider that Michael Jackson's siblings supposedly taunted him as a child with the nickname "Big Nose."
Brent Holland's (Des Moines, Iowa) "Self Portrait V" gives us a diametrically opposed spin on self-image. Here we find a harsh, yet humorous take on the "warts and all" school of portraiture. The subject presented here has a prominent wart on the side of his forehead that Holland has given a three-dimensional rendering. The man stares back at us in a menacing fashion, as if to say "It's a wart … You have a problem with that?" Clearly better than putting a plastic bag over your head and killing yourself, this chap still isn't quite totally okay with his visage.
Ann Piper of Emporia, Kan., has three paintings in this show. "Simultaneous Contrast #1" was my favorite. Here we see a woman dressed in a robe with a towel wrapped around her head, obviously just out of the shower/bath, staring directly at us in a cold emotionless way — while her neighbor's house is fully engulfed in flames. It seems a stark metaphor for the self-centered insular society America has become. Once a nation of people who watched out for each other and fought off the rest of the world, we've now become a nation largely populated by people afraid of each other because the TV tells us to be afraid. Here we have someone so self-centered that draining the local water supply while neighbor's house burns seems no big crime. Or, even more damning, she's so callous she doesn't even care. Certainly this individual isn't about to get herself dirty by going over there and trying to help out in whatever way possible. Welcome to modern suburbia.
Overall, my favorite piece in this show would have to be Perry Johnson's (Erwin, Tenn.) painting titled "Consumption of the Virgin." At almost 5 x 6 feet it's large, but a nice size for the subject matter. Here, we find a married couple shopping for a new mattress. Central to the picture frame is the couple holding hands. It's Freudian to be sure, as she grips two of his fingers, but it's a scene of psychological desolation. The mattress showroom is barren save for the naked mattresses laid out for testing. Her husband chats away with the salesman as he leers and gropes a pillow in an all-too-telling fashion. The wife sits on the corner of the mattress with her back turned to the conversation totally disinterested.
Like a soldier who's spent too long in the trenches, she sits with a "thousand-yard stare" that speaks volumes as to her interest in this purchase, and their sex life in general. Her weight seems to deform the mattress beneath her to an inordinate degree, as if informing us of the terrible psychological weight she carries … for now.
While we can't see her husband's face, his toleration of the salesman's behavior seems to indicate that he's not quite onto her troubles yet, but he will be soon enough. She's not going to be able to tote this baggage around much longer, something is going to give.
Additional Events
• The International Children's Festival at Wolf Trap. This Saturday and Sunday, September 22 and 23, from 10 a.m. – 4 p.m. Tickets are $10 – 12, with children under two free. See www.artsfairfax.org for festival program and information.
• The Second Annual Falls Church Film Festival is right around the corner. The festival is open to all filmmakers in the greater Washington, D.C. area. Submissions for entry are due by October 26. See www.fallschurchfilmfest.com for complete details.