THE MAYOR OF FALLS CHURCH signed a proclamation at Monday's City Council meeting commending the Medicine Shoppe at 109 W. Broad St. on the occasion of its 25th anniversary in business. Pharmacist Joe Smith, who began working here in 1955, opened the doors of his own Medicine Shoppe business in the fall of 1981. It was named Business of the Year in 1985, he was named Business Person of the Year in 1995 and the business was named Best in Customer Service in 2004, all by the City Council. Shown here accepting the commendation were (left to right) the Medicine Shoppe's David Johnson, Joe Smith, Juanita Gomez and Javad Mashatian. (News-Press photo)
Get Down with Gospel
The Heritage Signature Chorale is presenting a Gospel Music Festival at the Resurrection Lutheran Church (6201 Washington Blvd., Arlington) Sunday, Oct. 14 at 4 p.m. Admission is free.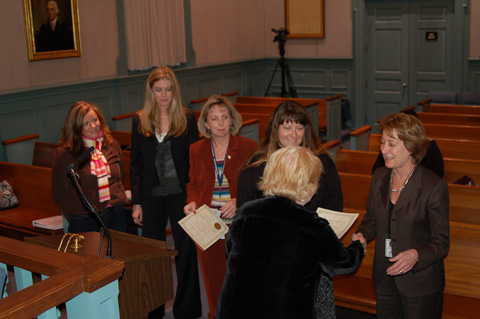 Nice Guys Finish First
Acacia Federal Savings Bank is hosting the Nice Guy Awards 2007 Luncheon at Westwood Country Club (800 Maple Ave. East, Vienna) Wednesday, Sept. 19 from 11:30 a.m. – Noon. Respond no later than Wednesday, Sept. 12 at NiceGuys@afsb.com or call 703-749-8603.
Unite for Better Bicycling
The Fairfax Advocates for Better Bicycling want to make the streets a friendlier place for cyclists. The Bike Advocacy Meeting will take place at the Patrick Henry Library (101 Maple Ave., Vienna) Tuesday, Sept. 18 from 7:30 – 9 p.m. Admission is free. For more information, visit www.fabb-bikes.org or call 703-385-7564.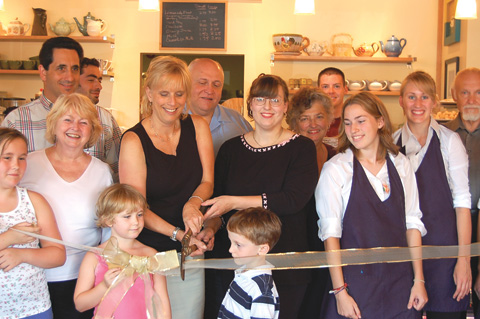 Have Soccer, Will Travel
The Falls Church Premier Athletics Club has space left for boys interested in travel soccer at U9, U10 and U11 levels. For more information regarding try-outs, contact Jon-Michael Olmstead at jolmstead22@hotmail.com or Patricia Paz at patti.paz@gmail.com.
Victorian Fashion Frenzy
View Victorian era clothing and accessories at the Victorian Fashion Exhibit sponsored by the Victorian Society of Falls Church and the City of Falls Church Recreation & Parks Division. Items will be displayed at Historic Cherry Hill Farmhouse (312 Park Ave., Falls Church) from Sept. 15 – 23, open Monday – Saturday from 10 a.m. – 3 p.m. and Sunday from Noon – 4 p.m. Admission is free.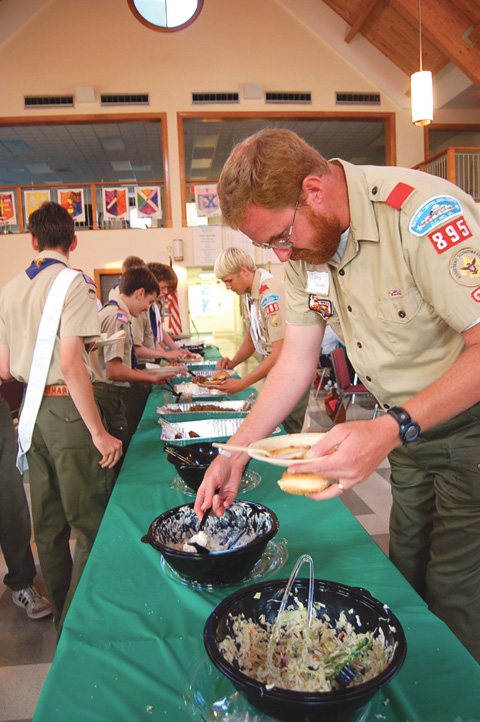 Small but Mighty Health Fair for Seniors
Opening day of the 2007 Northern Virginia Senior Olympics commences Saturday, Sept. 15 from 9 a.m. – Noon at the Thomas Jefferson Center (3501 S. 2nd St., Arlington) with a mini Health Fair for seniors sponsored by The Virginia Hospital Center. Admission is free with free massages and healthy refreshments provided. For more information, call 703-228-4721.
Matrix AAU Hosts Clinics and Tryouts
Tryouts and Clinics for girls will be hosted by Arlington Matrix Basketball. Advanced Skills Clinic on remaining Saturdays, commencing Saturday, Sept. 22 Matrix U Fall-Winter Teams for Grades 6, 7, 8 on Sept. 21, 22, and 23 and Pre-Tryout Clinics Monday – Thursday, Sept. 24 – 27. For more information, visit www.arlingtonmatrix.net.
Christmas is a Coming
The Falls Church Community Service Council will hold a Holiday Informational Meeting to learn more about Thanksgiving and Christmas projects on Tuesday, Sept. 18 at 7 p.m. Knox Presbyterian Church (7416 Arlington Blvd., Falls Church). For more information, contact FCS at 703-237-2562.
National Association for Mentally Ill Meeting
NAMI – Northern Virginia will meet Monday, Sept. 24 at 7 p.m. at the First Christian Church (6165 Leesburg Pike, Falls Church) to hear Jim Stewart discuss recent reports regarding mental health facilities and to review the VA Tech tragedy survey. Admission is free. For more information, call 703-525-0686.
Don't Get Swept Away
The City of Falls Church is providing citywide street sweeping the week of Sept. 17 from 7 a.m. – 5 p.m. Residents are advised to move their cars off the streets according the following schedule: Monday – Commercial Areas, Tuesdays and Wednesday – Thursday and Friday Refuse Collection Areas (areas north of Broad Street), Thursday and Friday – Tuesday and Wednesday Refuse Collection Areas (areas south of Broad Street). For more information, please call 703-248-5081.
JSSA NOVA New Digs
The Jewish Social Service Agency Northern Virginia is celebrating their newly expanded space with an open house and office dedication at JSSA (308 Javier Rd., Fairfax) from 3 – 6 p.m. on Thursday, Oct. 11. Tours of the office, staff meetings and program information will be provided. For more information, call Kecia Hill at 703-204-9100 or write to khill@issa.org.
Little Ms. Sunshine
A George Mason HS Class of 2004 student and senior at the University of Tampa, Alison Penland, was selected as the Sunshine State Conference Offensive Player of the Week for her performance as a starting forward on the Women's Soccer Team.
State, Benefit with the Rex Foundation
The State Theatre will host the New Riders of the Purple Sage benefit in association with the Rex Foundation on Friday, Sept. 14. Doors open at 8 p.m. show time 8:15 p.m. Tickets available through www.thestatetheatre.com.
Mexican Siesta
C.M. Mayo will be talking about her anthology Mexico: A traveler's Literary Companion and her memoir Miraculous Air at the Mexico Institute, Woodrow Wilson Center (One Woodrow Wilson Plaza, 1300 Pennsylvania Ave., NW, D.C.) on Monday, Sept. 17 from 4 – 5:30 p.m. Please respond to Diana Rodriquez at mexico@wilsoncenter.org. Admission is free.
Falls Church HS Reunion Class of 1977
The Falls Church High School Class of 1977 will celebrate their class reunion night at the Hilton Garden Inn (3950 Fair Ridge Dr., Fairfax) on Saturday, Sept. 15. Reception at 7:30 p.m. dinner at 8:30 p.m. For more information, contact www.greatreunions.com.
Broad St. Tavern and ABH, Benefit for Assaulted Employee
The Broad Street Tavern in conjunction with a bitter hello will host The Elio Martinez Benefit Show on Saturday, Sept. 15 at 7 p.m. Live music by The Black Powder, Spoonful, D-Mitch, The Ruckus, Silth Hound, Brian Moon, The District Ambulance, Rebecca Vs. Mexico and Dream L.A.X throughout the evening. Elio Martinez, an Argia's employee, was brutally attacked in the Bailey's Crossroads area and remains in critical condition. Proceeds will assist with medical expenses and recovery.
Representative Jim Moran Hosts Women's Conference
Congressman Jim Moran is hosting the 16th Annual Women's Issues Conference Saturday, Sept. 15 from 9:30 a.m. -2 p.m. at Kenmore Middle School (200 Carlin Springs Rd., Arlington). Seminars in morning and afternoon sections. Special guest Her Majesty Queen Nor of Jordan. Register at www.moran.house.gov. Lunch is included and admission is free.
2007 George Mason HS to Compete at AU
Katie Mitchell, a 2007 George Mason High School graduate, will be at American University in D.C. Friday, Sept. 14 at 1:30 p.m. and 7 p.m. and Saturday, Sept. 15 at 10 a.m. and at either 4 or 7 p.m. Mitchell will be competing as the starting hitter for the Columbia Lions.
Used, Not Abused, Books for Sale
The McLean AAUW Used Book Sale will be held Friday, Sept. 14 from 10 a.m. – 7 p.m., Saturday, Sept. 15 from 10 a.m. – 6 p.m., and Sunday, from Noon – 4 p.m. at the McLean Community Center (1234 Ingleside Ave., McLean). Proceeds to benefit scholarships and fellowship's for women.
Elderhostel Alumni Meeting
The Elderhostel Fairfax County Alumni Meeting will be held Sunday, Sept. 16 from 2 – 4 pm at George Mason Public Library (7001 Little River Turnpike, Annandale). Marie Markussen will speak on Public Policy Issues Facing You and the Nation. Reservations required, call Rebecca Prather 703-534-2274.