STATE SEN. MARY MARGARET WHIPPLE (left) was joined by Falls Church's Edna Frady and some future voters at the annual Falls Church City Democratic Committee's ice cream social in Cherry Hill Park on Labor Day. (News-Press photo)
Victorian Vogue
The Victorian Society at Falls Church is holding a tea and fashion show in Fellowship Hall of the Falls Church Presbyterian Church (225 E. Broad St., Falls Church) Sunday, Sept. 16 from 2 – 4 p.m. The event will promote the group's recently-released book, Victorian Falls Church. Copies will be on sale at the event, which is open to the public. Society members will serve a full team and model their throw-back threads. Reservations and payments — $30 per person — must be received by next Wednesday, Sept. 12. They may be sent to: Victorian Society at Falls Church, P.O. Box 7436, Falls Church, VA 22040.
Team Makes Fast Pitch for Players
There's a "Perfect Storm" brewing in Falls Church. This particular phenomenon has more to do with local athletics than fishermen from Massachusetts. The Perfect Storm is the name of the new fast-pitch softball select travel team beginning this month. The organization will initially create a 12U team to practice and compete in the fall and spring and is currently looking for players and coaches, as well as volunteers and sponsors. 12U tryouts will be held on September 14, 21 and 28. For details, contact Scott Keith at scott_w_keith@yahoo.com, or call 703-933-2389. For more information, visit eteamz.active.com/perfectstorm.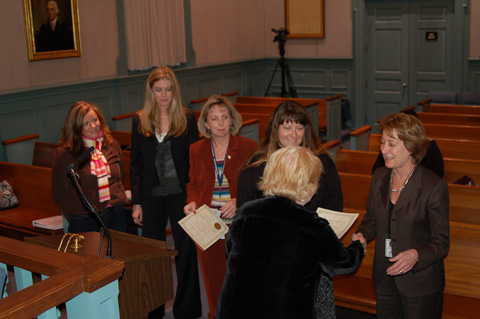 Condello Peddles for Pedals for Poor
Boy Scout Dominic Condello is looking to help charity group Bikes for the World with its upcoming collection of repairable bikes in Falls Church this Saturday, Sept. 8. The collection will take place at the Falls Church Recycling Center from 9 a.m. – 2 p.m. as part of an event sponsored by the City of Falls Church Recycling Office and the Troop 652 Eagle Community Service Project. Bikes for the World donates the bikes to third world countries to help people get around and to work. The organization also suggests a $10 per bike donation to help defray shipping costs. For more information, contact Dominic Condello at dominicsi@gmail.com.
A Character Building Exercise
On Sunday, Sept. 16 at 2:30 p.m., mystery novelist Austin Camacho speaks on creating characters people will love at the organizational meeting of the Northern Virginia Chapter of the Virginia Writers Club at the Church of the Holy Cross (2455 Gallows Rd., Dunn Loring). For more information on this free event, write to northernvawriters@gmail.com.
Whittle Wanders Over to Russia
Thomas Jefferson High School for Science and Technology alumna Maria Whittle, 18, recently arrived in Petropvlovsk-Kamchatsky, Russia, a Siberian city on the Kamchatka peninsula where she will spend the school year as part of the Rotary International youth exchange program. She will attend Kamchatka State University and live with families from her Rotary host club.
Whittle's first host family, Oksana and Igor Kirichek, own and operate a tourism business which runs rafting and fishing expeditions. After Whittle returns home, she will attend Pomona College in Claremont, Calif.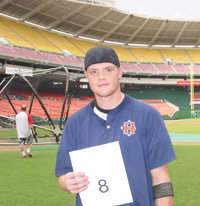 Argia's, State to Help Assaulted Employee
The State Theatre and Argia's are teaming up to help Argia's employee Elio Martinez, a victim of a brutal assault in Bailey's Crossroads on Aug. 13. Martinez, who was attacked by multiple men wielding baseball bats, is currently in critical condition at INOVA Fairfax Hospital.
The fundraising benefit is scheduled for Sept. 10 at the State Theatre and will run from 8 p.m. – 12 a.m. There will be live music by Maple, Magnolia Blue, Steven and Claire and the Picnic Bears, Brother Shamus and Bobby Thomas and the Magic Voyagers throughout the evening, as well as a silent auction. The monies raised will be used to help with Martinez's medical expenses and recovery.
Free Your Mind for Free
Vajrayogini Buddhist Center will give a free public talk and meditation at Waldenbooks (5801 Duke St., Alexandria) with the focus being the popular book "Transform Your Life." It offers practical advice to those interested in self-improvement and spirituality. The event will begin at 6:30 p.m. on Sept. 21.
Fall Fest, Feast Approach
Start training your stomachs to handle the upcoming feast that is the Third Annual Taste of Falls Church on Saturday, Sept. 15. The event will coincide with the City's 32nd Annual Fall Festival. The events will run from 10 a.m. – 4 p.m. in Cherry Hill Park (312 Park Ave., Falls Church). Live entertainment will run throughout the day on the stage. Admission is free and the event will be held rain or shine. "Tastes" may be purchased for $3 each or 10 for $25. Participating restaurants include 2 Sisters Coffee, Argia's, Clare and Don's Beach Shack, Ireland's Four Provinces, Ledo Pizza, Pilin Thai, Robeks and Zpizza.
Fairfax Festival Follows
The Fall for Fairfax Festival will return Saturday, Sept. 29. The event will be held 10 a.m. – 4:30 p.m. at the Fairfax County Government Center and will include more than 100 interactive activities, exhibits and programs focusing on education, sport and fitness, the environment, public safety and personal health. For more information, visit www.fallforfairfax.com.
Stop, Smell Flowers Sunday
On Sunday, Sept. 9, The Old Dominion Chrysanthemum Society will present a one-hour descriptive program and Q&A with Kathy Welch, President of the Washington Daffodil Society. The program will discuss the selection of Daffodils for the landscape and show and will be held at the Falls Church Community Center (223 Little Falls St., Falls Church) beginning at 2 p.m. Admission and refreshments are free. For more information, call Jim Dunne 703-560-8776.
Pitch In to Pick Up
Arlingtonians for a Clean Environment are organizing a cleanup event of Four Mile Run on Saturday, Sept. 15 from 10 a.m. – Noon. Meet at Barcroft Park (4200 S. Four Mile Run Dr., Arlington). Register at volunteer@arlingtonianenvironment.org or 703-228-6406. To get involved with the group on a more regular basis, stop by their meeting on Monday, Sept. 17 at 7 p.m. at the Arlington Central Library Auditorium (1015 N. Quincy St., Arlington).
Rock Run, Walk Relieve ROTC
The 16th Annual Rocks, Inc. Five-Mile Run and Two-Mile Walk will be held Sept. 15 at Burke Lake Park (7315 Ox Rd., Fairfax Station, Va.). Both events will start at 8:30 a.m. sharp. Proceeds go towards scholarships, leadership outreach and mentorship programs for college-level Reserve Officer Training Corps students. To register or find out more, visit www.therocksdc.org.
FCHS Dishes Up Community Breakfast
Falls Church High School will have its first community breakfast Sept. 7 from 7:30 – 8:30 a.m. Guests will include State Delegate Jim Scott, County Supervisor Penny Gross, School Board Members Kaye Kory and Phillip Niedzielski-Eichner, Fairfax County Public Schools Superintendent Jack Dale and Cluster II Superintendent Phyllis Pajardo. The purpose of the event is to celebrate the many achievements of the F.C. Faculty, staff and students.
Coaches Suit Up for Klurfeld
The Arlington Travel Soccer Club will hold its Coaches Game September 15 at 5 p.m. on Quincy Field (1201 N. Quincy St., Arlington). Cheer for your favorite coaches and enter raffles, with all proceeds benefiting the Klurfeld Financial Assistance Fund, which provides financial assistance to Arlington travel soccer teams. For more information, call 703-340-9308.
Dance to the DMZ
Order your tickets now for the 19th Annual "DMZ to Delta" Dance to be held November 10 from 8 p.m. – Midnight. Tickets are $30 per person. For more information, visit www.vva227.org.
Sip Chardonnay for Charity
Friends of the Orphans will holds its Second Annual Heard It Through the Grapevine Fall Excursion to Tarara Winery on Saturday, Oct. 13. Proceeds will benefit the children living in Our Little Brothers and Sisters homes throughout Latin America and the Caribbean. The event will feature a southern BBQ lunch, a silent auction, live entertainment and a walking tour of the winery. Guests will meet at the organization's office in Vienna (8618 Westwood Center Drive) and be carried by coach transportation to Tarara Winery in Leesburg. The event costs $100. To register, call 703-848-2072.
Lax Club to Conduct Clinics
The Falls Church Youth Lacrosse Club will hold clinics designed to help new players learn the game of lacrosse and improve the skills of experienced players. Clinics will be held on Saturday afternoons with girls' clinics going from 1 – 3 p.m. and boys' from 3 – 5 p.m. For more information and to register, visit www.fclaxclub.com. The clinics will feature coaching from the Marymount men's and women's team.
Businesses Provide Free College Tips
AdmissionsConsultants, Inc., of Vienna, will team up with Hughes Financial Solutions and Northern Virginia Tutoring Services to provide students a free college planning workshop from 3 – 5 p.m. September 29 at the Falls Church Community Center (223 Little Falls St.). The workshop will include tips on application basics, financial aid and test taking tips for the SAT or ACT and which test best suits a student. Reservations are required and can be made by calling 877-778-5481.
Stuart Students Go Door to Door
On Saturday, Sept. 8, the music students of J.E.B. Stuart High School's band, orchestra and chorus will make their annual door to door visits to very house in the Stuart community to ask for contributions to the music department. The money will support uniforms, music, travel to competitions and other costs, including participation in the Lake Barcroft Halloween Parade. The students will be collecting from 8:30 a.m. on.
Address Correction
The PFLAG (Parents, Families and Friends of Lesbians and Gays) of Metro D.C. meeting notice published in last week's issue contained the wrong address for Haycock Elementary School, the site of the group's Sept. 13 meeting at 7:30 p.m. The correct address is 6616 Haycock Rd., Falls Church. For more information, call 703-319-0424.