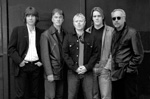 To Abra Moore, songwriting is a mystery. She doesn't know when inspiration will strike, nor what will trigger it. And interestingly enough, it's a mystery that Moore has no inclination to solve.
"The process can be walking from my bed to the kitchen, or I could be sitting down at a piano and something will land," Moore says.
Her songs span the spectrum of life, with songs on her latest album, On the Way, recalling scenes of "divorce, marriage, loss, gain, beauty and sadness," according to Moore.
"I'm just pulling from the arsenal of my memory," she says.
After a Grammy nomination, it's clear that however mysterious the process is, it clearly working for her. After breaking into the music scene with the group Poi Dog Pondering, Moore's solo career has taken her all over the map of the music business landscape. After recording her solo debut album, Sing, on indie label Bohemia Beat, the effort caught the ear of Sarah McLachlan. Impressed, McLachlan later invited her to perform with the Lilith Fair. Sing, also landed her on the roster of Arista Records, where she released Strangest Places in 1995. In 2004, after a major label dalliance with J Records, she debuted Everything Changed, which included track "Four Leaf Clover." That tune is the one that earned Moore a Grammy nod for the Best Female Rock Vocal Performance category.
Moore has built a career by being able to capture the human condition, a talent that has led to at least one description of her music as sounding like "home."
"Life is not routine," Moore says. "Not if you're looking and listening and keeping your channels clear."
Such a talent for comprehending the human experience could be perceived as a gift, but Moore deflects the notion that opening herself to the full spectrum of life can be challenging.
"It's only hard if I make it hard," she says.
Instead, the major challenge for Moore of late has been marking her affective moments when they strike.
"I've been trying to work on my discipline of capturing my inspiration in books and with hand held recorders," Moore says of the sometimes fleeting muse. "I would like to get closer to the source [of the inspiration], get back to the sentiment."
With or without recorders or notebooks, Moore has frequently been successful at capturing moods and emotions and Hollywood has taken note. To date, some 25 of Moore's songs have appeared in films or TV shows, including "Cruel Intentions," "Sliding Doors," "Party of Five" and "Dawson's Creek."
"I think my songs catch emotional moments and [those selecting the songs] responded to those," Moore says. "In 'Sliding Doors,' they used 'Don't Feel Like Cryin'.' I think there was just an emotion that I caught and they needed that emotional vibe for the scene."
Moore also credits her longtime producer Mitch Watkins as a major reason her work has so often been matched with motion pictures.
"Mitch is a really talented soundscaper," Moore says. "I want to say the producer is responsible for a lot of that. We're a good team, good collaborators."
At least that much of the mystery has been solved.
• Moore will appear locally at Jammin' Java, August 23. Tickets are $10 and the show begins at 8 p.m. For more on Abra Moore, visit www.abramoore.com.