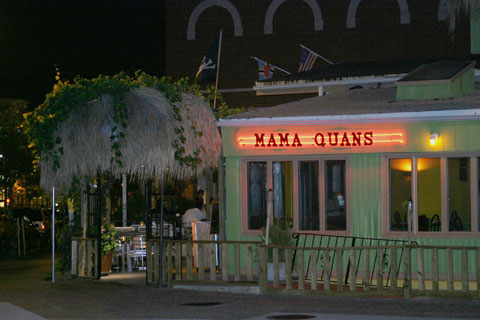 The newest member of the Falls Church restaurant community, Koi Koi Sushi & Roll specializes in Japanese delicacies, colorful rolls and a wide variety of tempura and barbecue. The West Broad Street location opened its doors August 8.


With a name meaning "welcome," Koi Koi invites visitors into a clean, refreshing space. "Natural" seems to be the restaurant's motto, as the theme is mimicked throughout the hardwood floors, light green walls and fresh sushi that later appears on your plate. An entire wall of windows allows sunlight, while the friendly service further brightens the room.
Although Asian at heart, the restaurant borrows international flavors for dishes that are adventurous and delicious. Try the Sushi Taco ($6.95), of Japanese and Mexican origin as an appetizer. Served over a soft tortilla, the filling includes baked tuna, chopped onions, tomatoes and lettuce, and is drizzled with a spicy orange sauce. It's a slightly messy finger food, but well worth the extra napkins. Other good ways to start off the meal are the Edamame ($2.95), soybeans still in their pods (squeeze out the beans; discard the pods), or the Tofu Steak ($4.95), slices of fried tofu, dressed with a ginger and scallion sauce.
Koi Koi's selection of salads proves that fresh and simple is the way to go. The Seaweed Salad ($5.95) is a tuft of seaweed tossed with a nutty sesame oil. Or try the Albacore Salad ($6.95), seared albacore tuna shaped like flower petals over a helping of greens. For an old favorite, order the Chicken Salad ($5.95), barbecue chicken served over a bed of lettuce and tomato wedges.
No matter how kind, words don't do justice to Koi Koi's three types of rolls: baked, fresh fish and tempura style — battered and fried. All three are thoughtfully and elaborately presented, small stars of the sushi world. You'll find them in all shapes and sizes. Some are matched with flashy names, ranging from the Oh Baby roll (crab, avocado, tuna; $9.95) to the James Bond roll (crab, cucumber, shrimp, special sauce; $8.95) to the Sex on the Beach roll (soft shell crab, crab, masago, avocado, tuna; $10.95).
The Cucumber Roll ($9.95) is a fresh fish roll combining tuna, salmon, yellow tail and white fish, wrapped in thin shavings of cucumber. The cucumber exterior gives it crunch, while the four fish follow through on smoothness, giving it lightness as well as a crisp texture. No carbs here either. The Las Vegas Roll ($9.95) — a waiter-recommended tempura roll — could very well be its opposite on the other end of the health spectrum. Crunchy on the outside, ringed with rice and seaweed, this roll is substantial, containing four types of fish, crab and cream cheese. Order the House Special Roll (soft shell crab with seared tuna on top; $13.95) for another exquisite roll. Dip the sushi in soy sauce and as much wasabi as you like. Enjoy them also with a sliver of orange gari, the pickled ginger.
Koi Koi thinks big too: besides sushi, the restaurant offers whole plates of grilled barbecue and rice, bowls of steaming u-don and tempura dishes. Try the B.B.Q. Combo ($8.95) for a feast that includes beef short ribs, teriyaki and barbecue chicken, accompanied by rice and a small salad. Choose a bowl of u-don soup (a thick wheat-based noodle) with tempura, beef, chicken or just by itself. The restaurant also offers shrimp, vegetable and calamari all served tempura style.
This sushi house is your go-to place for catering, carry-out or a relaxing dine-in meal. Visit the restaurant along West Broad Street during its official grand opening August 21.