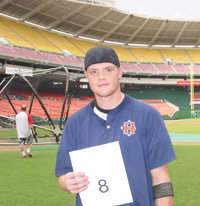 Falls Church Police Chief Harry Reitze announced four promotions August 6. These members of the department were recognized for their exemplary work promoting public safety. Pictured left to right: Joe Carter promoted to Corporal, Richard Campbell promoted to Lieutenant, Chief Harry Reitze, Michael Bunker, promoted to Corporal and Charles Carr promoted to Sergeant. (Photo: Courtesy Nicole Gobbo)
Celebrate Summer's End with Food and Fun
The Vienna Tysons Chamber of Commerce is presenting its Seventh Annual Fall Carnival from September 6 to 9 at Nottoway Park (9601 Courthouse Road, Vienna). The family-oriented event boasts 14 children's rides, games, food and vendors. Hours are 6 – 10 p.m. on Thursday, 6 – 11 p.m. on Friday, 11 a.m. – 11 p.m. on Saturday and 11 a.m. – 7 p.m. on Sunday. Attendees can ride all night on Thursday for $20. Contact 703-281-1333 or visit www.vtrcc.org for more information.

Elderhostel Talks Policy
On September 16, Elderhostel of Fairfax County, a non-profit organization providing travel opportunities for those 55 and older, is hosting an alumni meeting at George Mason Public Library (7001 Little River Tpke, Annandale, Va.). Marie Markussen of the American Civics Center will speak on the topic of "Public Policy Issues Facing You and the Nation." The event will last from 2 – 4 p.m. and reservations are required. Visitors are welcome and refreshments will be served. Call Rebecca Prather at 703-534-2274 for further details.
Blazing Softballs
From August 11 to 19, NoVa Blaze Girls Fastpitch Softball is holding tryouts for players of all ages. Age groups include 12U, 14U, 16U and 18U. NoVa Blaze is a competitive organization that teaches female players softball, teamwork and sportsmanship. Visit www.novablaze.org for the tryout schedule. All tryouts will be held at McLean High School (1633 Davidson Road, McLean).
Krachman Named to Dean's List
Natalie Krachman of Falls Church was selected to the Dean's List for the spring 2007 semester at Washington University in St. Louis. A graduate of George Mason High School and a student at the university's John M. Olin School of Business, Krachman earned a grade point average of 3.6 or higher and was enrolled in at least 12 hours of graded coursework.
Gather Tobacco
The Claude Moore Colonial Farm (4310 Georgetown Pike, McLean), a history museum depicting American family life in the pre-Revolutionary era, invites members of the community to its Tobacco Harvest on August 18. The event is interactive; visitors can help clean leaves, gather cut plants and hang them on tobacco sticks. Admission is $3 for adults and $2 for children and senior citizens for the activities held from 1 – 4 p.m., weather permitting. Visit www.1771.org.

*Wedding Around the Corner
Susan Zweighaft and Richard J. Reed of Falls Church are pleased to announce the engagement of their daughter, Emily Marie Rudd, to Andrew Popovich, son of Peter and Ann Popovich of Warrenton, Va. A George Mason High School and University of Virginia alumna, Rudd currently works as a sales executive at the International Association of Amusement Parks and Attractions in Alexandria. Popovich graduated from West Virginia University and is employed by the federal government. The two plan for an October wedding.
*Khatrichettri Wears White Coat
Amrit Khatrichettri of Falls Church was honored at the White Coat Ceremony of Drexel University College of Nursing and Health Professions. Drexel's physician assistant students donned white coats at the ceremony to celebrate their transition from classroom to clinical education.
Classic Movie Night
On August 31, St. Luke's United Methodist Church (7628 Leesburg Pike, Falls Church) is showing "Notorious," a film starring Cary Grant and Ingrid Bergman. The event is free, open to the public and offers popcorn and sodas free of charge. For more information, log on to www.stlukestysons.org and click on "movie night."
Locals Students Selected to Dean's List
Marist College announced the following students as named to its Dean's List for the spring 2007 semester: Tyler J. Anderson of Arlington (whose major is biomedical sciences), Caitlin Geary of Arlington (business administration with an emphasis on international), Alice T. Formwalt of Burke and Caitlin K. Schara of McLean (communications/public relations).
Binghamton University Honors Steenberg
Samantha Steenberg of Annandale was selected to the Dean's List at Binghamton University's Decker School of Nursing for the spring 2007 semester. The university is located in New York and enrolls over 14,000 students.
Swing for Golf Charity
SNL Financial is hosting its Second Annual SNL Charitable Golf Tournament on August 18 at the Meadowcreek Golf Course (1400 Pen Park Road, Charlottesville, Va.). Open to the public and with an entry deadline of August 12, the tournament will have two tee-off times: 7:30 a.m. and 1 p.m. All proceeds will go toward The First Tee of Charlottesville, which is a child development program that teaches core values and life skills through golf. Visit www.thefirstteecharlottesville.org for more information.
McLaughlin Graduates
Falls Church resident and McLean High School alumni Erin M. McLaughlin graduated from Union College in Schenectady, N.Y. She earned a bachelor's in biology and political science. The 213th Union College commencement ceremonies took place on June 17 when around 500 undergraduates received diplomas.
Encore Sings Again
Encore Creativity of Older Adults, a nonprofit organization focusing on the arts for the older population, is seeking singers over the age of 55 to join the Encore Chorale. Singers of all skill levels are invited to the chorale's open house and first rehearsal on September 5 at 1:30 p.m. Rehearsals will be held at Convergence, a Creative Community of Faith (1801 N. Quaker Lane, Alexandria) every Wednesday and will culminate in community concerts at the end of the season. Contact Jeanne Kelly at 301-261-5747, 571-215-6118 or Jeanne.kelly@encorecreativity.org to reserve a spot for the first rehearsal.
English Classes
The McLean Presbyterian Church is offering English classes for adults as a second language. Beginning September 19, classes will be offered on Wednesday mornings at 11:45 a.m. and also on Thursday evenings from 7-9 p.m. starting September 20. Registration is being held on September 12 from 9:30-11 a.m. and September 13 from 7 -8:30 p.m. Besides a one time fee of $15 to register, and $15-25 for text books, (depending on class level) the tuition is free! The Church is located at 1020 Balls Hill Road in McLean close to Cooper Intermediate School. Contact their ESL hotline at 703-394-0593 or email esl@mcleanpros.org for more information.
Olympian Michael Weiss Skating Show
McLean resident Michael Weiss is hosting the 2007 "US and World Figure Skating Champions LIVE!" It's the local Olympic skater's charity show for the Michael Weiss Foundation, a non-profit organization that helps national athletes reach their Olympic dreams. It will take place at the Reston Skatequest on September 8 at 3 p.m.
Falls Church Student Elected to Serve as a National Officer
A cosmetology student at Edison Academy, Truc-Thi Tran, was chosen to to serve as a national officer of SkillsUSA last month when elections were held in Kansas City, Mo., during the SkillsUSA's annual National Leadership and Skills Conference. There, Tran, 17, campaigned and spoke to fellow student leaders from across the nation to win the position.
Video Making Seminar
Washington Apple Pi, the D.C. metropolitan area Macintosh user group is hosting a Video Double Feature for Learning Video Basics and Learning Remembrance Video Methods tutorial. Professional video photographer, Grant Peacock, is willing to share his video making techniques at Luther Jackson Middle School in Falls Church on August 25 at 9:30 a.m. Methods that will be covered include frame shots, shooting logical sequences and learning how to enhance lighting and sound. A second speaker, Robert Rhodes, will cover organizing video projects as well as show segments of his video projects. Anyone interested is invited to attend.
September 11 Concert of Remembrance
"Now Come the Names," a musical tribute to the September 11 tragedy will be performed on September 11 at 7:30 p.m. The Falls Church Concert Band, conducted by Adam Levowitz and the Brethren, a men's chorus of Annandale United Methodist Church directed by Patrick Vaughn. Adam Levowitz's memorial work, "Now Come the Names" and his special setting of "The Star Spangled Banner" will be included in this program.
Citywide Street Sweeping
During the week of August 20, Falls Church will undergo street sweeping, a process that helps reduce the amount of pollutants that enter through the City's 900 storm drains into local streams. The City contracted with Reilly Sweeping to provide this sweeping from 7 a.m. – 5 p.m. on August 20 through the 24. Weather permitting, this will be the schedule: Monday- Commercial Areas, Tuesday, Wednesday- Thursday and Friday Refuse Collection Areas (areas north of Broad Street) and Thursday and Friday- Tuesday and Wednesday Refuse Collection Areas (areas south of Broad Street).