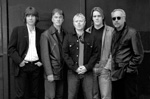 The best band in the world resides inside of Nathan Ferraro's head. He hears each note uniquely, builds them into chords then merges those into melodies and soon his mind is awash with music. The instrumentation, the vocals, the harmonies — perfect. Getting that all onto a record, well now, that's the trick.
"What I hear in my head and what ends up coming out of our hands is a little different," Ferraro says. "So the end product may not be the best sounding band on Earth, like it sounds in my head, but I think it's close."
The statement that could be hubris is tempered by a modesty that permeates the conversation, but there is a clear confidence from Ferraro when he speaks of his craft. Music is his passion, his job, his reason for waking up in the morning. And to be sure the finished tracks put out by Ferraro and his Ontario, Canada-based band, the midway state, are worthy of any confidence Ferraro wishes to exude.
Leaving any description with a simple likening of the midway state's sound to Coldplay or Ferraro's vocals to The Cure's Robert Smith tells just half of the story. The compositions that comprise their recently-released EP, Met a Man on Top of the Hill, pack a more refined punch than most pop offerings of the day. They fill your ears with heaped on harmonies and perfectly placed hooks that snap you up with the polish and completeness of a veteran band.
"We've always liked full, robust, pretty-sounding music," Ferraro says.
Enhancing that finished product is Juno award-winning producer Gavin Brown, to whom the band was introduced through Jason Kimmelman, a lawyer who saw the group playing in Toronto and effectively gave them their start by financing their demo and putting them in touch with Brown. Today they're inked to Remedy Music (they're licensed to Interscope outside of Canada), are finalizing their debut LP (look for it early next year) and earlier this summer the band took a swing through Europe, playing to a crowd of 10,000 in London's Trafalgar Square as part of a Canada Day celebration thrown by the Canadian Embassy. All this and Ferraro is barely past his 21st birthday.
Age is far from an obstacle though, especially when Ferraro's experience with music dates back to age six. Growing up in Collingwood, a small ski-town two hours outside of Toronto, his mother played guitar with him and taught him how to harmonize. As he grew up, after school, he'd come home and write music.
"It was a release," Ferraro says. "I always got satisfaction out of writing music. If I didn't do my homework, but I wrote a song, I'd still get a sense of accomplishment."
Back in those days, Ferraro generally found himself composing love songs.
"Even though I didn't know anything about love, a lot of the artists I was listening to on the radio were singing about it," he says. He still writes on love, though his views have matured a little and span a broader swath of the subject, such as the unrequited longings that fill "Change for You," the second track off of Met a Man on Top of the Hill. "It's tricky. There are a lot of bad ways to sing about love. Whenever I tried to mimic someone else I just ended up sounding like a bad version of them. I'm just trying to be honest. I want the listener to relate with me."
Over the years, the evolution in songwriting has been paired with an evolution of the band's lineup. As the original foursome of Ferraro, Daenen Bramberger (drums, vocals), Ryan Horning and Adam Beamish approached the formative period of the late teens and early 20s, there came time for a change. Ferraro and Daenen knew what they wanted. They wanted to pursue the path a music, make it a career and do it as best they could. Issues of ability and desire arose and Horning and Beamish left the group, replaced by Michael Wise (guitar, vocals) and Mike Kirsh (bass), who both answered an ad placed with the University of Toronto jazz program.
"When people are 16, maybe they're different people by 19 or 20. Some people are for school, some are for business and some are for music," Ferraro says of the split. "I was in a band with my best friends, so any change was really hard, considering it would affect how much I saw them, but we're still friends."
And Ferraro is still pursuing his passion for musical perfection. That pursuit will bring the midway state through Falls Church on Wednesday, August 8 in support of Rocco DeLuca & the Burden. The Last Goodnight rounds out the bill. Tickets are $15 and doors open at 7 p.m.
• For more on the midway state, visit www.midwaystate.com or www.myspace.com/themidwaystate.