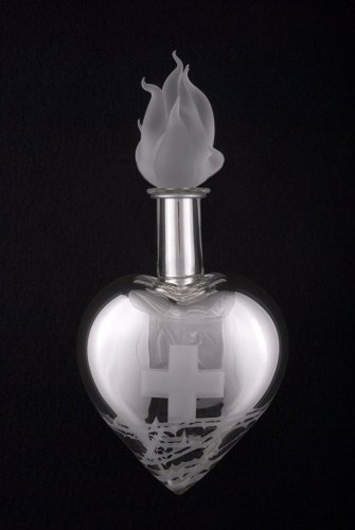 '9×10 : WPA/Corcoran Member Shows at the WWP Gallery'
Through August 10, at the William P. Parker (WWP) Gallery, in Mickelson's Fine Art Framing (629 New York Ave. NW, Washington, D.C.). Gallery Hours: Monday through Friday: 9:30 a.m. To 5 p.m., Saturday: Noon to 4 p.m.
Member shows as a general rule are kind of ugly affairs. Largely devoid of the jurying process, and little if any curatorial oversight, they can be some of the weakest shows around. It's the Little League mentality, where all the kids play no matter what their baseball skill level may be. It's a good place to start showing your work, and everybody has to start somewhere, so they serve their purpose. The vicious cycle of it all is that the better artists tend to avoid them like the plague, and thus the quality factor takes marked nose dive.
To every rule there are exceptions. The WPA/Corcoran is probably the elite Washington metro area artists group, so when the WPA/C has a member show you have something of a natural vetting process. Using the Corcoran Museum of Art, and the attached Corcoran College of Art and Design, as its headquarters and hub, it goes without saying these folks take their art seriously. The 9×10 series of shows at Mickelson's frame shop was an open call event available to the first 90 artists to sign up. A total of nine shows running throughout the year, each featuring the work of ten area artists. Without being strictly 'curated,' the artists are combined to enhance compatibility as best as possible.
In this, the fifth installment of the series, we have Joan Belmar, Sheila Blake, Anna Fine Foer, Layne Garrett, Heidi Nielsen, Susan Hostetler, Amelia Shachoy, Lisa Kellner, Patricia Underwood and Rick
Wall. Wall, a teacher at the Corcoran, makes furniture on the side. Not too surprisingly he uses finely crafted wood in his three dimensional wall sculptures. His 'Eve' piece, on view here, is made of Copper over wood with steel. It resembles a sort of abstracted breast plate for a pregnant Viking woman. Lisa Kellner, most recently seen in the juried Strictly Painting 6 show that just closed at the McLean Project for the Arts, has three of her abstracts in this show. Comprised of multi-layered white mylar sheets, they have a teasingly transparent aspect to them. Kellner works areas with graphite, gouache, oil and acrylics, in various combinations. Then she stacks the sheets up with air gaps between them. The distance between the sheets heightens the mylar sheets' opacity, and gives the imagery on the second and third sheets a ghost-like appearance. One could liken it to fancy lingerie. People have a notion of what's underneath, but can't stand leaving it at that. The most common viewer response seems to be a gentle poke at the paper to see what's underneath. It's a fascinating psychological trick she's playing, but one possibly better archived by taking the paper-poking option away from people, which most likely means giving them glass fronts of some sort.
I also liked Anna Fine Foer's watercolor and collage pieces. 'Time and Space Continuum' is literally a roiling sea of time. Clock face images pasted down in amongst the flowing blue lines. It offers a number of fairly obvious metaphoric interpretations. Nice work.
The Arts in Falls Church
The Falls Church Concerts in the Park series draws to a close this week. This Thursday evening, August 2, Randy Barrett and the Barretones play bluegrass, while Eileen Levy displays her paintings, and M. Layne Kalbfleisch displays her photographs. All for free in Cherry Hill Park on Park Avenue in the heart of Falls Church City.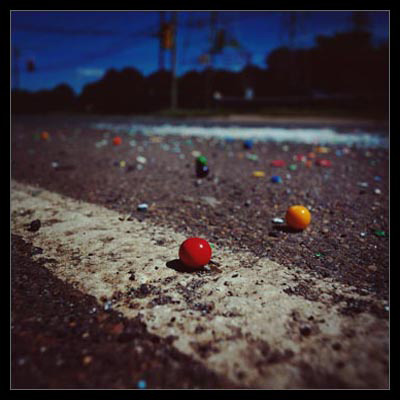 Photographs by Lorraine Burns, Laura Chaves and Eleanor Karro will be shown at Curves in Falls Church through the month of August. The opening reception is this Friday, August 3, from 7 – 8 p.m., at 240 West Broad Street. As always, men wishing to see the work after the opening reception will have to do so by appointment. For further information call 703-536-0140.
Black and White Landscape Photography and Watercolor Paintings by Harriet Westfall will be at Art and Frame of Falls Church (111 Park Ave.) through August. Opening reception will be this Friday, August 3, from 6 to 8 p.m. Artist talk at 6:45 p.m. In the back room at the same time and location, Falls Church Arts holds the opening reception for its August show 'Kids are People Too!' Roughly a 50-50
mix of photos and rather well done watercolor portraits of children.
Paintings by Virginia Sywyj will be on display at First Horizon Bank (133 South Washington St., Falls Church). The opening reception will be Tuesday, August 7, from 6 to 7:30 p.m.
Artist Opportunities
'Taste of Falls Church' is looking for artists to show and sell their work. The event is September 15, with artist registration due by August 15. For booth rental prices and further information contact Jenny Elmore, Senior Program Supervisor for the City of Falls Church Recreation & Parks Division, at 703-248-5077 or jelmore@fallschurchva.gov.