Rotary District 7610 Governor-Elect Chuck Davidson, left, presented District Governor-Nominee, Horace McCormick, past president of the Falls Church Rotary Club, with the nominees home banner at the annual Awards Banquet in Fredericksburg, which McCormack brought to the Falls Church Rotary Club's meeting on Thursday at the Harvest Moon Restaurant. (Photo: Courtesy Joseph Scheibeler)
Join Volunteers for Change
Volunteer Fairfax, a nonprofit whose mission is to mobilize people and resources to meet regional needs, invites the community to join their volunteer program for adults called Volunteers for Change. The program organizes weekend and weekday evening projects that vary from planting trees to tutoring English to adult students. Attendance at one orientation is mandatory before volunteering. Upcoming orientations are September 6, 6:30 – 7:30 p.m. and September 9, 2 – 3 p.m. To register for an orientation, contact Annie Duffield at 703-246-3460 or e-mail aduffield@volunteerfairfax.org. Log on to www.volunteerfairfax.org.

Murtha Graduates
Congratulations to Katherine Murtha of Arlington, who graduated from Bryn Mawr College during the school's 122nd commencement exercises on May 19 and 20. Murtha earned a bachelor's in classical studies and economics.
Hall Makes Dean's List
Fairfax resident Erin K. Hall was selected for the Dean's List at Azusa Pacific University. Hall is a cinema and broadcast arts major who was honored for earning a 3.5 or better grade point average. Hall is one of 1,350 Azusa students who received the honor.
Listen to Free Lectures
Traditional Acupuncture of Northern Virginia is hosting a series of Friday night lectures in August. On August 10, Licensed Acupuncturist Sharon Crowell will head a discussion and demonstration of acupuncture. Certified Massage Therapist Tracey Baroody will speak about massage therapy in relation to aging on August 17. All events are free and located at 443-A Carlisle Dr., Herndon, Va. For more information, call 703-435-4553 or visit www.acupunctureinva.com.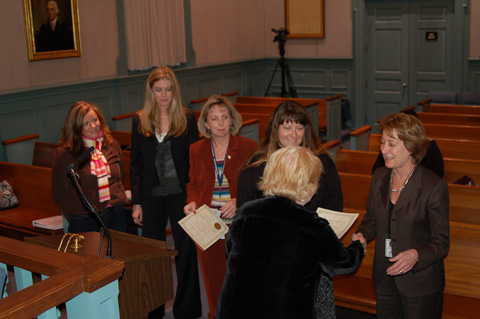 Knick-knacks for Sale
On August 4, the Civitan Club of Arlington is organizing a community garage sale, which will include household items, collectibles, memorabilia, yard tools and more. The sale will be held at the I-66 parking garage on 15th Street between North Quincy and Stafford Streets in Arlington. A concession stand will provide refreshments. Log on to civitan.net/Arlington or e-mail capitolfundg@msn.com for further details.
Be a Movie Star
The Cappies International Theater, a theater of international teenage performers, invites community members of all ages to be an extra for the feature-length movie, "Senioritis." Teens are especially welcome. Filming will take place at McLean High School (1633 Davidson Road, McLean) on August 11, from 10 a.m. – 1 p.m. and 2 – 5 p.m. RSVP is not required. Visit www.senioritismusical.com for more information.
Run for Fun
On September 15, Friends of the Orphans will host its First Annual Fiesta 5K Fun Run / Walk. Open to all ages, the event welcomes both individual participants as well as those who would like to recruit a team. All proceeds from the race will benefit children in orphanages throughout Latin America and the Caribbean. Register by September 13 to participate in the race at Hains Point — East Potomac Park (1100 Ohio Dr. SW, D.C.). The race begins at 8 a.m., with check-in time at 6:45 a.m. To sign up, contact Kristin McLeod with Friends of the Orphans at 703-848-2072 or kmcleod@friendsus.org. Log on to active.com.
Chung Dons Chef Hat
Congratulations to Paul Chung of Fairfax, who recently received a bachelor's in culinary arts from the College of Culinary Arts at the Providence Campus of Johnson & Wales University. He was one of 8,957 students who earned degrees from the university nationwide.
Streets Receive Makeovers
Beginning at the end of July through mid-September, some Falls Church roads will be newly paved. Starting on August 13, between 8 a.m. – 3 p.m., Monday through Friday, pavement will take place on the following streets: South Washington Street (from West Broad Street to Annandale Road), North Washington Street (from West Broad Street to Columbia Street), Church Place (from East Broad Street to the dead end), North Cherry Street (from East Broad Street to East Jefferson Street), Maple Avenue (from Great Falls Street to Columbia Street) and Falls Avenue (from West Broad Street to the dead end).
Each street will take several days to finish paving. Residents are advised to watch for "No Parking" signs and to refrain from parking on the street during paving times. For more information, call the Operations Division of the City's Department of Environmental Services at 703-248-5081 (TTY 771).
Little League Captures State Titles
On July 24, the McLean Little League Senior Softball All-Stars won the Virginia State Championship with a score of 5-0 against District 12. This is McLean's third Senior Softball State Title, with previous wins in 1995 and 1997. The McLean Little League Junior Softball All-Stars also captured the Virginia State Championship with a 3-2 victory over Matthews on July 24, earning its first state title at the Junior level. The two teams will go on to play in the Southern Region tournament.
Bishop Ireton HS News
Colleen McFadden, of Bishop Ireton High School in Alexandria, was honored with the title of 2007 Virginia Private School Girl's Sprinter of the Year by Milestat.com. Bishop Ireton's Mary Kate Neatrour and Alexandra Galdos, both from Alexandria, were awarded 2007 Academic All American honors for girl's lacrosse.
Local Makes National Soccer Pool
Congratulations to Falls Church resident Katie Yensen, who was invited to attend the USSF National ODP Camp in Southern California July 30 – August 5 as a soccer player. She is currently a member of the U15G Arlington Blitz. Yensen plays on the 1993 Virginia State Team and is also a member of the 1993 Region I Pool.
Happy-Sew-Lucky
On August 7, the Falls Church Sew and Go, a local community group of the American Sewing Guild, is hosting a meeting and demonstration on how to make clothes that fit. The event will be held from 7 – 9 p.m. at the G Street Fabrics Store (6250 Arlington Blvd., Falls Church), and is free and open to the public. For more information, call Marjorie Burnett at 703-528-2040 or e-mail asg@mabfinancial.com.
Bank Hosts Artist Reception
First Horizon Bank (133 S. Washington St., Falls Church) invites the community to a reception for Virginia Sywyj, the current exhibiting painter and member of Falls Church Arts, on August 7 from 6 – 7:30 p.m.
Race to New Novel's End
On August 7 from 7 – 9 p.m., Don Beyer Motors (1231 W. Broad St., Falls Church) will present New York Times best-selling author Sharyn McCrumb and ARCA REMAX Series racecar driver Adam Edwards, in a discussion of McCrumb's latest book, "Once Around the Track." A question and answer session will follow, as well as a book signing. Edwards will have a racecar on site for viewing. RSVP to Sandy at 703-768-2932 or rsvp@donbeyervolvo.com.
Media Organization Honored
Arlington Independent Media, a non-profit public broadcasting organization, was awarded the 2007 Hometown Video Festival's Overall Excellence Award. The Hometown Video Awards, which was hosted by the Alliance for Community Media, honors media for addressing community needs. Arlington Independent Media has won the award five times in the last 17 years and celebrates its 25th anniversary this year.
Reach for the Arts
On July 9, the Fairfax County Board of Supervisors recognized McLean Project for the Arts for exhibiting the school artwork of students in McLean public schools, as well as initiating the ArtReach Program. ArtReach is an educational outreach program for Fairfax County Public Schools that consists of tours, hands-on workshops, after school art workshops, teacher workshops and family workshops.