F.C. Shopping Center Has Grown Into Cultural Haven For Vietnamese
On a busy Sunday afternoon, the parking lot of Eden Center in Falls Church is packed. The bustling shopping center that has served as a cultural hub for Vietnamese businesses and consumers is flush with shop owners and patrons looking to make sales and find good buys.
"It's like Christmas Eve at Tysons," said Alan Franck, senior vice president of the center's proprietor, Capital Commercial Properties.
For more than 20 years, the shopping center has been a Falls Church institution, catering to one of the country's largest Vietnamese populations. The Washington area's Vietnamese population totals 43,709, according to the U.S. Census in 2000. Over half of that number live in Fairfax County alone. On the weekends, however, shoppers come from all over to visit Eden Center. Amid the sea of Virginia and Maryland license plates, there is a smattering of cars from New York, Ohio, Pennsylvania, Connecticut, Delaware, Mississippi, Iowa and even Ontario.
"Everyone who's Vietnamese knows about this place," said Vu Hoang, a customer strolling around the Center on Sunday, pointing to the fact that people within the Vietnamese community in his home state of New Jersey often talk about or have visited the center.
"We've seen Eden Center become the cultural center for the Vietnamese and the Vietnamese-American community for miles … and we're proud of that," Franck said. A lawyer for the company that owns the center, he joined Capital Commercial Properties in 1995.
Yet Eden Center is not just a drawing point for Vietnamese customers. Patrons of all backgrounds come to eye the goods of the shops or sample the cuisine from the center's slate of restaurants, something Franck attributes to the favorable food reviews from area publications such as The Washington Post and Washingtonian.
On Sunday, people of all ages congregate outside of the storefronts: couples pushing strollers with small children, old men carrying bags of groceries, pairs of well-dressed high schoolers stroll while sipping brightly colored bubble tea. An open box full of donations for a Buddhist monastery sits unattended by a storefront. A man crouching on the sidewalk sells plastic grocery bags of tropical lychee and longan fruits — white, fleshy on the inside and native to southern China — to a small circle of eager buyers.
Passing under the ornate Asian archway that welcomes visitors, the aroma of Vietnamese cuisine wafts from the center's array of restaurants. In the indoor mini-malls, specialty jewelry stores and herbal shops line the hallways. Darkly lit cafes play pop music, while children race through the corridors on scooters. A store that sells trinkets from small Buddha statues to plastic shoes spills its merchandise out onto tables in the narrow hallway.
A complex chemistry comprises the culture of Eden Center today, but at its core have always been the people of Vietnam.
An Exodus Before Eden
During the Vietnam War (1959-1975), many families from non-Communist South Vietnam either fled to nearby countries or moved to central Vietnam to escape the violence. However, when Saigon fell to the North Vietnamese Communist forces, many left the country for good.
Bach Tuyet Nguyen, who now owns a jewelry store in Eden, moved from her home in Saigon to the central city of Nha Trang. While there, she owned a boutique store and worked as a bookkeeper for the United States Air Force. Her husband was a helicopter pilot for the South Vietnamese government.
"We lived a very good life," she said. "We never thought about moving."
When Saigon fell, Nguyen and her husband were forced to flee or risk imprisonment by the Communist government. Like many Vietnamese refugees, they found sponsors in the United States who functioned as host families. Their host family in Virginia helped them find jobs, taught them how to drive, and helped them improve their English.
"We had to learn step-by-step," Nguyen said. "When we first came, we cried every night, but then we realized that we were lucky." Some of her friends who stayed in Vietnam ended up imprisoned by the Communist government, some for as many as 18 years.
To escape the fighting, Thao Ton's family, which currently runs a tax service and travel agency at Eden Center, moved to Laos in 1966, where she was born. The family of five children, her mother and aunt moved to the U.S. after the war. Her uncle, who was already in the country, got families to sponsor them through a local church. However, because the family was so big, they had to be split up among sponsors.
Ton's family eventually reunited and lived together in a house in Maryland. Ton's mother opened a dress shop in Clarendon near the city's metro stop. Called Pacific Shopping Center, it housed several other Vietnamese and Chinese stores and predated Eden Center as a major Asian-American hub in Northern Virginia.
After living in the country for nine years, Nguyen, who once owned a boutique in Nha Trang, decided to become a store owner again.
"I missed having my own store," Nguyen said. She trained to become a diamond specialist and opened a jewelry shop in Pacific Shopping Center.
At the time, the Vietnamese population was sparse and Nguyen said the store didn't draw many customers.
However, the small population of Vietnamese immigrants formed a tight-knit community and supported itself. Immigrants would often meet up in restaurants or church, said Ton.
"The Vietnamese people are very hard-working," said Rev. Tinh Trang Huynh. "Families try to emphasize education, which is the best way to survive in a new country." Huynh runs Saint Patrick's Episcopal Church, an Anglo-Vietnamese congregation in Falls Church.
Over time, the Vietnamese population in the Washington area has boomed. In 1990, there were 23,484 Vietnamese in the area, according to the U.S. Census Bureau. That number increased by 46 percent in 2000, amounting to 43,709 people, which makes it the fifth largest metropolitan area Vietnamese population next to regions in California and Texas.
Nguyen attributes the popularity of the Washington area, namely Northern Virginia, to the region's higher tolerance for multiculturalism. She also feels that the high-quality schools and well-educated population has helped to make this a drawing point for the Vietnamese — a drawing point that has only grown stronger since the creation of Eden Center.
Saigon Comes to Seven Corners
The original shopping center in Seven Corners, located near the busy intersection where Wilson Boulevard meets Routes 50 and 7, was originally known as the Plaza Seven Shopping Center in the 1970s. It included a crab restaurant, a supermarket and specialty stores owned by an assortment of tenants from various backgrounds.
At the same time, the small Vietnamese community in Clarendon and Arlington, which included shop owners in Pacific Shopping Center, faced a changing environment. The Clarendon area's properties began to become consolidated. To make way for the new developments in Clarendon, small business owners, like the Vietnamese-owned ones in Pacific, were forced to find a new location.
In the early 1980s, these displaced shop owners were presented with a new possibility just up Wilson Boulevard. Around that time, the Plaza Seven supermarket closed, and a Vietnamese-American entrepreneur named Gioan Nguyen stepped in. He divided the former supermarket into smaller spaces and leased them out to fellow Vietnamese tenants.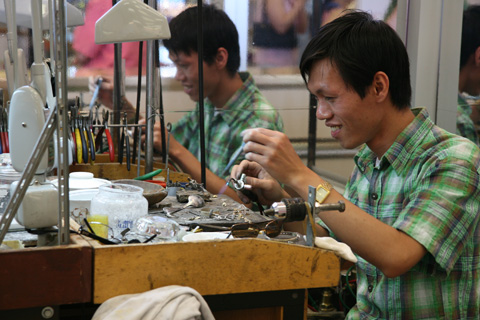 Seeing the profitability of this target audience, the proprietors of the shopping center began leasing the other spaces to Vietnamese-American immigrants when the original shops closed. They found ample willing tenants, including Bach Tuyet Nguyen and Ton's mother. By 1984, the shopping center became what is known today as Eden Center.
Eden Center started as one building called Eden Mini-Mall, but over time has expanded to include wings Saigon East, Saigon West and Saigon Garden. Between 1996 and 1997, the proprietors made efforts to add some cultural character to the center's image by building the ornate archway entrance. A clock tower was built over the central Eden Mini-Mall, designed to replicate a marketplace in Saigon.
While the center's proprietors themselves are not Vietnamese, they make an effort to better familiarize themselves with the culture by consulting their Vietnamese friends and tenants.
"We're always sort of behind the eight ball," Franck said of the cultural differences. "We're always learning."
The business marriage was highly successful, and the new stores attracted customers from all backgrounds. However, there were some elements of that crowd that were not entirely desirable.
Beating a Bad Rap
Eden Center has had a reputation for being crime-ridden, an issue that emerged in the 1990s. In addition to customers, the center became a hangout for a growing number of Asian and Hispanic gangs. Most stores closed around 6 p.m., and jewelry shops would become targets for shoplifting and break-ins.
However, most of the problem came from the nightclubs. At the time, there were two nightclubs that catered to the Hispanic populations, La Luna and The Ritz. Both served as scenes for fights and a few severe stabbings. Several of these incidents included confrontations between gangs, according to Sergeant Ed Lancaster of the Falls Church Police Department.
By the mid-1990s, The Ritz lost its liquor license for serving minors and along with La Luna, was unable to pay rent and closed down.
"We were glad to see them go," said Franck. "Their time had come."
The closures helped, but did not entirely alleviate the problem of crime inside Eden center and the police increased their involvement. A number of measures were undertaken to increase police presence. The center entrusted the police with a so-called "banning program" that has been set up to bar people involved in criminal activity from the center's property. Between 10 and 15 people are banned every year, making their presence on the property illegal. When individuals who are banned come to the center, they can be charged for trespassing. While Franck gets complaints approximately once a year from people who have been banned from the property, there has not been a great deal of controversy.
"The police have always had good reasons for banning people," Franck said.
Eden Center also made room to house a satellite police office, which enforced this program with the aid of security cameras. Furthermore, detectives in the police department have pushed to identify gang members by building a relationship with the merchants at Eden.
"The police have taken a proactive approach in finding these people," Lancaster said, which has resulted in a number of arrests.
"I credit the police so much with helping us," Franck said.
Today, incidents still occur, but Eden Center has become a much safer place according to Lancaster.
"Comparing now and then is like comparing night and day," Lancaster said. In terms of gang members, "some are now in prison, some are dead, some have matured and have families, some continue to be involved in criminal activity," he added. "They still might get back together socially … but the presence of Asian gangs has dropped dramatically."
While there are currently two nightclubs located at Eden Center, Metropoluxe and Diamond Club, neither sees the kind of violence that La Luna or The Ritz encountered over a decade ago.
"[Diamond Club] works with the police really closely," said Franck. "They run a pretty tight ship." Lancaster noted that occasionally there are conflicts and arguments concerning an ex-boyfriend or girlfriend, either in the nightclubs or at the many coffee shops, but gang fights have been rare.
Comparing 1994 to 2005, the number of reports of assaults and disorderly conduct has gone down 54 percent from 39 to 18. The counts for larceny have declined 85 percent, from 97 reports down to 14.
"The shopping center is very safe, you can go there any time," Lancaster said. "But it's just like anywhere else, something could happen."
Children of Eden and the Path Ahead
Eden Center, which is viewed as valuable property, has been highly sought-after in an ever-developing Falls Church. Its proprietors have received many offers from developers, but instead of selling, Capital Commercial Properties is only expanding the center. Recently, the owner of a supermarket in Eden Mini-Mall has retired and closed his shop. A smaller grocery store in Saigon West, facing Wilson Boulevard, is planning on moving into that space, leaving room for six new stores to emerge. Franck has a list of approximately 75 prospective tenants, all Vietnamese, to fill those spaces.
"We're always looking for things that aren't there," Franck said. If prospective tenants of other ethnic groups applied for a spot, he said he would welcome them, but doesn't see that happening at the moment.
Change is occurring in more subtle ways as well, as the children of the Vietnamese merchants are slowly having their own influence on Eden Center. As a group, they tend to speak better English than their parents and grandparents and have had more education. Many of them, like Lysa Phan, work in their parents' businesses. She works as an acupuncturist at Thien Sahn, her parents' Chinese herbal store in Eden Mini-Mall.
As a result, the younger store owners find ways to better cater to American tastes. Nguyen's son has followed in her footsteps in the jewelry business, but tries to attract a different crowd in his store in California. Nguyen, who is used to negotiating prices with Vietnamese customers, differs from her son who would rather charge one price for his mainly American consumer-base.
"The young ones want to go the American way, which is easier," the elder Nguyen says.
The generational differences may continue to meld the two cultures in the future, but for now, Eden Center is a distinctly Vietnamese experience, one from which its tenants and customers have reaped the benefits.
Rev. Tinh Trang Huynh summarizes his community's feelings succinctly, "We're very fortunate to be here."