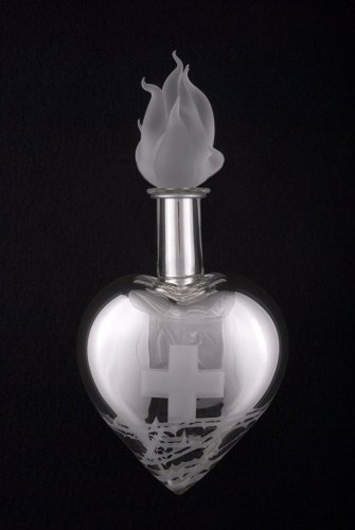 Junkal Aguirre's oil painting titled "Past & Future?" At Touchstone Gallery through August 4.

In the auto racing world we say 'run what you brung', well this is a 'hung what you brung' sort of week. Mini-Artomatics, if you will.
'2007 Wall Mountables' will take place through September 7, at DCAC, 2438 18th St. NW, Washington, D.C. Gallery Hours are Wednesday through Sunday, 2 p.m. to 7 p.m. Call (202) 462-7833, or visit www.dcartscenter.org. NOTE: DCAC will be CLOSED August 15 – 26.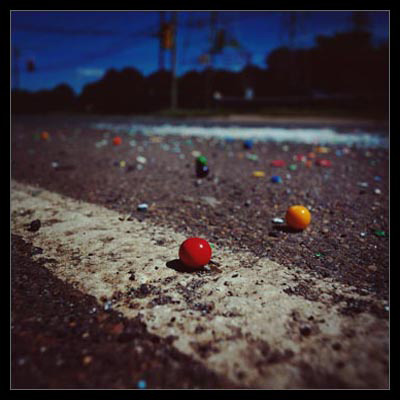 Referring to the number of spaces for rent, Wall Mountables is sometimes called 1460 Wall Mountables – that being 1460, two foot by two foot, spaces on the walls of DCAC. They're available to any area artist on a first-come-first-serve basis, for the paltry sum of $10 for members, or $15 for non-members. It's a wide ranging, no holds bared free-for-all, which, unless you're a total stick in the mud like a certain Post art reviewer, is a lot of fun.
Wacky, weird, wonderful and bizarre is about the best way to put it. DCAC draws the young hip crowd, as you'd expect in this 18th street Adams Morgan location.
The success of such events really hinges on your ability to draw in just this sort of crowd: artists trying to make statements, and get noticed. They're not quite old enough to get all serious and commercial about it, which means the art comes from a purer vein, before they all start worrying about pesky things like putting food on the table or paying rent.
This brings us to DCAC's rent: Washington real estate investor Herb White owns, or owned, the building that houses DCAC, and has since 1989 rented the space to DCAC for a dollar a year. Which, as we can all imagine, has gone a very long way towards assuring DCAC's survival over the years. Herb White recently passed away at the age of 71. No word on what happens to DCAC when the current rent contract runs out, but we imagine it'll all work out. At this point, DCAC is a well established group.
If you can separate the wheat from the chaff, these free-for-all shows are great entertainment. Truth be told, the bad can be so wacky it's bordering on good. So even the terrible stuff winds up being worth a look.
With 95 artists showing something around 2000 works (many spaces have multiple small images), it can be tough to pick favorites. Overall I liked Daniel Dean's "Pieces of You". Made of a generic mid-50s medicine cabinet hung on the wall, you're brought face to face with your mirror image staring back at you. Wondering if that's all there is to it, you open the door to find Polaroid images of a nude woman, for the most part sectional shots of specific areas, as opposed to posed full body images. Her face never seen, the photos come off as something like bits of imagery culled up from memory. While there is a breast image, titillation is not the mode. It's more reverential, as if to say that she is the medicine he needs.
Whether it's to heal a broken heart, or just to live life on a day to day basis, we can't say. Either way it's a rather romantic piece, in a gritty real life sort of way. It's cool.
Another artist of special note, Phil Nesmith is showing three of his ferrotype (a.k.a. tin-type) photos. A former U.S. Army Paratrooper, Nesmith volunteered as a civilian to spend a year with the 1st Armor Division in Iraq. The photos he came back with, presented in his ferrotype format reference Mathew Brady and photos of Civil War dead. The technologies have changed, but at the end of the day man still settles his differences the old fashioned bloody way. So much for evolution. A more expansive set of those images can be seen on his web site at www.philnesmith.com.
Having run into a certain Baltimore art collector, who wishes to not be identified, for the third time in as many days, it was here that he declared Washington a 'great art town'. Keep in mind that he works a regular 60 hour week, and then drives down to DC to gallery hop. Of everyone you see at these events it's him you will see most often. It's serious dedication over the years on his part. He knows how to buy interesting art at the right price, and Washington is a great place for that. The
Washington area has an abundance of living artists doing good work for very reasonable prices. One of the pieces he bought at this event was $20, keeping in mind that it took $10 to hang it on the wall.
'My Space on 7th' through August 4, at Touchstone Gallery, 406 7th St NW, Washington, DC. Gallery Hours: Wednesday though Friday 11 a.m. to 5 p.m., Saturday and Sunday Noon to 5 p.m. Phone (202) 347-2787, or see www.touchstonegallery.com.
Same idea, slightly different format in that this gallery was rented out in 22 square
foot chunks for $40, again on a first-come-first-serve basis. This one has an older, slightly more commercial vibe. Still there is fun to be had, and some more polished if slightly less spirited work.
My favorite was 'Pooch, Jumps, Catches,' a pair of Foamcore cut-out figures by Mark Behme, depicting a man and his
Frisbee catching dog. Displayed on different walls in the gallery, they make unusual use of the space available.
Junkal Aguirre has a photo realistic oil of an Asian child, and the front end of a 1953 Cadillac, set off on a background of seeming Finish origins. It's certainly a quizzical juxtaposition. With a title of 'Past & Future?' it's obviously trying to make a point, but it's escaping me. Either way, it's very well done, as is the jewelry in the back room by Jen Skirball.
NOTE: Touchstone Gallery has an Open Call Photo competition following this show. See their website for details. The deadline is August 1 – 3 for delivered submissions.
While on 7th Street, be sure to check out the fantastic metal dress sculptures by Donna McCullough across the street at
Zenith Gallery. Who could possibly resist a woman in a metal Shell oil can dress? What can I say? Once a gear head, always a gear head.
Zenith is currently showing the landscape work of Virginia resident Bradley Stevens through August 31. They're mostly punchy scenes of unspoiled western views. Some reproductions are also available, with a portion of the proceeds going to a wilderness preservation group. Check out their website – everything mentioned above is pictured there. Zenith Gallery, 413 7th Street NW, Washington DC. Phone (202) 783-2963, or visit www.zenithgallery.com.
Gallery Hours: Tuesday through Friday 11a.m. – 6 p.m., Saturday 11 a.m. – 7 p.m., Sunday 12 p.m. – 5 p.m.
Falls Church Concerts in the Park series. This Thursday evening, July 26, Andrew Acosta and the New Old Time String Band play Bluegrass and Swing while artist Julie Singer displays her Ceramic Tiles. NEXT week, August 2, Randy Barrett and the Barretones play bluegrass, while Eileen Levy displays her Paintings, and M. Layne Kalbfleisch displays her photographs, all for FREE in Cherry Hill Park on Park Avenue in the heart of Falls Church City.