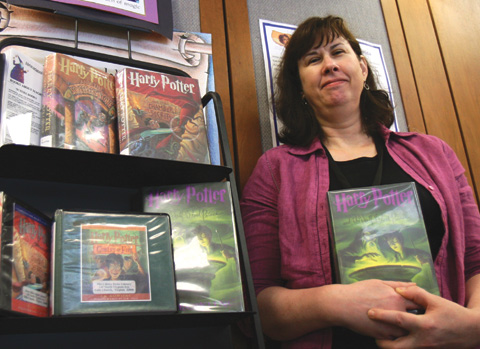 Harry Potter mania has struck Falls Church like the lightning bolt on the kid-wizard's forehead. Dubbed "Harry-est Town in America" by Amazon.com, the City of Falls Church holds the record of pre-ordering the most copies per capita of J.K. Rowling's highly-anticipated "Harry Potter and the Deathly Hallows," the seventh book and last of the celebrated Potter series from the on-line retail company. Falls Church headed a very strong showing by Northern Virginia, with Fairfax placing third in the competition and Vienna fourth.
The prize for all the Potter enthusiasm is no small ga
in: Amazon.com is donating a $5,000 gift certificate to the Mary Riley Styles Public Library Foundation Trust of Falls Church. The "Harry-est Town" contest, Amazon.com's first competition of its kind, used the most recent U.S. Census data. Eligible towns and cities included those across America with a population of more than 5,000 people. Falls Church has 10,377 residents according to the 2000 U.S. Census. The company did not release the number of books pre-ordered by Falls Church residents.
"We are honored," Falls Church Mayor Robin Gardner said, noting also that she did her part to claim the title. "I am extremely competitive, so once I heard about the Harry Potter contest, I went ahead [and pre-ordered] to help Falls Church win."
To celebrate the award, Mary Riley Styles library will hold a special Harry Potter party on Saturday, Aug. 4, at 2 p.m. featuring a variety of Potter-themed activities, games and food.
Bookstores, businesses and libraries in Falls Church and the surrounding area are similarly preparing a warm welcome for the seventh book's arrival this weekend. Borders at Tysons Corner and Bailey's Crossroads are throwing a "Grand Hallows Ball" and plan to usher the new book in with games and giveaways. Barnes and Noble at Seven Corners will celebrate with a "Midnight Magic Party." Complete with balloons and a Harry Potter cake, the party at Aladdin's Lamp Children's Bookstore takes place Friday night, the 20th, and throughout the day on Saturday the 21st.
Patrick Henry Library in Vienna counts down the days with a Wizard Film Festival, which began on Monday the 16th and ends Thursday the 19th, showing a different magic-themed movie each night. Friday marks the "Harry Potter Midnight Book Release Celebration."
A Likely Story Children's Bookstore may have the most elaborate plans of all, partnering with 20 other businesses on King Street in Old Town Alexandria, to present "Deathly Hallows Eve" on July 20. The event, which seeks to transform the popular street into "Diagon Alley" from the Potter books, will include activities such as a herbology class, palm reading and wand making. The store anticipates around 800 attendees.
"[Harry Potter] is like a religion. It's not just a book anymore," said Kaitlyn Campbell, 14, of Arlington, as she waited in line at the midnight showing of "Harry Potter and the Order of the Phoenix" at Tysons Corner. The series' fifth movie installment came out July 11, further fueling the anticipation of the upcoming book release.
Rowling's world of magic has charmed kids and adults alike. The series has residents from all over Northern Virginia professing their love for the bespectacled youngster, reading gargantuan books in one sitting — the U.S. edition of "Harry Potter and the Order of the Phoenix," is 870 pages, the longest in the series — and frequently visiting popular fansites like MuggleNet or The Leaky Cauldron to discover the latest Harry news and participate in forum discussions.
"I've never grown up. It's easy to be drawn in by [the Harry Potter series]," said Peter Beers of Falls Church. Beers stood at the front of one of many lines for the Tysons' Midnight showing of "Order" last Wednesday dressed in street clothes, although some moviegoers sported more wizardly attire like capes and witch hats.
Five Fairfax residents, all of them girls who had just completed their senior year of high school, confessed to talking about the Harry Potter series "obsessively" and having heated discussions about what's going to happen next because "it's an escape from the real world." One of the group, Tamtam Ogoola, said she'd be willing to shell out $500 for an advanced copy of "Deathly Hallows," while another, Meredith Holman, would "pay anything." At the movie release, the fivesome donned an English boarding school look in honor of Potter: button-up shirts, sweater vests and striped ties.
To the girls, Potter's wizard world is more than words on a page, extending outside of the domain of literature. "We even tried to play Quidditch once," said Ogoola.
For another group of D.C.-area residents, the Harry Potter series is also about the fellowship that comes along with it.
"I have friends coming together from all across the country. Harry Potter is about getting [the books] with friends, dressing up with friends," said Russ Bowers, easily identifiable as Potter character Hagrid by his costume of a loose brown garb and unruly hair, as he waited for the Midnight movie. He passed time in line by playing cards with Professor McGonagall and Albus Dumbledore look-a-likes.
"I think that the Harry Potter books have drawn such an audience because they operate on so many levels," said Nick Rhein, the Administrator of The Leaky Lounge, the discussion forum section of The Leaky Cauldron, a website that houses news, video and image galleries, interviews, reviews and more. "On the surface, they are the story of the hero's journey, with battles and bravery, but deeper than that, they also have intertwining themes, rich symbolism and hidden meanings that have sparked many academic debates on the books."
Professors from a few area universities have taken the academic interest in Potter and shaped it into part of their curriculum. Dr. Carol Dover, medieval French language and literature professor at Georgetown University, teaches an all-English class entitled "Magical Marvels: From Harry Potter to the Knights of Old."
Harry Potter comprises three and a half weeks of the total 12-week semester, in which the class reads the first book, "Harry Potter and the Sorcerer's Stone," as well as two other volumes in the series. Dover discusses themes such as growing up, myth, hero and heroines and medievalism in relation to Harry Potter.
"College students are on that cusp of life between childhood and adulthood, so I figured the readings [I chose] would allow them to discuss issues of growing up. The Harry Potter series are wonderful for this," Dover said.
The University of Maryland has also offered a few classes that touched on Rowling's books: Contemporary Issues and Trends in Children's Literature, as well as Black Holes and B-Movies: New Physics and Contemporary Culture. Both courses required students to read at least one volume of Harry Potter.
One reason for the area's particularly avid love of the series is its notably strong academic record. Locally, Falls Church's George Mason High School was named the 63rd best high school in America according to a 2007 list by Newsweek.
"I think we have a great group of folks here," Gardner said. "It's a tribute to our great library, school system and parents who are encouraging their kids to read. Harry Potter is a great guy to read about."
"Certainly, we can take credit … by helping to facilitate reading," Falls Church Superintendent Lois Berlin, a Harry Potter fan herself, said. "We can also give credit to J.K. Rowling for her creativity. I find the books to be so creative with such a milieu of beings. She's really taking a sophisticated approach, discussing prejudices. The content and creativity of the books spurred on [its popularity], but it starts with the kids being readers."
With such great enthusiasm for the series and its lead characters, the area may be particularly prone to the Potter's possible demise at the book's end, a topic that has created a stir among both fans and professionals alike.
Harry's potential death doesn't sit well with several avid Potter fans. Rebekah Flis of Fairfax, a recent high school graduate, said she'll "lock herself in a room and cry" if Harry dies, while Heather Twisdale of Alexandria will "cry for days" and "curse J.K. Rowling."
Child psychologists are advising parents to read the book as quickly as their children do, so as to help them through any strong reactions to depressing plot points.
Psychologist Dr. Diane Hoekstra Tuttle, who practices in Falls Church and specializes in adolescents aged 11 to 18, said that death in children's literature, despite causing tears, gives children the opportunity to go through Kubler-Ross' stages of grief — denial, anger, bargaining, depression and acceptance — in a much less intense form than if they were mourning the death of an actual loved one.
The death of a popular children's book or movie character is not a new concept. Charlotte the spider from E. B. White's award-winning children's book, "Charlotte's Web," dies after helping her friend, Wilbur the pig, win an award at the county fair. Bambi's mother, in Walt Disney's animated feature, "Bambi," is killed by the bullet of a hunter.
Nevertheless, Tuttle can see how Harry's death could be a fairly intense experience because readers have been following his internal thoughts and feelings for six books and "know him intimately as a person." She anticipates children grieving and becoming angry if Harry does die, especially for younger kids — around ages seven to nine — who have "built up fewer coping strategies" and for whom "death is abstract and more scary." In any case, Tuttle stresses the importance of the parents' response to their child's emotions, taking them seriously and helping to walk them through their grief or anger.
"Harry Potter is a tale of universal themes. As long as we're there to support children, then [death in children's literature] is not harmful. Because it's life," said Tuttle.
Whatever fate the final pages hold for Harry Potter and his friends, the series has no doubt cast its spell over Falls Church and Northern Virginia.
"No one's hanging out with me on the 21st. I'm going to be reading all day," said Arlington resident Annie Plotkins.
— Ellie Falaris and Mike Hume contributed to this report.