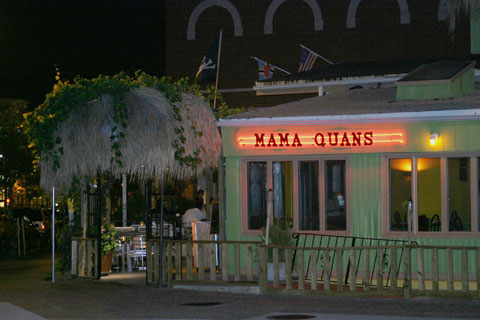 The Costa Verde Restaurant, meaning "Green Coast" in Spanish, is true to its name and as fresh as if it was situated along the South American shoreline, overlooking the ocean. The Arlington restaurant specializes in Peruvian cuisine and offers a colorful assortment of seafood, as well as meat, potatoes, rice, beans and more. The result is a celebration of Peruvian flavors, usually only found south of the equator.
Located on N. Jackson Street near Wilson Boulevard, Costa Verde is a place you can unwind from a long day of work or play. Large, wooden doors welcome guests into an atmosphere that is friendly, warm and unpretentious. The furniture and décor is likewise simple yet inviting, with green cloth-covered chairs, white tablecloths and potted vines hanging from the walls. The low-key decoration shines a spotlight on the real star of the show: the food.
Instead of Coke or Sprite, try a glass of Inca Kola, a Peruvian soft drink, to accompany your meal. While its yellow-gold color may at first shock you (it's almost neon), its sweetness will win you over.
Ordering a ceviche, a citrus-based seafood salad, is a popular way to begin a meal at Costa Verde, especially because at least six different types of ceviche dominate the list of appetizers. The seafood, instead of being cooked by traditional methods, soaks in a citrus marinade, a process similar to pickling. The Ceviche De Mariscos ($11.95) is tossed with red onions, shrimp, conch meat, squid and even octopus (whose texture isn't a big departure from the other types of seafood, just denser). Complemented by corn on the cob and sweet potato, the dish is tangy, sour and thoroughly refreshing. Other good options are the Tamal Con Chicharrones ($7.95), a steamed banana leaf filled with corn paste and sautéed pork, and the Papa A La Huacaina ($5.95), a combination of boiled potatoes, eggs and black olives.
Entrée portions at Costa Verde are generous, so be prepared to share or take a doggy bag home. The Paella ($16.95) is a restaurant favorite which features rice and an array of seafood: clams, mussels, shrimp, scallop, squid, and fish, topped with a whole lobster still in its shell, steam rising from it. The reason why it's so good can easily be attributed to its freshness. Try the Saltado De Scallops ($13.95) for a saltier dish which is just as hearty. A combination of scallops, red onions, tomatoes and French fries — all sautéed in olive oil — and sprinkled with herbs, the saltado manages to be colorful and delicious. The Churrasco A Lo Pobre ($13.95), "the poor man's steak," could satisfy anyone: it's a sirloin steak topped with egg, over easy, and served with French fries, rice, sweet plantains and beans.
You won't find the usual chocolate cake à la mode or mom's homemade apple pie on the dessert menu, but what you will find are sweets made for happy endings. The Tres Leches ($4) is a cake of Mexican or Nicaraguan descent (its origin is still disputed), soaked in a trio of milks, including evaporated, condensed and whole milk or cream. Despite all the milk, the cake remains light — not soggy — and is a perfect last bite before you head home. Order the Arroz Con Leche ($2.95), rice pudding, for something less substantial but still satisfying for a sweet tooth.
If you're not going to catch a plane and traverse Peruvian landscapes anytime soon, the next best alternative is to visit the Costa Verde Restaurant, where good food is a promise well-kept.
Costa Verde Restaurant
946 N. Jackson St.
Arlington, Va. 22201
703-522-6976
Hours:
Sun.: 11 a.m. – 8:30 p.m.
Mon. – Thurs.: 11 a.m. – 9:30 p.m.
Fri. – Sat.: 11 a.m. – 10:30 p.m.