The city of Falls Church Police Department welcomed its three newest officers June 22 at the graduation of the Northern Virginia Criminal Justice Training Academy. From left to right: Captain Matt Sergent, Officer Jiwan Chettri, Officer Rachel Henderson, Officer Mike Gessner and Chief Harry Reitze.
Mitchell Makes Northeastern's Dean's List
Arlington residents Colleen C. Mitchell and Katharine Sagar and Fairfax resident Caitlin Scott have been named to Northeastern University's Dean's List for the 2007 spring semester. In order to make the Dean's List at Northeastern, a student must achieve at least a 3.25 grade point average and never receive a grade below a C. Mitchell is also part of Northeastern's honors student program. Sagar is an International Affairs major, and Scott is majoring in American Sign Language.
A Sacred Concert
Richard Demy and friends will perform at a sacred and classical concert Sunday, July 8 at 4 p.m. at the Community Church of God (790 S. Carlin Springs Rd., Arlington). Demy is an LSU graduate with specialties in voice, Euphonium and trombone. Admission is free, but an offering will be taken to support the artists. 703-671-6726.
Hayes Graduates from Davis and Elkins
Congratulations to Falls Church's Mike Bob Hayes, the son of Richard and Margaret Hayes, for recently graduating from Davis and Elkins College in West Virginia at the school's 98th Commencement Ceremonies. Hayes received an Associate in Science degree in Business.
Congrats to O'Toole
Timothy O'Toole of Arlington made the Dean's List at Davis and Elkins College for the 2007 spring semester. O'Toole, the son of John O'Toole, is a marketing major. In order to make the Dean's List at Davis and Elkins, a student must earn at least a 3.6 grade point average.
SCAD Grads
Edward Zachary LaPlante of Arlington, Katharine Lee Bobbitt of Fairfax, Daniel Duy Mai of Falls Church and Denise Lea Kofteci of Falls Church recently graduated from the Savannah College of Art and Design. LaPlante earned a degree in broadcast design, Bobbitt received a degree in graphic design, Mai earned a degree in architecture and Kofteci received a degree in interior design.
SCAD Dean's List Kids
Fairfax's Lisa Lynn Lorang and Falls Church's Denise Lea Kofteci and Timothy Matthew Scully were all named to the Savannah College of Art and Design's Dean's List for the spring 2007 semester. In order to make SCAD's Dean's List, a student must receive a minimum grade point average of 3.5.
Sypolt and Anzalone Graduate from Randolph-Macon Academy
Ronald Maurice Sypolt and Kenneth Lawrence Anzalone graduated June 2 from Randolph-Macon Academy, a college-preparatory boarding and day school in Front Royal, Va. Sypolt is the son of Andi Bennett of Falls Church and Ronald Sypolt, Jr. of Upper Marlboro, Md., and plans to attend Northern Virginia Community College – Alexandria Campus. Anzalone is the son of Beth Buffington and Ron Anzalone of Falls Church, and plans to attend Shepherd University.
Healthy Girls Program Graduates
Congratulations to the graduates of the Healthy Girls Program, who graduated June 19. The program, which was held after school at the Culmore Teen Center in Falls Church, was designed as a prevention and intervention program for girls at greater risk of STD/HIV/AIDS delinquency and infection.

Falls Church U13 Basketball Club
The newly-formed Falls Church Basketball Club is looking for rising eighth-graders to join their U13 team and play in the Fairfax Stars 2007 fall league. The fall league generally consists of an eight-game season that gives players an opportunity to prepare for their winter basketball teams and tryouts for high school teams. The tryouts for the basketball club will be held July 16, July 18 and July 23 from 7:15 – 8:45 p.m. at Woodburn Elementary School (3401 Hemlock Dr., Falls Church).
Vacation Bible School
Saint Patrick's Episcopal Church (3421 Brush Dr., Falls Church) will host Vacation Bible School July 30 – August 3 from 5 – 7:30 p.m. The school's theme is Noah's Ark, and the program is designed for pre-schoolers through middle schoolers. Registrations for the school are due by July 21. Visit www.saintpatricks.us for registrations.
Falls Church Developers Forum
The Falls Church Economic Development Authority (EDA) is sponsoring a Developers Forum where economic development experts will address the public during the EDA's monthly meeting. The forum will take place July 10 from 6:30 – 8 p.m. on the ground floor of the City Hall Training Room (300 Park Ave., Falls Church).
Herrera Selected to adidas Elite Program
Congratulations to Arlington's Alexander Herrera, who has been selected to attend adidas' Elite Soccer Program 2007. The program runs from July 4 – 9 and is held on the Cal Poly Pomona campus in Pomona, Calif. Herrera was one of only 136 male youth soccer players selected.
New Toastmasters Officers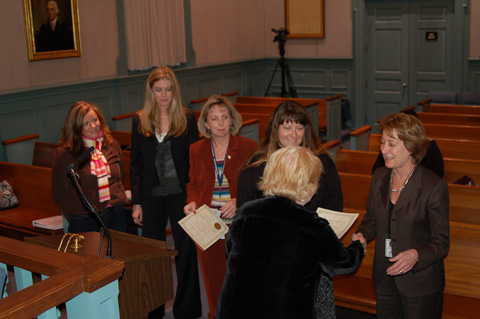 The Northern Virginia Toastmaster International Club elected their new officers June 20 at Falls Church High School. The new officers are Amjad Hossain (President), John Nusen (Vice President – Education), James Tang (Vice President – Membership), Chris Stacy (Vice President – Public Relations), Joe Ligaya (Secretary), Peter Nee (Treasurer) and Cris Birch (Sergeant-at-arms).
Environmental Presentations
The Northern Virginia Regional Park Authority is sponsoring two environmental presentations that are a part of the "2007 Lyceum Science Series." The first presentation will address global warming, energy and conservation and will take place September 25. The second, titled "The Farm of Many Faces; Sustainable Farming for the Future," will be held November 13. Both presentations will take place at the Alexandria Lyceum (201 S. Washington St., Alexandria). RSVPs are requested. Call 703-528-5406 or email Potomac@nvrpa.org for more information.
Friends of the W&OD 10K
The Arlington Cooperation Foundation (ACF) will present the Friends of the W&OD 10K Saturday, July 28 at 6:30 p.m. in Vienna. The 6.2-mile race will take place on the Washington and Old Dominion trail from Ayr Hill Rd. to Hunter Mill Rd. and back. The ACF will present "College of the Environment – Green University" from Noon to 6 p.m. the day of the race. The College, held at Vienna Community Center (120 Cherry St. SE, Vienna), will emphasize how citizens can improve the environment and will feature "An Inconvenient Truth" slide show presentation by the Al Gore-trained Satish Sharma.
Falls Church High Coaching Vacancies
Falls Church High School is in need of coaches for freshmen and JV girls and freshmen and JV boys basketball coaches, and assistant boys soccer coaches. Interested parties should send their resumes to Jeanne Kelly at Jeanne.kelly@fcps.org or faxed to 703-207-4012.

Lesko to Have Capitol Sleepover
Mothers, lock up your daughters, because Matthew Lesko, the so-called "crazy Free Money Guy," will be camping out in front of the U.S. Capitol from August 14-17. Famous for his question-marked suit, Lesko will be answering questions during his campout as part of a program he calls: One Man, 72 Hours, 100,000 Government Freebies.
Zorn's Getting Married
Congratulations to Dr. Manfred Zorn of Falls Church, who will marry Patricia Scheving of Berkeley, Calif. July 15 in a ceremony in Arlington. Dr. Zorn currently serves as a Program Director at the National Science Foundation.
Sweeping the Streets of F.C.
The City of Falls Church has hired Reilly Sweeping to conduct citywide street sweeping during pre-scheduled weeks in July, August, September and December of this year. Sweeping will take place Monday through Friday from 7 a.m. – 5 p.m. during the weeks of July 16, August 20, September 17 and December 17. The City is advising residents to move vehicles off of residential streets between 7 a.m. and 5 p.m. on days when sweeping is scheduled for the area. Call the Department of Environmental Services Operations Division at 703-248-5081 (TTY 711) for more information.
Congratulations to Herrera
Crystopher Ismael Herrera of Fairfax graduated from Franklin and Marshall College this past May during the college's commencement exercises. Herrera, who was a Class of 2000 graduate from J.E.B. Stuart High School, majored in Spanish and was on the Dean's List while at Franklin and Marshall. Herrera is the son of Waldo and Ruth Herrera of Fairfax.
World Children's Festival
The World Children's Festival will be held on the National Mall June 23 through 25. The Festival will include artwork, music, a panel of speaker, and masterpieces created by the children for world leaders such as President George W. Bush, Bill Gates and Nelson Mandela. For more information, visit www.icaf.org.