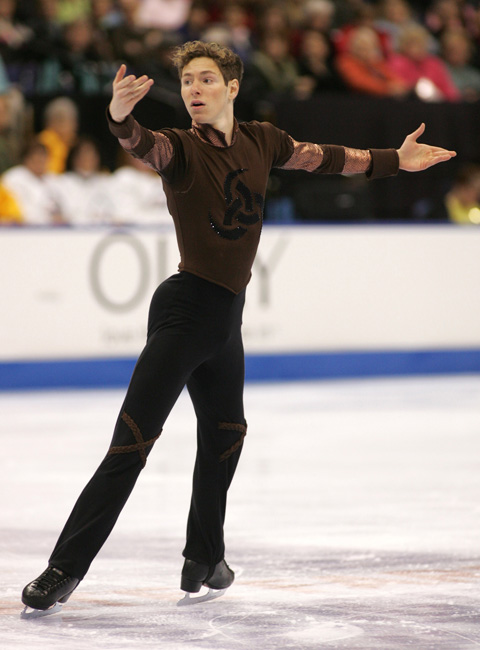 Now 22, Parker Pennington knows the time is at hand to define his competitive skating career. He placed a strong fourth in the men's short program at the 2007 U.S. Figure Skating Championships in Spokane, Wash., but a shaky free skate dropped him to seventh in the final results. After training in Colorado Springs for three years, he's made the decision to relocate to Fairfax and train with Audrey Weisiger, Ross Lansel, Chris Conte and Nick Perna at the Fairfax Ice Arena.
"I took a huge step last year, being fourth in short was a big deal to me, but the long didn't go how I anticipated," says Pennington, who was the 2001 U.S. Junior Men's Champion and has placed as high as sixth in seniors. "I was fully prepared for Nationals this year, but I got a little nervous and things didn't go my way in the long program. I'm definitely confident that I can turn it around and have a really good season this year, gain the consistency and keep on improving everything."
Over the years, he'd seen Weisiger with her students at various competitions and sought her out this past spring. A successful tryout in March finalized his decision to make the move. Coming to Fairfax returns Pennington to his East Coast roots. He is originally from Connecticut, where his father Larry, a veterinarian, has continued to live. His mother, Andrea, went with Parker and younger brother Colin, 2003 U.S. Novice Men's Champion, to Cleveland for training. In 2004, the brothers relocated to Colorado Springs. Colin has now moved back to Connecticut, leaving Parker living on his own for the first time. It seems the perfect balance of independence and proximity, as his family is approximately six-hour drive away.
Before settling into his new apartment in Fairfax, Pennington spent some time in New Jersey working with choreographer Nikolai Morosov on a new short program.
"I love the short program," he says. "I'm looking forward to performing it and improving some of my jumps and getting the quad consistent. There's a lot more that I can achieve and I believe I'm capable of doing it."
When asked whether he sees his goals in terms of results or performances, he tends toward the latter.
"I've gotten a couple of standing ovations in my career, and it's the greatest feeling in the world," he notes. "Going out there and giving my best performance, that's the biggest deal to me right now. If I play my chips right and I go out there and give my best performance, I will be up there. I have to go out and believe that I can do my absolute best. When I do, things will fall the way I want them to."
Of course, he dreams about a spot on the World Championships team and ultimately a trip to the 2010 Winter Olympics in Vancouver. Right now his focus is on improving his skating and enjoying the process.
"Winning is nice, but I think all that will come as a result of doing my absolute best on a consistent basis," Pennington says.
Part of the improvement he envisions for himself is diversifying his presentation skills. One of his favorite TV shows is So You Think You Can Dance, and he loves the notion of performing different styles.
"I enjoy getting out on the ice and dancing around," Pennington says. "I definitely like playing around with choreography.
"Some skaters choose the same type of music year after year. They don't take chances. They find one thing that sort of works and stay with it their whole careers. I'd like to be able to have more versatility and show different sides to my skating. In So You Think You Can Dance, you see people do all these different styles. That is something I would like to be able to do on the ice. Let myself go and be able to bring off-ice dance to the ice."